Are you planning to construct a new home or office? Do you have some reconstruction or renovation work planned?
The city of Chicago has strict rules for new buildings and renovation work and you must get a permit from the Chicago Department of Buildings. Today we will take a look at the construction process in Chicago so that you can minimize project hassles.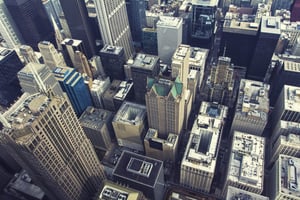 The Design
Prepare a design or drawing of the work you intend to carry out, to submit to the Chicago Department of Buildings. For small renovation works involved in a single family home, you can do your own drawings if you are the homeowner with help from the Homeowner Assistance Program.
Other projects will require plans and drawings which must be prepared by licensed Chicago engineers, architects and MEP engineers. You have to submit the drawing during the project review processes discussed in the next section.
Approvals at Chicago Department of Buildings
You can take advantage of three types of plan reviews to get permit for your construction from the Chicago Department of Buildings. Here is a look at each of them.
1. Easy Permit Process (EEP)
Most simple commercial and residential projects fall in this category. These make up the repair-or-replace permits and include work such as electrical wiring, window and door replacement, drywall replacement and so on.
The plans under this category are reviewed quickly and transferred for same day processing through Final review. You have to pay the charges for EEP at counter of Department of Revenue once your permit is ready to be issued.
2. Standard Plan Review (SPR)
SPR covers most of the projects that you need to carry out in the commercial or residential sector. The projects included under this category include all new constructions, tenant finish projects, building alterations and excavation work.
The SPR goes through 13 departmental reviews and can be transferred to other departments for approval such as the Mayor's Office for People with Disabilities, the Chicago Department of Transportation and the Office of Underground Coordination.
Your project should also be passed by the Chicago Department of Planning and Development for zoning approval. Other external evaluations may also be required depending on the scope and nature of your project as per the Chicago Department of Buildings review process.
You can submit your project online via the E-Plan. A Project Manager will be dedicated to you and serve as your guide and point of contact for everything related to your project.
3. Developer Services and Direct Developer Services
Any huge scale construction project will come under the Developer Services at the Chicago Department of Buildings. Any plan submitted under this service is reviewed by an external third party consultant chosen by the Department. You are given a Project Administrator who serves as the single point of communication for your project.
Projects of the following nature are evaluated under the Developer Services program-
- Construction projects over 150,000 square feet and 80 foot high
- Residential buildings with more than 50 living units
- School buildings covering more than 60,000 square feet
- Gut rehab works with more than 50 units
- Buildings with basements deeper than two levels
- Projects which utilize earth retention systems
Some projects may also be passed under the Direct Developer Services based on the nature of the project. You will have to pay an extra review fee when your permit is ready for issuance.
Green Permit Process
You can take advantage of reduced fees, quick processing times and additional advantages if your project uses 'Green' materials. Such projects qualify for Green Permit from the Chicago Department of Buildings.
Projects that qualify for the process include-
- Construction using solar panels, rainwater harvesting, green roofs, geothermal systems and wind turbines
- Home projects with Chicago Green Homes Program rating and LEED
- Commercial projects with LEED
-You need to meet in-person with a Project Administrator to submit your project. The Administrator will decide if your project qualifies for the Green Permit Process.
Construction Bidding
Contractors can go for construction bidding for projects under the Procurement Services at the City of Chicago. The government offers projects for competitive bidding in the construction and engineering sector, especially for any MEP engineering project.
There are four types of construction bidding process-
1. Formal Competitive
Public advertisements are published for competitive negotiation or open competitive sealed bidding for projects exceeding the value of $100,000. Bids can be forwarded by all financially stable companies in the market.
2. Informal Competitive
Bids are solicited through internet postings, fax and mail in case of projects less than the value of $100,000. The bidding is carried out without public advertising and all financially stable companies can forward their bids according to the terms and conditions.
3. Non-Competitive Procurement
Any project which is not suitable for competitive bidding is managed through non-competitive procurement. It could include projects which require unique capabilities or technical expertise. Projects procured from a single source are also offered through this category.
4. Emergency
Emergency contracts are awarded on need basis based on the situation and municipal laws. Public advertisements or competitive bidding are not conducted for such emergency projects which is valued less than $250,000.
Construction Bidding Process
You have to send your bidding proposal once the formal statement of needs is issued by the Procurement department. The bidding proposal should contain accurate information and signatures from all required persons including Chicago engineers and MEP engineers if applicable.
You will receive an Acceptance of Bid Proposal within 60 to 90 days if your bid is chosen.
Building
Once you have got your permit, you can start construction or the renovation work. Small renovation works in a single family home can be carried out by the owner if the building is within three stories and has no more than 6 dwelling units.
Provide details in the Certification of Responsibility section in the permit application guaranteeing that you will be meeting the building safety codes and standards. For new construction or work involving electric, plumbing or masonry work will need a licensed professional.
For new constructions and other projects, you will need to hire general contractors with proper licenses.