Autoclaved aerated concrete (AAC) is a type of precast concrete with an expansion agent that rises the mixture, similar to yeast in bread dough. Once cured, this type of concrete contains about 80% air. Autoclaved aerated concrete is factory-made, and the material is molded into blocks or slabs with precise dimensions. These can be used for walls, floors and roofs.
Similar to all cement-based materials, AAC elements are strong and fire resistant. To gain durability, AAC must be coated with some type of finish, such as polymer-modified stucco, stone, or siding. AAC also offers sound and thermal insulation.
---
Identify the best construction materials for your next building project.
---
Autoclaved aerated concrete is available in blocks and panels. Blocks are stacked up similar to conventional masonry units, with a thin-bed mortar. Panels are installed vertically, extending from floor level to the top of the wall. Blocks can be placed by hand, since AAC weights about 37 pounds per cubic foot. However, panels usually require a small crane or other equipment for installation, due to their size.
The common measurements for panels and blocks are listed below:
| | | | |
| --- | --- | --- | --- |
| ELEMENT | HEIGHT | WIDTH | THICKNESS |
| Panels | Up to 20 feet | 24 inches | Available in 6, 8, 10, and 12 inches |
| Blocks | 8 inches (most common) | 24 inches | Available in 4, 6, 8, 10, and 12 inches |
Other special shapes are available:
U-shaped bond beams have a thickness ranging from 8 to 12 inches.
Tongue and groove blocks are used to connect adjacent units without mortar at vertical edges.
Cored blocks, to create vertical reinforced grout cells.
Physical Properties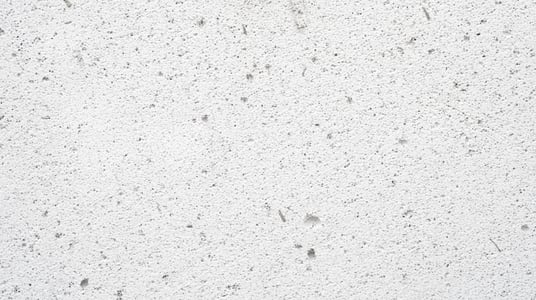 Autoclaved aerated concrete is made from a mixture of cement, lime, water, fine aggregate, and most of the times fly ash. An expansion agent such as aluminum powder is added to cause a chemical reaction, creating bubbles that expand the mixture. Elements are cut into blocks or panels, reinforced, and then baked for faster curing. The physical properties of AAC are listed below:
Density: 20 to 50 pcf
Compressive strength: 300 to 900 psi
Thermal resistance: 0.8 to 1.25 per inch of thickness
Allowable shear stress: 8 to 22 psi
Sound transmission class: 40 for 4 inch thickness and 45 for 8 inch thickness
Benefits of Autoclaved Aerated Concrete
Some beneficial properties of autoclaved aerated concrete are the following:
Combining insulation properties with structural integrity for walls, floors, and roofs.
Available in a variety of forms and sizes.
Recyclable material.
Chases for electrical conduit and plumbing runs can be cut easily.
Design and construction flexibility, allowing field changes if necessary.
Durable: AAC is resistant to water, mold, mildew, rot and insects
Dimensional stability: AAC units are precisely shaped, conforming to tight tolerances.
Fire resistant: 8-inch AAC elements are granted a four-hour rating, but actual performance usually exceeds that number. AAC is noncombustible, so it will not burn and produce toxic gases.
R-values of AAC walls are comparable with conventional frame walls, due to their low weight. However, they offer higher thermal mass, airtightness and acoustic insulation.
Limitations of Autoclaved Aerated Concrete
Like any construction material, autoclaved aerated concrete also has technical limitations:
AAC is not widely available like other traditional concrete products. However, it can be shipped easily thanks to its low weight.
AAC has a lower strength than other concrete products, requiring reinforcement in load bearing applications.
Requires application of finishing coats for protection against the elements since the material is porous and would deteriorate with frequent exposure.
Products might show inconsistency in quality and color, consult manufacturer.
Exterior cladding is required on exterior walls to protect from weathering.
Compared to other energy efficient insulated wall, R-values are relatively lower.
Higher cost than conventional concrete block and wood-frame constructions, which may be a budget issue.
Sustainability
For a sustainability perspective, autoclaved aerated concrete offers material and performance benefits. It can reduce the environmental impact of a building, while improving indoor temperature control and HVAC performance.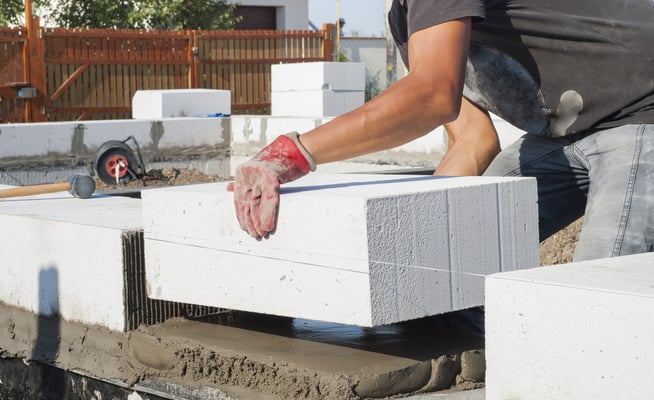 On the materials side, it contains recycled components like fly ash and rebar. This can help contribute to LEED credits or other green rating systems. AAC also contains plenty of air, reducing the amount of raw material per unit of volume.
From a performance perspective, autoclaved aerated concrete systems lead to tight building envelopes, reducing air leaks and improving energy efficiency. Physical testing shows heating and cooling savings from 10 to 20 percent, compared with conventional frame construction. However, savings may be lower in cold climates, since AAC has lower thermal mass than other types of concrete.