Insulated concrete forms (ICFs) are cast-in-place concrete walls that are sandwiched between layers of insulation material. This construction method is known for its high strength and energy efficiency. Some common applications of ICFs include residential and commercial low-rise buildings.
Walls are made from interconnected forms, which stay in place as permanent structures. Traditional finishes are applied to both interior (drywall) and exterior faces (stucco, lap siding, brick, etc), therefore buildings with ICFs will look similar to typical constructions, only with slightly thicker walls.
---
Improve your building insulation and save on heating and cooling.
---
Overview of Insulated Concrete Forms
The use of insulated concrete forms dates back to the years after World War II, when multiple companies developed structures that resemble today's typical ICFs. In the 1990s, the Insulating Concrete Form Association (ICFA) was founded with several goals:
Conducting research
Promoting product approval
Developing new technologies to enhance this construction method
Achieving acceptance in building codes
The main issue with ICFs was the lack of technical knowledge, since installers were not familiarized with the system. Contractors had to work carefully to achieve code approvals and materials were proprietary, leading to much higher costs than conventional frame construction.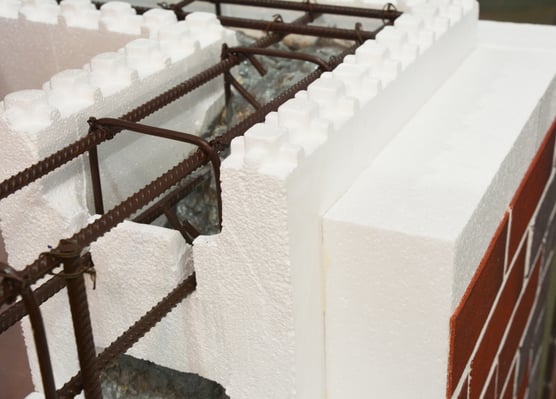 ICFs became more common over time, and companies developed new innovations that reduced costs. Builders began using them in applications like mid-price homes, apartment buildings and hotels. According to the ICFA, approximately one third of structures with ICFs are non-residential.
Insulated concrete forms are used by many contractors and developers to qualify for energy credits and other types of ratings, such as LEED or WELL. ICFs can replace masonry, wood, or conventional concrete walls, and they also provide a sound and insulation barrier.
Types of Insulated Concrete Forms Systems
There are three major ICF system designs: flat system, grid system, and post and beam system. All three methods are accepted by codes, and have been deployed successfully in many projects.
Flat systems are similar to conventional poured walls, with a continuous thickness of concrete through the entire wall. On the other hand, grid systems have a waffle pattern where the concrete is thicker at some points. The post and beam systems have horizontal and vertical elements of concrete that are completely encapsulated in foam insulation.
Benefits of ICFs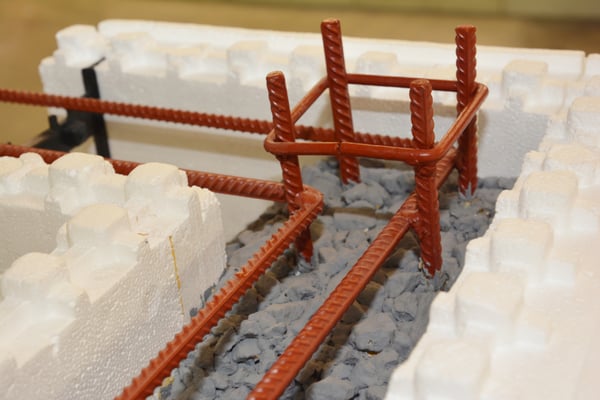 Some of the benefits of using insulated concrete forms include:
Can be designed for buildings over 40 feet tall.
Follow the same code regulations as regular concrete walls.
Greater insulation (R-17 to R-26) compared with wood-frame structures (R-9), therefore less energy is required to heat and cool building interiors.
Energy efficiency, resulting in cost savings.
Resistant to mold, mildew, rotting, insects, and weather.
Greater sound resistance and moisture barrier.
High strength.
Forms can be directly cut using electric hot knives or routers, and new pieces can be reassembled.
Fast and easy construction, reducing working schedules.
Flexibility in design, forms can be adapted to several measurements.
Lightweight, allowing easier shipping and transportation.
Compatibility with carpenter trades.
Walls offer air tightness, especially if paired with compatible windows, doors, and roofs.
Disadvantages of ICFs
One major disadvantage to ICFs is the initial cost. However, the energy savings compensate for this in the long run.
When remodeling, ICFs may require cutting into solid concrete walls, which can be complicated and time consuming. Proper and careful planning is necessary to avoid extra work, while installing mechanical and plumbing appliances.
ICF walls use more space than traditional concrete walls, which can be an issue in smaller homes where the floor space is limited.
When polystyrene forms are used in ICFs, there is a risk of insects and water entering the foam. Therefore, foams should be treated with insecticides and designed to be waterproof, which increases cost.
Humidity may be an issue when using ICFs, and this rise in humidity occurs because the concrete is still in the process of curing. Once it is fully cured, the air moisture level should return to normal.
Costs
Insulated concrete forms can add approximately $3 to $5 per square foot, making them more expensive than traditional wood framing units. However, since they provide greater energy savings throughout their entire life cycle, the initial investment will eventually be recovered.
Sustainability and Energy Efficiency
The main appeal of insulated concrete forms are the potential energy savings that come from reducing the amount of energy required to heat and cool the building. Those savings can add up to 20 percent or more.
The typical R-value for a building made using insulating concrete forms is about 20. During its service life, a single-family ICF home can save large amounts of CO2 compared with a traditional wood frame home.