With its continuous effort to use more renewable energy, Chicago has become one of the greenest cities in the USA. The city is committed with the goals of the Paris Agreement through the Chicago Climate Charter, and the local government unveiled a plan to power all municipal buildings only with renewable energy by the year 2025.
Chicago has been ranked twice as the greenest city in the US by the Green Building Adoption Index, and it holds the LEED for Cities Platinum Certification from the US Green Building Council. Chicago is also the first major city to get the ENERGY STAR Partner of the Year Award.
On November 16, 2018, the city launched its latest clean energy program: the Chicago Renewable Energy Challenge. Its main purpose is motivating the private sector to join the municipal government in its renewable energy goals, and there are two main guidelines for organizations who participate in the challenge:
Supplying 100% of their electricity from renewable sources by the year 2035.
Once the target is reached, sustaining a 100% renewable energy usage for at least 10 years.
Tracking and sharing progress in yearly reports, to motivate other organizations.
Serving as a city ambassador for renewable energy installation and purchasing.
Participants in the challenge can set the target for both owned and leased properties, and large organizations with multiple buildings can select one or more properties to participate. Once a participant reaches the target, it is designated as a "Chicago Renewable Energy Leader".
---
Improve the energy performance of your building.
---
Power Supply Options in the Chicago Renewable Energy Challenge
There are many ways in which a company can use more renewable energy to power its operations. In the Chicago Renewable Energy Challenge, the following options are allowed:
On-site renewable energy installation: This is the most straightforward approach, where the company purchases and operates a renewable energy system. The net consumption of the building is lowered, which reduces the electricity bill.
Power Purchase Agreement (PPA): Alternatively, companies can purchase clean electricity from a renewable energy system owned by the supplier. Note that PPAs are possible with on-site and off-site installations.
Community solar power: A company can purchase part of a solar power system having multiple owners, where the electricity output is split based on the ownership share of each participant.
Renewable Energy Credits (REC): With this option, a company purchases Renewable Energy Credits from other organizations. Owners of renewable energy systems earn a Renewable Energy Credit (REC) for every 1,000 kWh of generation, and these can be traded like stock.
The Chicago Renewable Energy Challenge only allows limited use of RECs, since they do not represent actual electricity consumed by the building. Instead, the participant is "purchasing" credit for clean energy generation achieved by someone else.
Which Electricity Sources Are Considered Renewable in Chicago?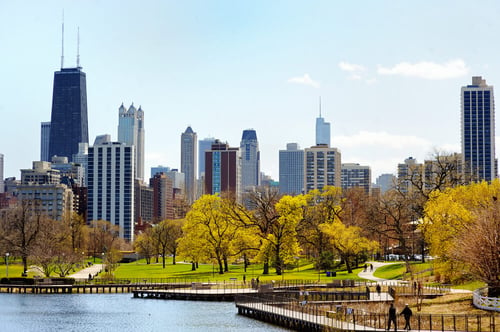 The definition of renewable energy sources is not always the same. For example, large-scale hydroelectricity is not always considered renewable, and there are also organizations that count nuclear power as a renewable source. In the case of Chicago, the following generation systems are considered renewable:
Wind turbines
Solar thermal and solar photovoltaic systems
Biomass: Biodiesel, anaerobic digestion, organic waste, tree waste and landfill gas
Low-impact hydropower
Founding Members and Expected Benefits
The Chicago Renewable Energy Challenge has seven founding members, which include global organizations and academic institutions:
Karen Marie Salon
Loyola University
McDonald's
Microsoft
Northwestern University
School of the Art Institute of Chicago
The University of Illinois at Chicago
When all seven founding members reach 100% renewable energy, they will be reducing their consumption from conventional sources by 184.5 million kWh per year - enough electricity to power 20,000 homes. The environmental benefit is equivalent to removing 30,000 cars from circulation, or saving 300,000 barrels of oil.
The Chicago Renewable Energy Challenge was modeled after another program called Retrofit Chicago, launched in 2012. In this program, participants aim for a 20% reduction in building energy use, and there are 90 participating properties with a floor area of 57 million sq. ft. So far, they have achieved an average reduction of 17%, saving $11 million per year.
Conclusion
Renewable generation and energy efficiency are excellent options to reduce the energy expenses of your building, while contributing to environmental sustainability. They also complement each other: while energy efficiency reduces consumption, renewable generation replaces the power supplied by conventional fossil fuels.
Keep in mind that every building has unique features, and any upgrades that improve energy performance must be adequate for the property. The best approach is getting an energy audit as a first step, to identify the energy efficiency measures and renewable technologies that yield the highest return on investment.