Fire escapes are an iconic architectural element in urban centers with a long history, such as New York City. Although they were first conceived as external means of egress, fire escapes have been re-purposed as balconies, storage areas and patios, to name a few examples.
Industrialized cities were experiencing rapid population growth during the 1800s, which created a high demand for residential, commercial and industrial spaces. Many buildings used cheap and flammable materials while having poor fire protection measures, leading to numerous incidents. Fire escapes emerged a viable solution, since they could be installed outside a building without using up valuable floor space.
---
Does your building have adequate fire protection measures?
---
However, fire escapes also led to a increased risk of falling objects, due to how commonly they are used as extra floor space. Being metallic, fire escapes are also vulnerable to rust, and parts of them can break off and fall when loaded. The oldest fire escapes were made from iron, making them more vulnerable to rust; they were eventually made from steel, increasing their corrosion resistance and structural integrity.
How Old Is the Fire Escape on My Building?
Knowing the exact age of a fire escape is difficult, since many were added to existing properties in response to building codes. However, the installation of new fire escapes has been forbidden by NYC codes since 1968, except in some specific cases. In other words, if you see a fire escape, you can assume it is over 50 years old.
In modern fire protection engineering, interior staircases with fireproof walls and automatic sprinklers are among the most commonly used means of egress. They are considered a much safer option than fire escapes, especially when you consider that NYC is close to the sea, exposing outdoor metallic elements to salt corrosion.
Although the installation of new fire escapes is not allowed, removing them from existing buildings is not so simple. There are two main reasons:
Fire escapes have historic significance, as previously mentioned, and property owners often prefer to keep them as decorative or architectural elements.
Existing fire escapes cannot be removed unless the building owner has already deployed suitable means of egress, such as a fireproof staircase. This involves using up floor space that could be rented.
When fire escape reparations are small enough to be classified as minor work, they can be carried out without a permit from the NYC Department of Buildings. However, if a building has received landmark designation from the NYC Landmarks Preservation Commission (LPC), their permission is required before any work that involves fire escapes.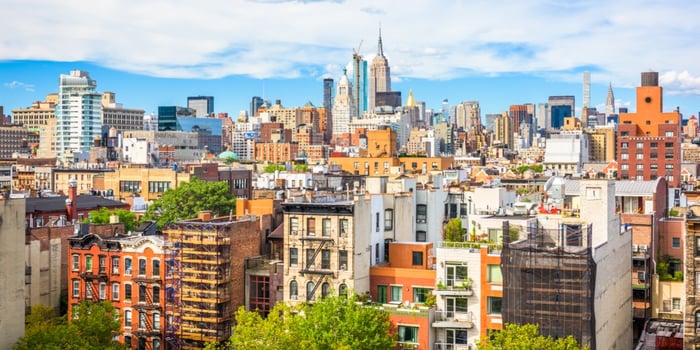 Fire Escapes and Local Law 11
As we discussed in a previous article, Local Law 11 mandates periodic facade inspections for buildings taller than six stories, at five-year intervals. The inspection requirements cover all wall elements, including fire escapes. When their condition is reported, there are three options:
Safe

, which means no hazards have been identified.

Safe with a repair and maintenance program (SWARMP)

, where there is no immediate risk, but a reparation is required within a reasonable timeframe specified by the inspector.

Unsafe

, where there is an immediate risk that must be fixed within 30 days. If a SWARMP condition is found during two consecutive inspections, it is automatically labeled as unsafe the second time, even if there has been no further deterioration.
There are hefty penalties for not fixing unsafe conditions after a Local Law 11 inspection, and the best recommendation for property owners is to act fast.
Even if a fire escape is reported as safe and in good structural condition, caution must be exercised. For example, objects such as flower pots and chairs can still fall and threaten pedestrians.
Conclusion
Although fire escapes are distinctive architectural elements, there are now much safer options to provide means of egress in case of fire. Many building owners prefer to keep their fire escapes, but a fireproof stairway is strongly recommended, providing a much safer option without forcing you to remove the fire escape.