Having well-designed and well-installed fire protection systems is fundamental for safe indoor environments. For example, the April 7 fire incident in the 50th floor of the Trump Tower could have been prevented with automatic sprinklers, but NYC codes and laws only make them mandatory for new constructions and major renovations. Automatic sprinklers are just one of many fire protection measures used in buildings, and the NJ Administrative Code Title 5 dedicates Chapters 70 through 76 to fire protection requirements.
NJAC TITLE 5, CHAPTER No.
FIRE PROTECTION ASPECTS COVERED

70

71

72

73

74

75

75A

76

Uniform Fire Code

Fire Code Enforcement

High Level Alarms

Standards for Fire Service Training and Certification

Standards for the Certification of Fire Protection Equipment Contractors

Fire Service Incident Management System

Fire Service Resource Emergency Deployment

Residential Disability Identification Emblems
The Uniform Fire Code (NJAC 5:70) provides the fire protection requirements for buildings in New Jersey, and is further divided into four subchapters:
General Provisions
Administration and Enforcement
State Fire Prevention Code
Fire Safety Code
---
Get a code-compliant fire protection system design.
---
NJ Uniform Fire Code: Key Definitions
The first two subchapters focus on administrative, legal, permitting and certification aspects, as well as technical definitions. The terms defined are repeated multiple times in the code, so getting familiarized beforehand makes the code much simpler and easier to understand. The following are some of the most relevant concepts used in the specification of fire protection requirements:
| | |
| --- | --- |
| CONCEPT | DEFINITION |
| Common Areas | In covered malls, all the areas that are not part of retail establishments and their associated means of egress. In R-1 and R-2 buildings, all areas accessible for occupants and the general public, such as hallways and stairways. The definition also includes areas used by management and maintenance staff. |
| Fire Barrier | Continuous membrane with a determined fire resistance rating, to limit the spread of fire and smoke. Fire barriers can be vertical or horizontal, including walls and floor assemblies. They can have protected openings in applications allowed by the code, provided that certain performance features are met. |
| Gross Floor Area | Total area enclosed by the perimeter of outside walls, without subtracting the area covered by walls, columns and other inaccessible spaces. |
| Net Floor Area | Occupiable area, the result of subtracting wall thickness and accessory areas from the gross floor area. |
| High-Rise Structure | Construction with occupied floors six stories or 75 feet above the lowest level accessible to firetrucks. |
| Smoke Barrier | Same as a fire barrier, but does not necessarily have a fire resistance rating. |
NJ State Fire Prevention Code (NJAC 5:70-3)
The NJ State Fire Prevention Code uses the 2006 International Fire Code as the core of its content. In other words, the 2006 IFC is adopted as an official New Jersey code for legal purposes. However, like many other adopted codes in the NJAC, it is subject to various modifications, many of which are application-specific. The following are some of the most relevant changes introduced:
One- and two-family dwellings

occupied by the owner and used exclusively for dwelling are not covered, since those building types have a dedicated subcode.

Industrial processes and equipment

not covered by the

Uniform Construction Code

may be subject to the Uniform Fire Code, so each case must be checked carefully.

Requirements dealing with fire protection of structural elements and isolation of hazardous operations

are not retroactive. In other words, they don't apply for constructions that used previous code versions, unless a major renovation takes place.

The code provides a list of unacceptable conditions

that must be resolved as soon as possible when detected. These include any condition that interferes with the operation of fire protection systems, fire escape obstructions, and any hazards that result from incorrect installation of mechanical and electrical systems.

High level alarm systems,

covered in chapter 72, are mandatory for flammable liquid storage terminals.

Various

NFPA standards

are referenced throughout the NJ State Fire Prevention Code, and their requirements must be fulfilled.
The applications subject to special requirements beyond the 2006 IFC include boarding houses, residential healthcare facilities, casinos, aviation facilities, dry cleaning, semiconductor fabrication, woodworking, tents, canopies and tire storage.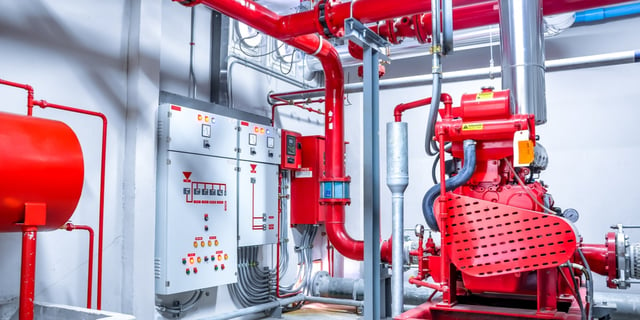 NJ Fire Safety Code (NJAC 5:70-4)
The NJ Fire Safety Code focuses on the technical performance requirements for fire protection systems in New Jersey buildings. This code is complementary to the NJ State Fire Prevention Code covered in the previous subchapter (NJAC 5:70-3), covering the following fire protection features and systems:
Fire suppression systems such as

automatic sprinkler systems

Standpipes

Automatic fire alarms

Automatic carbon monoxide alarms

Manual fire alarms

Means of egress

Interior finish

Protection of stairways and other vertical openings

Information signs

Smoke barriers
In addition, special requirements are presented for high-rise buildings, amusement buildings, boiler and furnace rooms, one- and two- family dwellings, and casino hotels.
Final Recommendations
Meeting the fire protection requirements in New Jersey can be challenging, given the long list of specifications and referenced standards. Working with qualified design engineers is the best way to ensure code compliance and speed up project approval. Although fire protection requirements can represent a significant portion of project costs, they result in a safer facility for occupants, while minimizing the damage and financial impact of fire events throughout the building lifetime.