In both new construction and renovations, the type of flooring is an important design decision. The flooring material not only affects appearance - the building usage, installation difficulty and maintenance requirements must also be considered. Before selecting a flooring material, read about the applications, benefits and drawbacks of each option.
---
Select the best materials for your building project.
---
Flooring Selection: Factors to Consider
When choosing the flooring material for your home or facility, there are several factors you should consider:
Space

: Some types of flooring are not recommended for certain rooms. For example, carpet flooring is unsuitable for a kitchen, since it's difficult to clean.

Occupancy

: The designated use of the space should be considered as well. Some areas may require spill-proof or scratch-resistant surfaces.

Budget

: Flooring prices can vary a lot depending on the material.

Installation

: As the flooring material becomes more difficult to install, labor costs increase. For example, some materials require an underlayment or pad.

Aesthetics

: Flooring has a strong impact on interior appearance. Choosing a material that matches the overall design is key.
Comparing 5 Types of Flooring
This section will compare some of the main flooring materials used in construction projects.
Laminate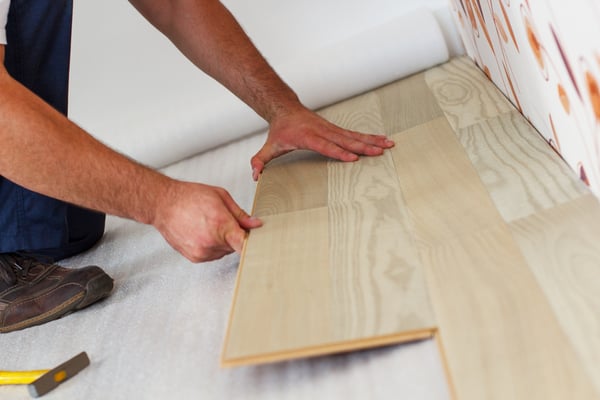 Laminate flooring is produced with 3D-printing technology, and any texture or style can be replicated with this technique.
Pros: Laminate flooring can replicate the look of wood and stone at lower costs. Laminate floors are durable and their maintenance is simple. They are stain-resistant and scratch-resistant.
Cons: Laminate flooring is not waterproof. Standing water will cause permanent damage, and a replacement will be necessary.
Recommended Rooms: High-traffic areas such as foyers, lobbies, waiting rooms or offices. It is not recommended for areas of high moisture or direct exposure to water.
Cost: Material costs can range from $2 to $8 per square foot, without including the installation.
Hardwood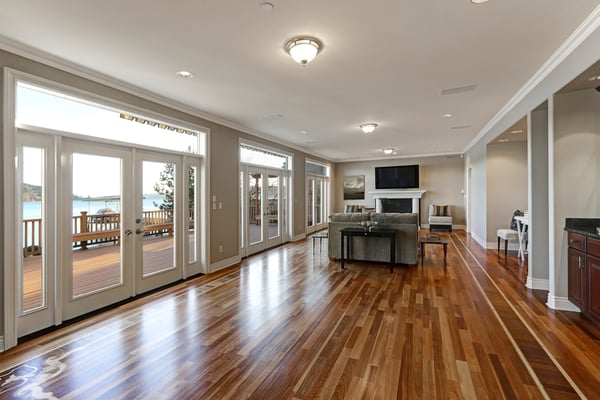 Hardwood is one of the most common flooring materials, and many building owners and designers like its appearance.
Pros: Hardwoods are durable and stable, while providing a cozy look. They also have a great resale value. Maintenance is not complex, since only vacuum cleaning is required.
Cons: The major drawback of hardwood is its high cost. In applications where sound is an issue, hardwood is not recommended because walking produces noise. Hardwood also requires regular maintenance and refinishing in high-traffic areas. In general, the material is not recommended for spaces with high occupant traffic or humidity.
Recommended rooms: Hardwood is a common option for living rooms, since it achieves a cozy and stylish vibe. Living rooms tend to be low-traffic, so less maintenance is required. A rug can be helpful to reduce noise. Hardwood is also suitable for sports and residential use.
Cost: The price of hardwood is variable depending on the type of hardwood chose, prices ranges from $3 to $12 per square foot. Besides materials, hardwood flooring requires qualified workers for installation which increases the initial cost.
Tiles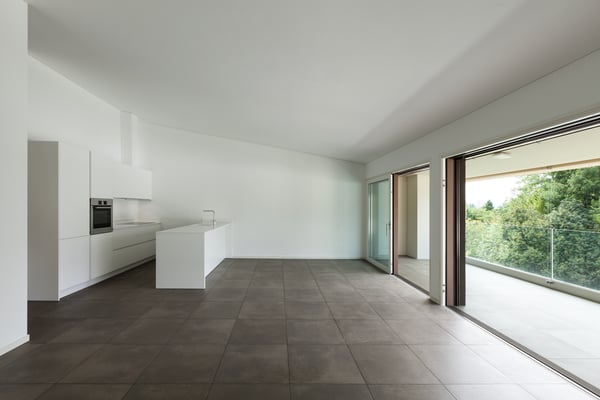 Tiles are among the most resistant flooring materials, and they are unaffected by moisture or weather. Tiles are available in many colors, sizes and materials - some options are ceramic, marble, porcelain, and granite.
Pros: Ceramic tiles are a stable material, available in different styles and colors. Tiles are very durable and resistant to scratching and water. They are easy to clean and not prone to staining.
Cons: Tiles may be loud to walk on, which limits their applications. Tiles also lack elasticity, making them vulnerable to cracking, and reparations can be difficult. The installation of tiles requires adhesive and grout, and it can be time-consuming. Also, an incorrect installation can cause water penetration at joints.
Recommended rooms: Bathroom and kitchen, to take advantage of their water resistance.
Cost: Prices range from $1 to $20, depending on the type of tile.
Vinyl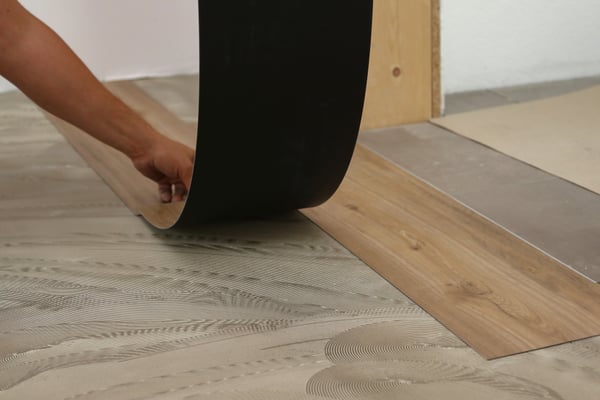 Vinyl can be found in sheets or tiles, which are also known as resilient flooring. Vinyl sheets are commonly used in hospitals or medical facilities, where flooring with less seams is necessary for health reasons. Vinyl tiles are available in different styles, and are often manufactured to resemble other materials.
Pros: Vinyl is relatively easy to install and resistant to high traffic. The material is also flexible, easy on your feet and quiet. In general, vinyl floors are tough and durable. Vinyl is available in many colors and at a modest cost. Floors can be cushioned with felt or foam to offer extra comfort.
Cons: Although vinyl is manufactured to resemble other materials, the final product does not look as good as the real material. Large vinyl sheets are also difficult to transport, and the installation must be planned carefully.
Recommended rooms: Vinyl is useful in laundry rooms, since it can mitigate the noise from washing machines.
Cost: Depending on the quality, vinyl prices can range from less than $1 to $5 per square foot.
Carpet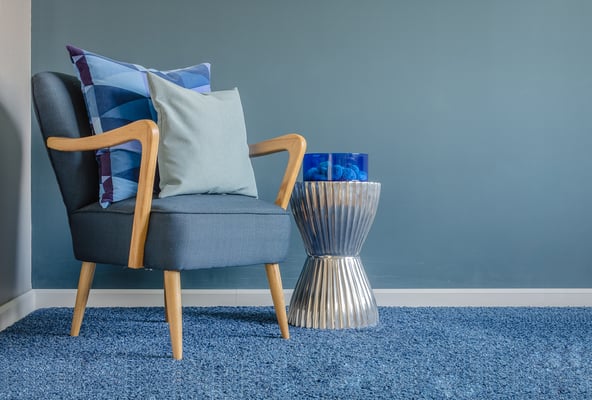 Carpets are a popular type of flooring that provides design versatility, and it comes in a variety of colors and patterns. Carpet is considered the most versatile of all flooring options.
Pros: Aesthetically, carpets give a soft and cozy feel to a room. They provide a smooth surface that is quiet to walk on. Installation is simple, fast and versatile, adapting to uneven surfaces.
Cons: Carpets are prone to stains, even those made with high fiber technologies. They require constant cleaning and maintenance using vacuums. Carpets also represent a risk factor for individuals with allergies or asthma, since they gather dust and particles even with regular cleaning.
Recommended rooms: Carpets are recommended in low-traffic rooms, to minimize dirt accumulation. They are commonly used in bedrooms. A carpet that is not cleaned regularly with have a negative effect on air quality.
Cost: Depending on the quality, costs may range from $7 to $12 per square foot.
There are many factors that can be considered when selecting a flooring material. Ideally, a flooring material should meet the project budget, while being durable and fitting within the required aesthetic.