Tiles are a popular flooring material because they offer multiple benefits, especially for homeowners looking for an aesthetic look that is durable and cost-effective. Flooring tiles are made from a wide variety of materials such as clay, stones, metals, and quartz. Each type of flooring has its individual characteristics, properties and benefits. Choosing the proper tile depends on the project size, budget, look, and specifications.
The main advantages of tiles are the following:
Cost-effective
Durable and resistant
Water resistant
Environmentally friendly
Wide range of styles and colors
Easy to clean
There are many types of tiles, varying in material, style and colors. Each type offers benefits and disadvantages. This article will list the different types of tiles and their characteristics.
---
Manage your project effectively and save on materials.
---
Travertine
Travertine is a type of limestone, a natural and porous stone that has a rough texture due to air bubbles and organic matter. Travertine tiles have various unique patterns and colors, which depend on the material used. They can be used indoors and outdoors, and their slip resistance makes them useful for bathrooms and other water-prone areas.
Ceramic
Ceramic tiles are made from clay and minerals, through a process of heating and cooling. Ceramic tiles are usually categorized as either porcelain or non-porcelain. Non-porcelain ceramic tiles are the most economical and easier to handle, but aren't as durable as porcelain tiles. Ceramics are available in a wide variety of colors, sizes, textures, and shapes.
Porcelain tiles are fabricated using clay. Porcelain clays are denser and less porous, making the tiles hard and waterproof. This makes them durable and suitable for areas with heavy pedestrian traffic. Porcelain tiles can be used both indoors and outdoors, thanks to their high density.
Faux Wood Tiles
Faux wood tiles are made of porcelain or ceramic, but are categorized apart due to their unique appearance. There is a rising trend in using these tiles: they provide the aesthetic of wood, combined with the durability of porcelain or ceramic tiles.
Marble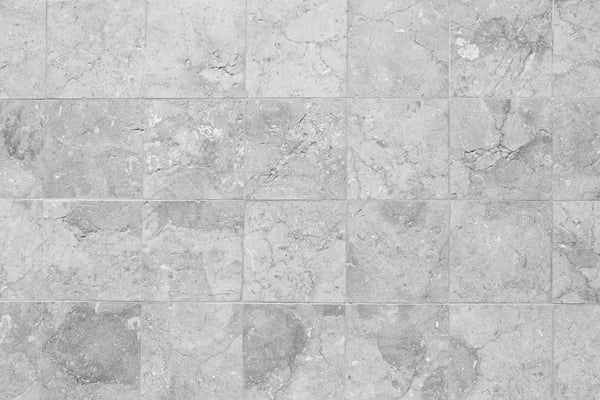 Marble is a durable natural stone that is available in multiple colors, which depend on the mineral content. Marble tiles offer high aesthetic value, with an elegant vibe that can increase home value. Marble tiles have various finishes, including honed, polished, tumbled, and brushed. The main disadvantage of marble is its high price and maintenance cost. Marble has a porous surface, and requires the application of sealants up to twice per year.
Slate
Slate tiles come from metamorphic rocks, and can be used outdoors or indoors thanks to their durability. Slate is slip-resistant even when wet or greasy, making it a common option for bathrooms and kitchens. Slate tiles are available in many colors, such as blue, green, red, orange, and brown. When used in high traffic areas, slate tiles should be stripped and resealed at regular intervals as a part of building maintenance.
Granite
Granite is an igneous rock with high density and durability. Granite tiles are characterized by their unique patterns, and no two tiles are the same. Polished granite tiles are resistant to scratching.
Mosaic
Mosaic tiles are made of multiple materials like stone, glass and ceramic. These are laid together to create colorful and diverse patterns. For this reason, mosaic tiles are commonly used for decorative purposes when a visual impact is desired.
Onyx
Onyx is a soft translucent stone, and also one of the most fragile types of stone. To compensate for this, onyx tiles are enhanced with a supporting mesh, resin or fibreglass backing. Onyx tiles are used indoors, for light traffic floors or even countertops. Before installation, a dry layout should be performed to ensure color and pattern variation. This type of tile provides a smooth texture with earthy tones.
Quartzite
Quartzite is a metamorphic rock that makes durable, non-slip, and beautiful tiles. It is one of the most popular choices for homes, normally used in pool surroundings, driveways or interiors. Quartzite can be crystallized and sealed with a darker shade to achieve a marble-like finish. These tiles are durable and available in various textures and colors, making them very versatile, and suitable for both domestic and commercial applications.
Terrazzo
Terrazzo is a composition of several materials, including marble, quartz, glass, granite, and stones. These materials are cured, ground and polished to create a smooth surface. Terrazzo tiles are durable and long-lasting, and can be refinished multiple times to protect their surface. These tiles are common in public buildings, but not recommended for domestic use because they can become slippery.