Local Laws 92 and 94 of 2019 require sustainable roofing systems for new constructions, existing roof expansions and roof replacements. Under these laws, sustainable roofing is defined as a solar photovoltaic system, a green roof, or a combination of both.
---
We can help you meet Local Laws 92 and 94 of 2019.
---
This blog post provides a practical guide on how to meet LL 92 & 94 of 2019, summarizing the key points contained in the laws.
Calculating the Roof Area Covered by LL92 & 94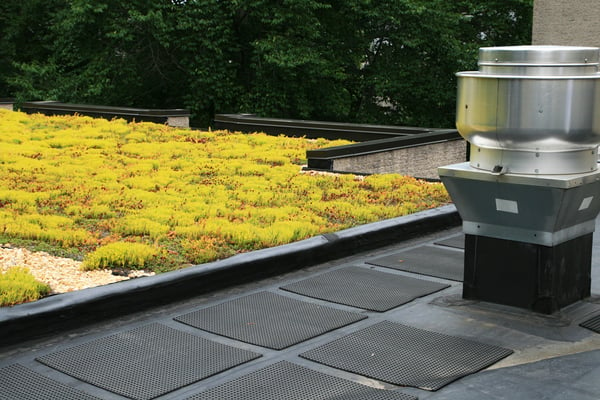 To determine how much sustainable roofing area you need, the following areas must be subtracted from the total roof area:
FDNY Roof Access: At least 6 feet x length of building x depth of building;
Any areas that must be set aside to meet requirements in the NYC Fire Code, the Zoning Resultion, or any of the Construction Codes.
HVAC equipment, roof structures, towers, parapets, guardrails, solar thermal systems and associated accessories;
Stormwater management equipment and related installations;
Terraces not exceeding 25% of the largest floor plate area in the building;
Recreational spaces that are principal to the building's use.
It must be noted that the exception for recreational spaces principal to the building's use is ill-defined by the law.
When all these areas are subtracted from the total roof area, whatever is left is considered the "sustainable roofing zone" under LL92 & 94.
Deciding Between Solar PV Systems and Green Roofs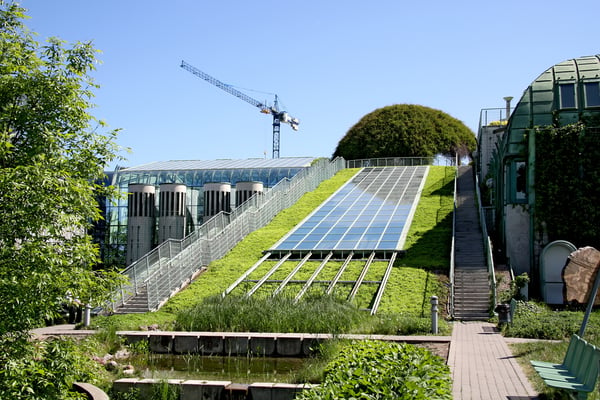 After identifying which areas require sustainable roofing, the next step is deciding between adding solar panels and installing a green roof. Solar panels are only compliant if they can generate at least 4 kilowatts of capacity; otherwise, a green roof must be used.
If the sustainable roofing zone is less than 200 square feet, it may be the case for using a green roof instead of solar panels. A solar power design requires a professional assessment, but consider the following rule of thumb for estimation purposes:
A 3' x 5.5' solar panel offers you around 350 W, using an area of 16.5 square feet;
12 panels will get you 4200 W of capacity;
12 panels require around 198 square feet of unobstructed roof space.
If the project owner wishes to use solar panels, and the sustainable roofing zone is smaller than 200 sq.ft., higher efficiency and more expensive solar panels are needed to reach 4 kW. The solar power system can only be installed by a qualified contractor with one of the following credentials:
NABCEP Certification

- North American Board of Certified Energy Practitioners

IBEW-NECA Electrical Journeyman & Apprentice Training

- International Brotherhood of Electrical Workers or National Electrical Contractors Association

UL Credential

- Underwriters Laboratories
Special Cases Under Local Laws 92 and 94
Historic buildings that have been officially designated as landmarks are subject to LL92 & 94, but there is an additional condition in this case. All new roofs or existing roof modifications that meet the conditions described in previous sections must meet the laws. However, the sustainable roofing system must also be approved by the Landmarks Preservation Commission (LPC). If the LPC does not approve the sustainalbe roofing system, the corresponding roof is no longer subject to the LL92 & 94 requirements.
NYC Housing Preservation and Development (HPD) has a similar attribution in the case of income-restricted housing. They can determine that a roof is not required to meet LL 92 & 94. However, these are temporary exemptions that cannot extend beyond November 15, 2024.
In Group R buildings under five stories, the minimum roof area that is subject to LL92 & 94 is 100 sq. ft. instead of 200 sq. ft. With the current efficiency of solar panels, installing 4 kilowatts of capacity within 100 sq. ft. is unfeasible.
For example, the Sunpower A-series is one of the most efficient solar panels available, with a capacity of 425 watts and an area of around 20 sq. ft.

Only five of them fit in 100 sq.ft, and their total capacity is 2,125 watts.
In other words, even the most efficient solar panels cannot reach 4 kW in 100 sq. ft.
Reaching 4 kW of solar power capacity is unfeasible in 100-sq.ft. roof sections subject to LL 92 & 94. The only option is using a green roof, or using a pitch of at least 17% or make the roof section exempt.
A Few Things to Consider
The cost of meeting LL92 & 94 can be reduced with smart design decisions. The following are some viable strategies:
HVAC equipment can be lawfully extended, using all clearances possible, to reduce the sustainable roofing zone;
In cases where a solar thermal system is cheaper than a solar photovoltaic system, this system can also be used to reduce the sustainable roofing zone;
In low-cost projects where the sustainable roofing zone is less than 200 square feet, the area can become exempt by using a roof detention system with a slope above 17%, as per the 2014 BC Section 1511.2, exception No. 5: "A roof assembly with a slope greater than two units vertical in 12 units horizontal (17 percent) that would accommodate less than 4kW of solar photovoltaic electricity generating capacity."
To find the best compliance option for your building, a professional assessment from a qualified engineering firm is recommended. By optimizing the layout of your roof and its equipment, the area covered by LL92 & 94 can be minimized.