According to the U.S. Weather Service (NWS), lightning strikes the earth about 25 million times a year. It doesn't matter whether you live in Chicago, New York, Dallas, or anywhere else in the country, the chances of people being killed or injured by lightning is 1:240,000. If lightning strikes a fence, pole, tree, or another tall object, the falling object becomes a risk in itself.
Additionally, if lightning strikes power lines, telephone lines, or even plumbing pipes, it causes current to run through the lines and pipes, and if a person is holding a telephone, electric appliance, or plumbing fixture, or worse still, is in the bath, they will likely be struck and could be badly injured, or worse still killed.
Another worst case scenario is that when something is struck by lightning it sometimes causes it to burst into flames or even explode. Again, this might be caused by the secondary effect of a tree or other tall object being hit.
An analysis of lightning's electromagnetic fields carried out at the University of Florida and Shijiazhuang Mechanical Engineering College in Hebei, China, found that tens to hundreds of lightning flashes occur on earth every second. In terms of lightning protection, cloud-to-ground flashes were of most concern to researchers.
This is why lightning protection systems are so important.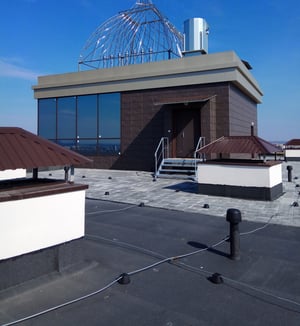 Roof of a modern building with lightning protection and ventilation system
The Lightning Protection Institute has a mission to educate people about the dangers of lightning – particularly on how it can enter your house and create what they call "a pathway for lightning's destructive energy!".
For instance, it might strike:
The roof of the house
The television antenna mounted on the roof of the house
The chimney, if there is one
Power or telephone lines
Nearby trees
Garage doors
Cable lines
Irrigation systems
Gas pipes
While not mandatory, a growing number of insurers insist on the installation of lightning protection systems for buildings, particularly those used for hospitals, schools, and for commercial purposes. Public venues and historic landmarks are also commonly earmarked by insurers.
Ultimately, a good lightning protection system (LPS) will minimize risks. But what constitutes a good LPS?
Standards for Lightning Protection Systems
The Lightning Protection Institute labels lightning as "the reigning queen" of electricity and compares this to the electrical current that surges through your house:
Lightning can carry as much as 300 million volt and 30,000 amps
Electrical current in your home is 120 volts and 15 amps
The Institute emphasizes the importance of using a recognized standard that is both practical and tested.
Both the National Fire Protection Association (NFPA) and the UL have developed standards for lightning protection. UL offers standards for lightning protection components as well as grounding and bonding equipment, while the NFPA and UL have developed standards for the installation of systems.
NFPA 780, the National Fire Protection Association's Standard for the Installation of Lightning Protection Systemsprovides requirements for the installation of systems that are designed to safeguard both people and property from all fire risks and their hazards associated with and related to exposure to lightning. The NFPA allows free access to this code.
The NFPA develops standards and codes as well as recommended practices and guides, but it does not have the power to either police or enforce them. Also, the NFPA doesn't issue certifications or any types of compliance statements relating to their codes and standards.
Users of NFPA codes and standards are expected to consult applicable local, state, and federal laws and regulations. Where the NFPA code includes sections that are mandatory in other codes, it will state that the requirement "shall" be fulfilled.
The UL, which has been certifying and inspecting lightning protection systems and equipment for 110 years offers UL 96 for components and UL 96A: Standard for Installation Requirements for Lightning Protection Systems that is aimed at any "interested parties" that need to facilitate an installation that is "reasonably safe and code-compliant."
The UL is an authority on lightning protection and also issues a Master Label Certificate in the U.S. that confirms compliance with NPFA 780 as well as UL 96A and a number of other applicable standards.
NFPA 780
The most recent edition of NFPA 780 Standard for the Installation of Lightning Protection Systemswas published in 2017.
The document covers protection of, and installation requirements for traditional lightning protection systems for a range of structures from ordinary buildings to structures that house explosive materials. It also covers watercraft, wind turbines, airfield lighting circuits, and solar arrays that are connected in a collection system of some sort.
In terms of this Standard, lightning protection systems are considered to be complete systems that comprise conductors, including inter-connecting conductors, strike termination devices, surge protective devices, grounding electrodes, and other connectors and fittings.
New requirements relating to on-site inspections of completed lightning protection system installations were added to the 2017 edition. Requirements for periodic testing and/or inspections for compliance by the authority having jurisdiction (AHJ) were also added.
UL 96A & the UL Master Label
UL defines lightning protection systems in a similar way to NFPA 780 mentioning exactly the same elements.
Their Standard has a similar scope to NFPA 780 except that structures housing explosive materials are not included.
Overall, the UL Standard is recognized as being highly effective when it comes to reducing fires and damage caused by lightning.
The Master Label Certification is accredited by the U.S. Occupational Safety and Health Administration (OSHA) and UL has issued this certificate to critically important U.S. buildings including the White House, the U.S. Department of Treasury, and the Willis Tower (previously the Sears Tower), and iconic skyscraper in Chicago.
NFPA vs UL Certification
Whether designers of lightning protection systems opt to follow NPFA 780 and/or UL 96A, or another recognized standard, there is no doubt that there is considerable benefit from the UL lightning protection Master Label Certificate that verifies compliance with standards.
The UL Master Label indicates that the system has been installed in accordance with the relevant accepted standards and in this way provides confidence that it will provide the necessary protection from lightning.
To obtain a certificate, the UL-approved installer company submits an application for the system to be checked. The inspection takes anything from an hour to a day, depending on how complex the system is. Generally, inspection certificates are issued within 48 hours.
Designing to Standards
When engineers design lightning protection systems for Chicago buildings, it is essential for them to comply with the best possible standards, specifically NPFA 780, UL 96A, or a standard that is relevant to the area where the building or structure is located.
When designing these systems for public buildings, it is imperative to ensure they comply 100%, and what better way to do this than by getting a UL Lightning Protect System Master Label? This won't only demonstrate a commitment to safety, but it will ensure that the system will work in the event of lightning strikes!