Plumbing installations can be very difficult to service and upgrade, since many system components are embedded in floors and walls. However, if you are planning a major renovation in a large building, consider using that chance to improve plumbing systems. Since many areas will be rebuilt from zero, it is a good opportunity for plumbing upgrades that would be disruptive under normal conditions.
For any plumbing engineering project in NYC, don't forget about code compliance and NYC laws:
The plumbing installation must meet the NYC Plumbing Code, along with any other standards referenced.

You can only get design approval from the NYC Department of Buildings if a Registered Design Professional (RDP) submits the project plans and specifications.

The work permit is only issued if your contractor is a Licensed Master Plumber (LMP).
An ideally-designed plumbing system delivers enough water to all the fixtures in the building, but at the same time it prevents waste and minimizes water bills. Consider that plumbing systems include pumping equipment and water heaters, which means that water usage also affects your energy expenses.
---
Get a plumbing system inspection to find the best upgrades.
---
If you are planning a major renovation for your property, consider the following upgrades for your plumbing installations:
Water-saving plumbing fixtures

New plumbing risers

An energy-efficient domestic hot water (DHW) system
This article will provide an overview of all these measures, along with general recommendations for their implementation.
Water-Saving Plumbing Fixtures
Just like there is an ENERGY STAR program for energy-efficient appliances, the US Environmental Protection Agency (EPA) has created the WaterSense program for water-saving plumbing fixtures.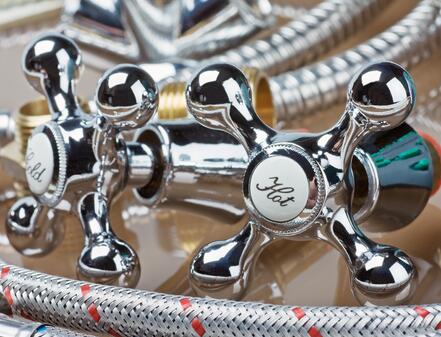 Improving your plumbing fixtures is a great starting point for a large-scale plumbing upgrade, since they provide two additional savings beyond water:
Heating savings, since less water flows through your DHW system. Depending on what type of heating equipment you use, this can reduce your electricity, gas or steam bill.

Pumping savings if you use a

water booster pump

, since the required flow rate is reduced.
The EPA WaterSense program provides labeling for eight different categories of plumbing fixtures as of January 2018, and new categories will be added in the short term. The EPA has created water saving guidelines, and plumbing fixtures are tested by third-party laboratories before the WaterSense label is granted.
TYPE OF PLUMBING FIXTURE

STANDARD WATER USAGE

WATER SENSE LABELED

Residential toilets


Shower heads

Bathroom faucets

Commercial toilets with flushometer-valve

Urinals

Pre-rinse spray valves in commercial kitchens

Irrigation controllers



Spray sprinkler bodies



1.6 gallons per flush

2.5 gallons per minute

2.2 gallons per minute

1.6 gallons per flush



1.0 gallons per flush

1.6 gallons per minute



Time-based or manual controls



Pressure and water flow at the nozzle are determined by the water supply

1.28 gallons per flush

2.0 gallons per minute

1.5 gallons per minute

1.28 gallons per flush, but no less than 1.0 gal/flush

0.5 gallons per flush

1.28 gallons per minute



Smart controls based on weather and landscape conditions

The sprinkler body has built-in pressure control before the nozzle
It is important to note that WaterSense plumbing fixtures are not only tested for water consumption. The procedure also includes performance testing, to make sure they can carry out their intended function properly. In other words, you are not giving up on performance if the plumbing fixtures in your building are upgraded to WaterSense labeled products.
New Plumbing Risers
Plumbing risers are piping segments that carry potable water vertically to the different floors in a building. Over time they tend to accumulate debris in their interior, while their exterior tends to be affected by rust. Debris build-up reduces the capacity to carry water and increases the required pressure, while rust makes piping more brittle, creating a risk of water spillage. When internal debris accumulation is severe in plumbing risers, the water supply for upper building levels can become very poor.
The main difficulty when upgrading plumbing risers in the disruption associated the project - for example, it may be necessary to demolish portions of walls or floors. This is why a major renovation project represents a great chance for the upgrade; disruption is not an issue when large areas of the building cease their operation.
When new plumbing risers are deployed for a high-rise building, the following procedure is recommended:
Leaving the existing plumbing risers in operation while the new ones are installed.

Switching the water supply to the new risers.

Removing the old risers until the new installation is fully operational.
This way, the water supply is not interrupted during the building upgrade project. Keep in mind that major building renovations are normally split into a series of smaller projects, where some portions of the building continue to operate normally. Also, many of the activities carried out by contractors require a water supply.
Energy-Efficient Domestic Hot Water Systems
Local Law 84 of 2009 requires buildings above certain size thresholds to benchmark their energy and water use, and the results gathered so far reveal that domestic hot water (DHW) systems account for a significant portion of energy usage:
In multi-family residential buildings, DHW systems have the 2nd-highest energy consumption among all building systems, representing 15% of energy usage.

They have the 6th-highest energy consumption in office buildings, representing 4% of total energy usage.

Across all building types, DHW systems are the 3rd-largest load, accounting for 12% of energy usage.
Conventional DHW systems fired by oil can be upgraded to use natural gas, reducing both their operating cost and carbon emissions. Another option is to use a high-efficiency electric heat pump, which completely eliminates emissions while matching the running cost of a natural gas boiler. Electric resistance heaters are not recommended, due to the high price of electricity in NYC - heat pumps also use electricity, but much more efficiently!
Final Recommendations
If you are planning a major building upgrade, the opinion of qualified plumbing engineers is highly recommended. That way you can identify promising plumbing upgrades, and schedule them along with the building renovation. That way, upgrades that would otherwise be disruptive can be performed freely - a plumbing riser upgrade is a good example.
Are you considering a plumbing system upgrade? You can leave your comments below.