There are many promising technologies and design methods to reduce greenhouse gas emissions from the building sector. However, building owners must first become aware of the importance of cutting emissions. Architects have a key role, since they are the construction professionals who interact the most with clients. In addition, the architectural features of buildings influence energy efficiency, and this impacts the environmental footprint.
Architects can help save energy while designing buildings. For example, a building that maximizes natural lighting and ventilation uses less electricity on lighting fixtures and air handlers. Architects can also specify triple-pane windows with low emissivity coating, reducing summer heat gain and winter heat loss. This reduces the workload on air conditioners and space heating systems, saving even more energy.
The opposite also applies: a building design that depends strongly on HVAC systems and artificial lighting will require plenty of energy. MEP engineers can mitigate this by specifying efficient equipment and LED fixtures, but this does not change the HVAC and lighting needs of the building itself.
---
Planning a new construction project? Make sure the building design meets the NYC emissions law.
---
Architects have experience communicating with all types of clients, even those with professional backgrounds in non-technical fields. Compared with an engineering professional who works mostly with technical personnel, an architect has a higher chance of convincing building owners to go green.
Introducing Green Building Concepts Early in a Project
Architects get involved with building owners early in the construction process, when not even a basic design is available. Therefore, architects can suggest energy efficiency measures and green building features from the start.
Adding these measures later in the design process is less efficient, since there may be major changes to project documents.
Changes become even more difficult if design professionals wait until the construction phase to introduce green building concepts.
Since architects interact with all other construction professionals, they are familiarized with their technical fields. Architects can suggest building features that reduce emissions and energy consumption, and clients will already be convinced when engineers and contractors get involved.
Architects also coordinate the integration of different systems with their building designs, which gives them a unique viewpoint of how the pieces fit together. Construction professionals who specialize in certain systems can suggest improvements within their field of expertise, while architects integrate them with the overall building design. In fact, the green building movement has been led by architects.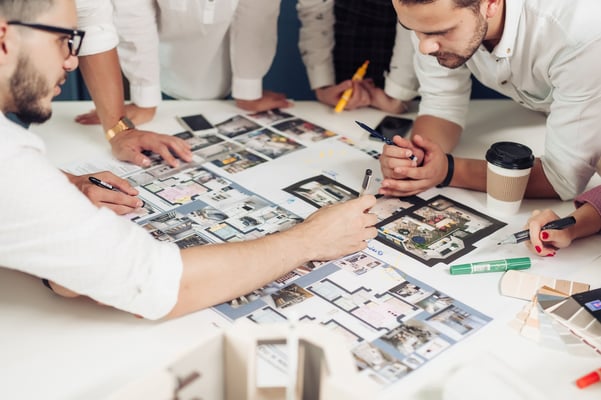 How Architects Can Help Reduce Emissions in NYC
The greatest opportunity to cut emissions lies in existing buildings rather than new constructions. For example, New York City plans to cut emissions by 80% by 2050. However, the majority of existing buildings will still stand within three decades.
When architects work with renovation projects, they have an excellent change to improve the appearance of buildings, while reducing their environmental impact.
Making sure that new constructions are green is fundamental, must most emission cuts will be achieved by improving existing buildings.
With Local Law 97 of 2019, building retrofits will become much more common in New York City. The law places emissions limits for all buildings over 25,000 square feet, and the limits will become more stringent over time. The first emission limits become effective in 2024, and they will affect the top 20% of emitters. However, the 2030 limits are much more stringent, affecting the top 75% of emitters.
Architects can mention the importance of LL97 when discussing building renovations with their clients. According to the Urban Green Council, buildings represent 66% of emissions in NYC, producing over 34.6 metric tons of CO2 equivalent per year.