Property developers throughout most of Westchester County are reeling after Consolidated Edison Company of New York, Inc. (Con Ed) announced a temporary suspension of new gas services to customers in the county.
Amy Paulin, a member of the New York State of Assembly, believes the Westchester gas service moratorium is "a potential catastrophe" and a "looming crisis for economic development in Westchester" that will devastate all development in Westchester including those aiming to provide affordable housing.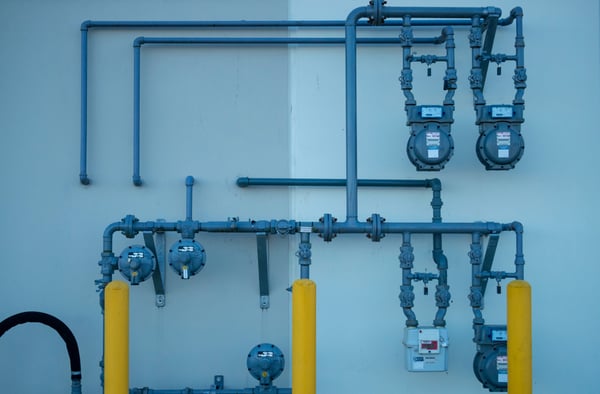 Natural gas meter used to measure gas consumption. Picture: Shutterstock
Con Ed's decision was announced on January 17, 2019, and the moratorium is due to be implemented no later than March 15. The reason Con Ed has given is supply and demand, stating that it won't have enough gas to meet projected future demand on "the coldest winter days."
However, the Wall Street Journal and New York Post report that New York governor, Andrew Cuomo and his unwavering fight against fossil fuel energy is to blame for the situation - because he has denied permits for three natural gas pipelines and banned hydraulic fracturing that would produce new supplies of relatively cheap natural gas.
Con Ed is the primary supplier and distributor of natural gas in Westchester, while New York State Electric and Gas (NYSEG) supplies a few municipalities in the northeast.
New York State's Public Service Commission (PSC) has already held public hearings into the Westchester gas service moratorium and is currently investigating the "changing market conditions" Con Ed is blaming for its dramatic decision. A report on PSC's findings is due by July 1, 2019. It will include a review of how utilities across the State of New York are meeting customer needs in a way that is in keeping with the energy goals of the State.
In a state that is 54,555 square miles in size, Westchester County takes up just 500 square miles. Situated just north of New York City it is home to almost a million people.
Possible Solutions to Westchester Gas Service Moratorium
Right now everyone's looking for possible solutions to the Westchester gas service moratorium. Ultimately, while there is overwhelming support for "green" energy goals, there is an urgent need to implement possible solutions before the moratorium kicks in.
The most obvious solution for many is to expand the existing system of gas pipelines, though this can't be done quickly.
Both Con Ed and National Grid, which supplies natural gas to Long Island and New York City, have previously warned that unless new pipelines were constructed they would likely have to turn away new customers wanting to use natural gas.
The main issue for new gas customers in Westchester is that New York's governor, Andrew Cuomo's environmental and economic development priorities have virtually put a stop to new pipelines. While he wants a carbon-neutral electric system in the state by 2040 and is aiming for zero emissions as soon as possible, he did concede in April 2017 that natural gas would be a bridge to renewable energy. But that's not happening.
The reason given by Conor Brambrick of Environmental Advocates of New York and others is that natural gas has very quickly become the primary contributor to the electric sector's greenhouse gas emissions. Renewable energy is therefore key.
Con Ed itself has been aggressively proposing alternative solutions, specifically innovative "non-pipe" solutions, that could alleviate the demand for new gas supplies.
While their clean-energy alternatives include geothermal and air-source heat pumps, and renewable natural gases, and the company support the State of New York's renewable and emissions reduction goals, several proposed projects are reportedly still pending approval. So too is Con Ed's proposal for PSC to approve its increase in gas and electric rates for 2020, and provide $210 million for natural gas, and another $485 million for its electric system so it can increase energy-efficient heating options.
PSC has, though, approved Con Ed's Smart Solutions for Natural Gas program for natural gas operation, a gas-demand response pilot, as well as expanded efficiency programs to evaluate "non-pipeline alternatives." Con-Ed also has State approval for $223 million to boost heat pumps and gas efficiency.
Additionally, PSC has stated that it will monitor the situation to make sure Con Ed provides customers with alternatives.
Officials from New York City, which, along with Long Island now faces a possible moratorium from National Grid, have stated that all Con Ed proposals involve very high costs, particularly when combined with future pipeline-related costs. For this reason, the City wants the PSC to force Con Ed to "identify and exploit synergies wherever possible."
Meanwhile, other solutions suggest that third-party companies address the demand for natural gas that Con Ed can't meet. This would include:
gas supply from via truck
renewable gas from anaerobic digesters
incentives for air-source and geothermal heat pumps that use the heat in the ground as a source of energy
efficiency investments
Wind and solar support systems for electric heating are not generally considered viable options.
The Environmental Defense Fund argues that Con Ed needs to provide more information about peak gas supply exceeding demand so that alternative solutions can be properly formulated. Possibilities could include:
an increase in natural gas supplies
renewable fuels
new electric technologies
side strategies that could free-up natural gas supplies
a combination of any of these
Even though oil has higher emissions than gas, and it's more expensive and not as efficient, large commercial developments do sometimes select gas services that can be interrupted and switched to oil. In spite of enormous opposition, this is a possible solution for some.
Another solution, some say, would be for the federal government to step in to prevent New York and other states from blocking energy infrastructure needs like new pipelines.
How to Get Gas Services in Westchester
The question is whether it is even possible to get gas services in Westchester now that the moratorium has been declared.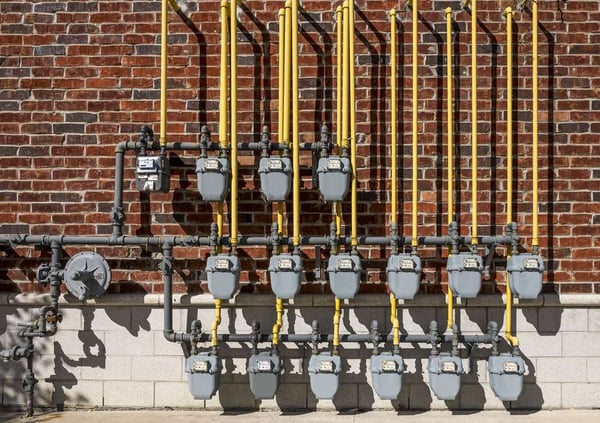 Yellow supply lines to natural gas meters. Picture: Shutterstock
Right now, it seems that the only way to get gas services in Westchester County is to ensure applications are completed as soon as possible before the proposed March 15 deadline. Applicants will then have two years to complete projects.
But, Con Ed has warned that with the high spike in applications since the gas service moratorium was announced they could reach capacity sooner than this.
A Con Ed spokesperson stated mid-February that the company had received more than 580 applications for gas connections since its moratorium announcement on January 17, more than double the number received in the same period for the past two years. Peak demand has increased by 30% since 2011 and is expected to increase another 20% in the next 20 years.
In addition to new commercial, residential, and industrial gas services, the moratorium prevents expansion of existing services. But, one of the stated exceptions to the moratorium is new customers who apply for interruptible gas services, so this could be another way to get gas services in Westchester. The question, though, is what do customers use when the service is interrupted? Oil, electricity, emergency generators?
Financial Impacts of a Delayed Gas Service
While it is impossible for anyone to accurately predict what the financial impacts of a delayed gas service in Westchester will be, estimates were voiced at the PSC public statement hearings held in Ossining and White Plains, New York on February 12 and 13. Mostly, they relate to an impact on real estate developments and construction projects.
Clearly, many officials in the county are angry, stating that at least 2-million square feet of new commercial developments and 16,000 new condos, apartments, and other residential dwellings would likely be at risk. This, in turn, could, according to George Latimer, an executive in the county, cost more than $600-million in rental income and result in the loss of something like 28,500 jobs in the construction industry.
Testimony from Mike Spano, mayor of Yonkers, stated many developers would have to stop projects if they couldn't get gas. This would stop the building boom in his city, the fourth largest in the State. Thomas Roach, mayor of White Plains, had similar concerns.
Whatever the figures, there is no doubt that a delayed gas service will have a major financial impact.