New York City has been characterized by its commitment to improve building efficiency and reduce emissions. The Greener, Greater Buildings Plan (GGBP) is an example, consisting of four laws with requirements like energy audits, retro-commissioning, energy and water use reporting, lighting upgrades and electricity submetering. The GGBP also introduced the NYC Energy Conservation Code.
Local Law 33 of 2018 gives public visibility to the reported energy performance of NYC buildings. Starting from 2020, all property owners subject to the benchmarking law (LL84 of 2009) will be required to display the energy grade of each building, in a clearly visible location. The score will have two main elements:
The ENERGY STAR score of the building, which ranges from 1 to 100. This value is calculated from the building performance data submitted under LL84.

The energy grade of the building, which goes from A to F. The assigned grade is based on the ENERGY STAR score.
LL84 originally applied only for buildings larger than 50,000 sq.ft. However, after an amendment that came into effect in 2018, the lower limit has been reduced to 25,000 sq.ft. Buildings covered by LL84 are also subject to LL33, unless they meet the exemption conditions described in the law.
Why Was Local Law 33 Created?
Building performance data gathered through the benchmarking law is publicly available in the NYC Department of Finance website. However, the general public is not aware that this data exists, and the results are presented very technically. LL33 was created to address this issue, and energy performance is graded from A to F, a well-known scale used by academic institutions.
Building performance data is used to calculate the ENERGY STAR score, and this score is used to assign an energy grade, as indicated by the following table:
ENERGY STAR Score
Energy Grade under LL33/2018

85-100

70-84

55-69

1-54

No data submitted

Exempted building

A

B

C

D

F

N
A building can continue operating regardless of the grade obtained, but displaying the ENERGY STAR score and energy grade is legally required. The only exception is the grade N, which is not displayed - doing so can cause the wrong impression that the building has a low score, instead of being an ungraded property.
The original version of Local Law 33 only required the A to F grade and not the ENERGY STAR score. However, the NYC Urban Green Council suggested a modification to also indicate the numerical score as well. Displaying only the letter was unfair for some property owners:
For example, a "B" building with an ENERGY STAR score of 84 is more efficient than a "B" building with a score of 70.

If only the grade B is displayed and not the score, it gives the wrong impression that both buildings have equivalent performance.
Getting an A can be challenging for building owners, since the ENERGY STAR score is comparative: it indicates how the building matches up when compared with others of the same type in the same climate zone. A score above 85 means the building is among the top 15% of performers. Nevertheless, energy efficiency measures boost the ENERGY STAR score, and this is a visible improvement in the grading system.
Note that a building with an ENERGY STAR certification does not get an "A" automatically, since the certification requires a minimum score of 75. Buildings with scores from 75 to 84 can be certified by ENERGY STAR, but they get a "B" under Local Law 33.
How Are Buildings Affected by LL33 Grades?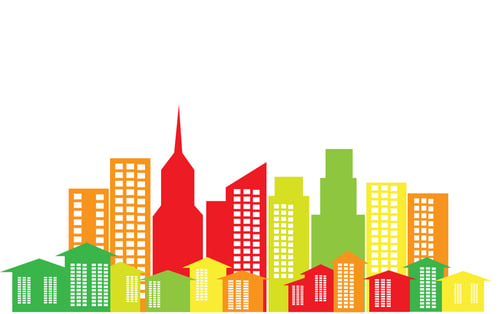 A building does not face legal consequences for getting a low grade, unless the grade is hidden from the public or manipulated. However, a low grade can have a negative effect on business:
If the building has residential or commercial spaces for rent, getting tenants becomes more difficult. Potential clients will associate the low energy grade with higher gas and electricity bills, and more efficient buildings will be preferred.

Even if a building is owned by the company using it, a low grade is detrimental for corporate image. Clients who emphasize energy efficiency will notice, and they may seek competitors who share their values.
A high grade, on the other hand, brings competitive advantages for building owners. The demand for residential and commercial spaces in "A" buildings will be high, since tenants can achieve lower energy expenses. Building owners can also charge more if the building is energy efficient; for example, paying an extra $10,000 in rent throughout the year makes sense if the reward is saving $20,000 in energy bills.
---
We can find the best energy efficiency measures to boost your building energy grade.
---
Conclusion
Building energy grades are required by LL33 starting from 2020, which gives building owners some time to react. Since grades are based on building performance data from the previous year, energy efficiency measures deployed in 2019 may have little impact on the grades displayed in 2020. However, building upgrades with a quick installation and short payback period can be effective if deployed early in 2019 - an LED lighting retrofit with automatic controls is an excellent example.
A professional energy audit is the best starting point to improve the energy performance of a building. Consulting engineers can identify the most promising energy efficiency measures, with a detailed estimate of their cost and savings.