LED lighting upgrades are among the most cost-effective energy efficiency measures for buildings. Although LED lamps and fixtures have a higher upfront cost than older lighting products, they compensate it many times with both energy savings and maintenance savings. If you are upgrading the lighting for an air-conditioned building or a cold storage area, savings are even higher because the cooling equipment handles less heat from lamps.
The range of LED products commercially available is very broad. This is a good thing because you can find a lamp or fixture for any application, but variety can also lead to confusion and poor purchase decisions. To get the best results, the lighting products chosen must meet the following conditions:
First of all, they must offer safe operation, posing no risk of fire.
They must be durable: LED products that fail quickly defeat their own purpose, since they don't live long enough to deliver the projected savings.
Even if you purchase safe and long-lasting LED lamps and fixtures, they must be suitable for the intended application. They must deliver the right amount of light, with an adequate beam shape and color.
Safety First: Look for the UL or ETL Label
UL stands for Underwriters Laboratories, a safety certification company with federal approval from the Occupational Safety and Health Administration (OSHA). Electrical devices with the UL mark have been rigorously tested for safety, and this includes lighting products.
When the UL mark is found by itself, it means the product has been tested according to USA standards. On the other hand, if there is a small letter "C" on the lower-left side of the mark, it has been tested under Canadian standards. Finally, if both the letters "C" and "US" are found, the product is compliant in both countries.
Note that counterfeit UL marks exist - do not assume a product is compliant just because it has the letters printed. The official UL website has a detailed description of the marks used in North America and how to identify them.
---
Get a safe and energy efficient lighting design for your building.
---
Although UL marks are the best-known, there are more Nationally Recognized Testing Laboratories (NRTL) beyond Underwriters Laboratories. The Intertek Electrical Testing Labs also have OSHA recognition, and the ETL mark means the product has been tested under the same standards used by UL.
Since the UL mark is more popular, more manufacturers want it and the approval process tends to be slower. When a lighting supplier wants to launch a product as quickly as possible, seeking the ETL mark first is a viable strategy. The Intertek Electrical Testing Labs have a lower workload than UL, and they can normally test a lighting product faster.
Many lighting products have both the UL and ETL marks, but this does not mean they are safer than products with just one mark. Getting the first mark ensures safety, and authorities only demand one of them for code compliance. After the first mark, getting the second one provides a marketing benefit rather than additional safety.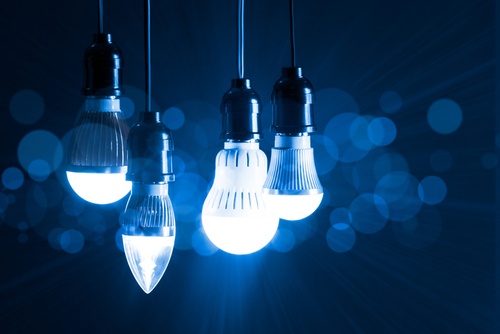 Ensuring Performance: ENERGY STAR and DesignLights Consortium
UL and ETL marks guarantee that lighting products are safe, but performance is a different story; you can have an inefficient and short-lived lamp with these marks, as long as it meets the corresponding safety standards.
To make sure your LED lighting products are energy efficient and durable, you should look for the ENERGY STAR and DesignLights Consortium (DLC) labels. Unlike the UL and ETL marks, which can be found together, ENERGY STAR and DLC are mutually exclusive:
The ENERGY STAR label is found on consumer products, including LED bulbs.
On the other hand, the DLC mark is exclusively for commercial and industrial lighting.
Residential and commercial lighting systems may have some overlap in their applications. In these cases, the ENERGY STAR label has priority over the DLC label. If a product was already labeled under DLC, and it is approved under ENERGY STAR for residential applications, the DLC label is replaced. Both labeling programs establish service life requirements for lighting:
LABELING PROGRAM

SERVICE LIFE REQUIREMENTS

ENERGY STAR

- 25,000 hours for indoor residential lighting
- 35,000 hours for outdoor residential and commercial lighting
- Minimum warranty of 3 years

DesignLIghts Consortium

- 36,000 hours
- Minimum warranty of 5 years
These are just some of the performance metrics tested when a lighting product is subject to the ENERGY STAR or DLC labeling procedure. LED products are also tested for minimum lighting output and quality. When occupants describe the lighting as "unnatural", "ugly" or "too artificial", the most likely cause is a product with low lighting quality.
Although the ENERGY STAR and DLC labels are not required for a code-compliant lighting system, they are normally mandatory for lighting rebates. For example, labeled lighting products are required by both the Con Edison incentive program (NY) and the SmartStart Buildings Program (NJ).
Using the Right Lamp or Fixture for the Application
Even if an LED product is labeled for safety and performance, you have to make sure it is suitable for the intended application.
The amount of lighting delivered must be adequate. You will want to avoid a lighting system that is either too bright or too dim.
The lighting product must also have a beam shape that is suitable for the application at hand. For example, if you need uniform lighting in all directions, you should avoid lamps that emit a narrow concentrated beam in one direction.
The color of light is another important design consideration. The physical and emotional state of humans is influenced by the properties of lighting, and the lamps used must be suitable for the activities carried out.
Warm tones have a relaxing effect, and they are preferred in places such as bedrooms, hotels and restaurants.
Cool tones enhance awareness, making them suitable for high-precision industrial manufacturing or sports.
Neutral tones provide balance and they are suitable for long-term concentration. Neutral white lighting is common in areas such as classrooms and offices.
With professional engineering design services, you can make sure all building systems are properly sized and specified according to the application, and this includes lighting. Working with a qualified engineering firm also ensures code compliance, a quick project approval, and eligibility for any lighting rebate programs locally available.
By 2025, NYC buildings subject to Local Law 88 must have lighting systems that are compliant with the NYC Energy Conservation Code. With a professional assessment, you can verify if your building is covered by LL88, and then determine if your lighting system needs an upgrade.