When you set out to find a ductless air conditioner, there are several factors you must consider. Here is the list of considerations you must make before deciding which unit to purchase.
Budget
You must factor in the cost when you chose your ductless air conditioning system. Even picking the lowest price option will still run nearly $1,000. Depending on how sophisticated you want the system to be, you could spend more than $5,000.
If you desire a system that's powerful enough for one big room or prefer a multiple zone unit, you will pay more. There are also options that include heat for winter weather, which adds more to the price tag.
There are two other costs involved that you must factor in. This includes the installation plus your energy bill. If you are ambitious and handy, you might have the skills needed to install the system yourself. If not, factor in the cost of hiring an HVAC professional.
On the bright side, your energy bills should decrease compared to other air conditioning avenues.
Amount of Zones
Single-zone units cool one room with ease. There are also multi-zone systems that tackle several rooms at once. Determine which one best fits your needs before shopping. Each unit is controlled individually, so that's something to keep in mind.
You must choose a unit that comes with the proper number of zones. Remember, that quad-zone air conditioning units allow settings for four varying temperatures based on personal preferences. It's the same concept with dual or triple-zone systems.
With multiple zones you eliminate wasted energy by utilizing the customization options. You might prefer to shut down the AC completely to any room that you aren't using. This not only saves money, but isn't something you can do with central air conditioners.
Power Requirements
Air conditioner power is measured by BTUs. The higher this number, the larger space you can cool. In some cases, the room size is clarified with the unit. Other times, you need to calculate your needs.
You can utilize this general guide to determine your BTU needs.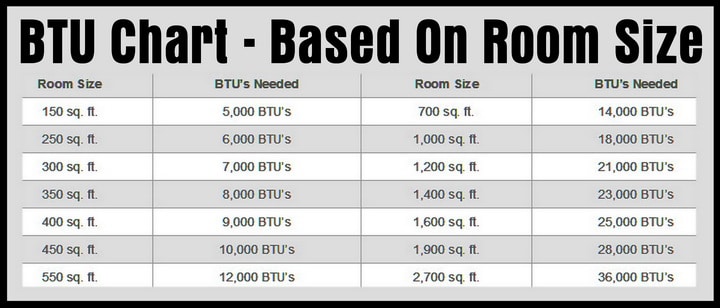 These numbers aren't entirely precise, especially if you live in a hot climate. Anytime the temperature regularly reaches over 90°; you want to add 30% to your BTU number.
Durability
Once you invest money into a ductless system, you expect that it is going to last many years. The last thing you want to face is costly repairs in a couple of years. Look into the warranty with your unit. You also want to read through other customer reviews and research the brand's reputation.
Energy Efficiency
The majority of ductless units are Energy Star certified. This lets you know that you will save money on your energy bills. The larger space you cool, the more you can expect to spend on electric bills. When you are evaluating units, make sure you look at the SEER rating. The higher the number, the more efficient it is.
Installation Requirements
Most people require an HVAC professional to complete the installation. On top of that, some manufacturers require a certified contractor if you want to use the warranty. When you shop for an installer, ask for their previous experience.
If you prefer to do the job yourself, do the research ahead of time to find out what you need. Some models are easier to install than others.
Voltage
Most air conditioners use 110-120 volt plugs, but some of the larger models will require more. If you purchase something with a 220-224 plug instead, you will need an electrician to upgrade the home. Otherwise, you risk blowing a fuse or causing a fire.
Additional Features
Look into some other available features. These include:
Heating options
Dehumidifier function
Remote control
Programmable timer
Reusable filters
Remember, anytime you add another feature, you increase versatility but the price tends to go up as well. Evaluate what's important to you and what you can do without.
Understanding the SEER Rating
As you read in our reviews, we often discuss SEER ratings. This stands for Seasonal Energy Efficiency Ratio. This rating illustrates the cooling output of the system over a cooling season and divides the energy consumed in Watt-Hours.
Today's air conditioners feature a minimum SEER value from 13 to 14. Some states have a certain requirement, like California. The maximum SEER rating on today's systems ranges from 21 to 25. With the purchase of a unit with a lower SEER rating, many people assume that makes it less efficient, but that's simply not true.
When compared to the older air conditioners, you are looking at a huge jump in efficiency. The majority of household units range from 8 to 9 SEER. Upgrading to a 14 SEER system would make a big difference in your energy bills.
Another thing to keep in mind is that the SEER is not a constant value. It's merely the maximum rating. So, if a system claims to have a 21 SEER, it isn't going to run at the level 100% of the time.
It's just like the mpg rating of your car. You want to purchase a vehicle with higher numbers, but it isn't always going to run at that level.
When you run the air conditioner in the middle of the day with high humidity, your system won't be as efficient as it will when the temperature goes down. Still, the higher the SEER number you choose, the more efficient it will run. But, as the SEER rating goes up, so does the upfront price.
Frequently Asked Questions
When it comes to buying the best ductless air conditioner, we hear many of these questions regularly.
How much does it cost to install a new ductless air conditioning system?
Typically it will cost $300 to $1,500 to have a professional install your ductless system. Of course, these costs practically disappear if you plan to install it yourself. In addition, the type of units you install make a big difference in how much installation costs.
You will spend more to purchase a ductless system versus a window unit. You may also need to have a concrete pad outside for the mounted exterior unit. This can cost up to $150 if you don't have one already. Then, you are looking at electrical work, which might add more to your price.
For installation, you will need to factor in the expenses of mounting the outdoor unit, adding one to five wall units inside and running the refrigerant coolant lines.
Are there any disadvantages to a ductless system?
There are three main disadvantages for the majority of homeowners. The first is the high up-front cost. It's going to cost far more than a window unit would. If you are replacing an existing ducted unit, you could face two to three times the expense. In return, you receive lower energy bills, which provide a quick return on investment.
The second downside is the maintenance that's required. You have to wash the filter every month. If you neglect this, you will need professional cleaning, which drastically increases your expenses while lowering the lifespan of the unit.
Finally, the design is a downside to some people. Some customers are reluctant to switch because of the aesthetics. On the bright side, many of those same people forget the units are even there once they are installed.
How do ductless units work in multiple zones?
Your ductless air conditioner and heater provides climate control to specified areas. This is something you can't find with central air. With a central AC unit, you must cool the entire home, including areas you aren't using. This adds to energy waste and raises your electric bills.
With a multi-zone air conditioning system, it's simple to accommodate four indoor units connected to one central outdoor unit. Each of these is controlled with their own thermostat. Many people find that using this option for basements, apartments or professional offices works well to save money and dial in precise comfort.
Can a mini split system be installed in the attic?
The attic poses a unique dilemma for cooling. More people aim to convert the attic into usable space but struggle with ways to keep it cool. Turning to a window unit is a popular solution, but it has significant flaws. Most of the times, these units aren't meant for extreme heat, yet that's what you find in the attic.
Sometimes it's hotter inside an attic than outside. That's because all the heat from the home builds up under the roof. Even if you get an appropriate-sized air conditioner, you might have trouble keeping the space cooled. Furthermore, this unit takes up a window, which you probably don't have a lot of.
Ideally, you want a solution that works around the unique challenges. Mini-split systems offer complete control over the space better than a window unit. It can be used when needed and turned off when the attic isn't being used, unlike central A/C.
The system is also more energy efficient than any other option, which saves you more on your bills. It's a winning choice for operation costs, flexibility, convenience and comfort.
Final Thoughts
Now that you understand the benefits of ductless air conditioning systems and what makes them unique, it's time to pick the unit that fits your needs. We've outlined five of the best ductless air conditioners for your consideration.
Whether you need a low budget option, energy efficient choice or the quietest, we've provided a model that will work for you. All that's left to do is sit back and enjoy the comfort of your new system.