ASHRAE has provided detailed guidance on how to prevent coronavirus with HVAC design features. Their guidance also includes management recommendations for specific building types. Occupancies like schools, universities and retail are especially vulnerable, due to the large number of persons interacting. Healthcare buildings also require special care, since COVID-19 patients share a building with health workers and non-COVID-19 patients.
Reopening a building after COVID-19 will likely require engineering services. Even if there were no issues while the building was unoccupied, HVAC systems may need adjustments to prevent coronavirus more effectively. The following are some services you may need when reopening a building:
Testing, adjusting and balancing (TAB) for HVAC
Building automation system (BAS) reconfiguration
Contractor services - General, mechanical, electrical, fire protection, etc.
Registered design professionals - Design any work required, and submit it for approval by the local building department.
Note: This article provides COVID-19 guidance for some occupancy classification, based on the recommendations from ASHRAE. However, we do not recommend or support opening a building, until governments and health authorities lift the restrictions in place.
---
Get your HVAC system inspected and fix weak spots against COVID-19.
---
COVID-19 Prevention in Schools and Universities
Academic institutions should be managed with extreme care during the aftermath of COVID-19. Consider that schools and universities have many young people from numerous households. They are the less vulnerable population to coronavirus, and they are more likely to be asymptomatic and spread the disease without knowing. Protecting students is critical to protect the entire population from SARS-CoV-2.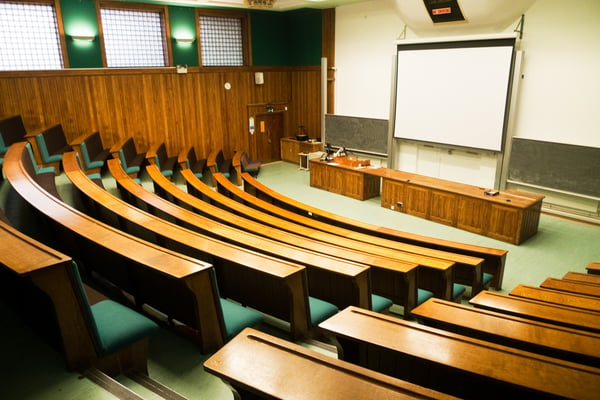 ASHRAE recommends portable and fully electric air purifiers for each classroom. These units should have HEPA filtration and UV disinfection, and their airflow should be at least 2 air rotations per hour. The CO2 concentration in classrooms should not exceed 800-1000 ppm.
Ventilation with 100% outdoor air is recommended, to eliminate any transmission risk from air recirculation. The existing HVAC system will likely need adjustments, and the higher-efficiency filters may demand additional fan power. The nurses' office should be subject to the same design requirements as a healthcare facility with isolated rooms.
ASHRAE recommends normal HVAC operation at least one week before schools and universities open. All indoor air should be flushed completely before occupancy, and a daily flush should be carried out at least 2 hours before opening. All water systems should also be flushed, and hydronic HVAC systems should be tested chemically before reopening.
COVID-19 Prevention in Commercial Buildings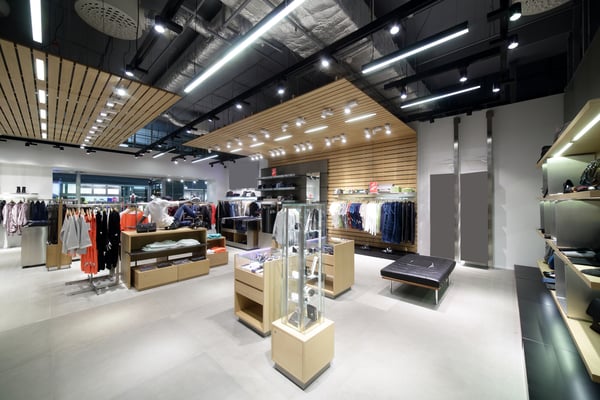 The risks in commercial buildings are similar to those in schools, since they are visited by many people on a daily basis. However, while schools and universities have information about their students, anyone can enter commercial buildings like malls and department stores. Asymptomatic individuals may enter these buildings without anyone knowing, creating a potential hub for infections.
Commercial buildings often have demand controlled ventilation (DCV), to adjust their HVAC system according to their variable occupancy. These systems should be disabled when buildings reopen, to allow as much ventilation as possible regardless of occupancy. HVAC systems are much easier when a Building Automation System (BAS) is available. Their normal configuration can be stored, and a new configuration is set according to COVID-19 guidelines.
Energy recovery ventilation systems should be checked, and energy wheels in particular should not create a risk of cross-contamination. A well-designed energy recovery system has less than 3% air exchange between the supply and exhaust, and only one energy wheel should be used per space.
Owners of commercial buildings should incentive the use of stairs instead of elevators, since elevators trap air and their buttons are pressed by many persons. Of course, the general recommendations for buildings also apply: increased filtration and UVGI disinfection.
COVID-19 Prevention in Healthcare Buildings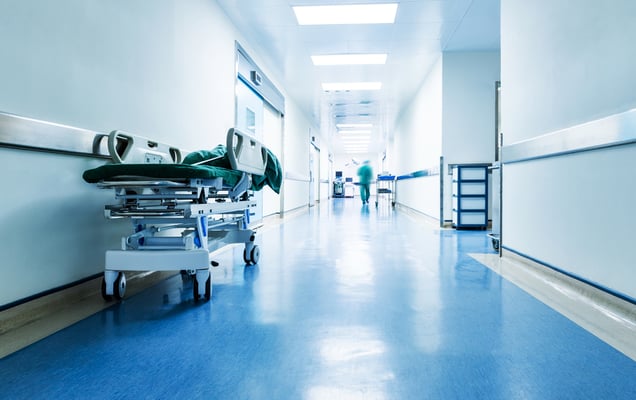 The healthcare sector is subject to stringent standards, which are beyond the scope of this blog post. In addition to its normal functions of temperature and humidity control, the HVAC system must be capable of:
Protecting healthcare personnel and visitors from infection.
Isolating patients who are being treated for different conditions, to prevent hospital-acquired infections.
Most COVID-19 infections seem to occur from person to person, when exposed to droplets with the virus at distances below six feet. Another common pathway for infection is touching surfaces that have been exposed to the virus, and then touching the nose, eyes or mouth.
HVAC systems in hospitals should prevent airflow from possibly infected areas to clean areas. For example, COVID-19 patient rooms are kept at negative pressure, so the air cannot escape into surrounding spaces. Air will be drawn in if there is an opening, but air already inside the room will not flow against the pressure difference. Caution is also necessary when flushing toilets, since this can release small droplets (aerosols) with the virus.
HEPA filtration is recommended for anterooms and vestibules, and portable units can be used when installing filters on HVAC systems is not practical. Suspected and confirmed COVID-19 patients should not be cohorted, and ideally there should only be one patient per room. When 2-persons rooms are used to treat COVID-19, ASHRAE recommends isolation curtains and tunnel frames with HEPA filters.
The general recommendations also apply: disabling DCV to use maximum ventilation, checking ERV systems for leaks and cross-contamination, and installing UVGI in cooling coils and other sensitive spots that may accumulate germs.