The WELL certification for buildings focuses on creating healthy environments for humans. The certification not only considers physical health, but also comfort and mental health. On March 19 2020, the International Well Building Institute (IWBI) created a COVID-19 task force. They have published several strategies that focus on building resilience, based on concepts from the WELL Building Standard v2.
The WELL strategies for coronavirus prevention are classified into eight key themes. The goal of these strategies is helping buildings recover from the COVID-19 pandemic, while protecting the health of their occupants:
Promote clean contact
Improve air quality
Maintain water quality
Manage risk and create organizational resilience
Support movement and comfort, including work from home
Strengthen immune systems
Foster mental resilience
Champion community resilience and recovery
By following these strategies, buildings can also earn points towards a WELL certification. The certification can grant a marketing advantage for real estate developers, making their buildings more attractive for potential tenants. Coronavirus prevention in buildings is vital to protect occupants, while also being a smart decision from a business standpoint.
---
Improve your building resilience against COVID-19 and other infectious diseases.
---
This article will provide an overview of all the WELL features that can help companies face the challenges brought by COVID-19. The possible points towards a certification are also provided in each case. The features designated as Preconditions are mandatory for WELL Certification, regardless of the score obtained.
1) Promote Clean Contact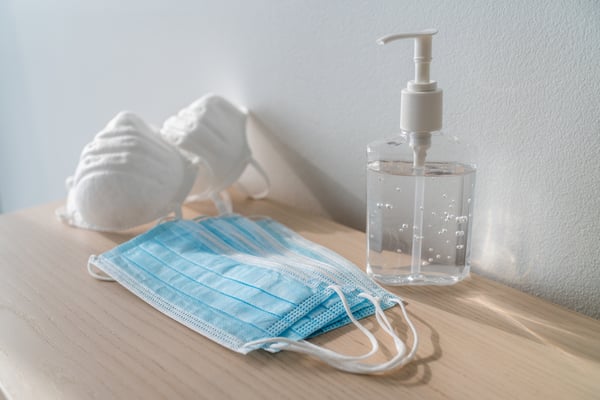 Health authorities believe that close contact with infected persons is the most common transmission route for COVID-19. Infectious droplets with the virus can stay airborne for several hours, and when they fall on surfaces they remain infectious for several days. For this reason, effective cleaning and frequent handwashing are vital for coronavirus prevention.
Two features from the WELL building standard can contribute to clean contact:
Access to handwashing (Feature W08, 2 points max.)
Rigorous cleaning protocols and safe cleaning products (Feature X09, 2 points max.)
2) Improve Air Quality
Insufficient ventilation leads to a higher concentration of air pollutants, and this includes airborne viruses. There is scientific evidence that increased ventilation reduces the transmission of seasonal influenza, and viral spread in general is reduced at 40-60% relative humidity.
Coronavirus is not the only germ that can affect air quality in buildings. Mold can damage many materials, and the spores released can cause allergies or asthma complications. The Legionella bacteria is a serious threat, which can cause a more severe pneumonia than SARS-CoV-2. This bacteria grows in stagnant water, especially at warm temperatures.
Seven features from WELL can help prevent diseases with improved air quality:
Ventilation effectiveness to dilute air pollutants (Feature A03, Precondition)
Enhanced ventilation strategies (Feature A06, 3 points max.)
Operable windows to improve ventilation (Feature A07, 2 points max.)
Air filtration, including adequate filter maintenance (Feature A12, 1 point)
Microbe and mold control, including UV air disinfection (Feature A14, 2 points max.)
Moisture management, including infiltration & condensation (Feature W07, 3 points max.)
Humidity control, limiting pathogen growth while promoting health (Feature T07, 1 point)
3) Maintain water quality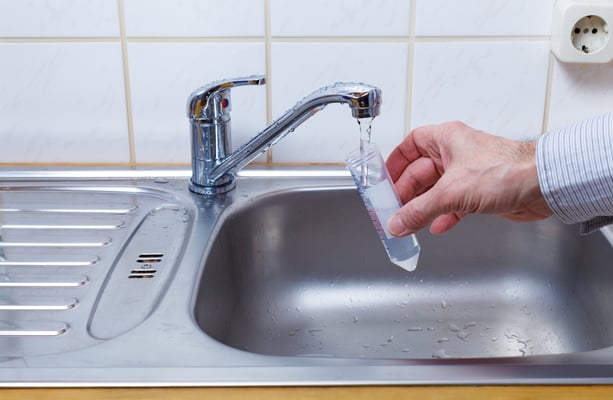 As mentioned above, COVID-19 is not the only threat in buildings. Poor water quality can also create health hazards, especially if water has remained stagnant in an empty building. The WELL standard recognizes waterborne threats, and the respective guidance is provided.
Four features from WELL can contribute to maintain water quality:
Fundamental water quality, including turbidity and coliform prevention (W01, Precondition)
Water contaminant prevention, including metals and organic pollutants (W02, Precondition)
Enhanced water quality, including appearance and taste (Feature W04, 1 point)
Water quality consistency, including filtering and periodic quality tests (W05, 2 points max.)
4) Manage risk and create organizational resilience
The IWBI recommends a combination of design features and management strategies to prevent COVID-19 more effectively. Organizations must be prepared for emergencies, and this includes flexible operation and adapting to different work methods. For example, schools are closed and many collaborators must stay home to take care of their children. Constant feedback from occupants and collaborators is also important, to update emergency plans accordingly.
Four features from WELL can contribute to organizational resilience:
Emergency preparedness, having a plan and the resources necessary (C15, 3 points max.)
Family support, flexibility for parents and caregivers to stay home (C10, 2 points max.)
Occupant survey according to the WELL standard (Feature C03, Precondition)
Enhanced occupant survey, gathering in-depth information beyond C03 (C04, 3 points max.)
5) Support movement and comfort, including work from home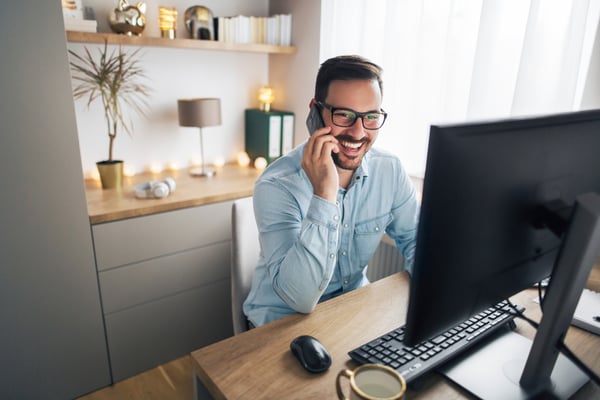 Many organizations had been skeptical about working from home. There is a learning curve involved, but COVID-19 has forced them to adapt. Companies must make sure that collaborators working from home have access to all the tools they need, while providing guidance on how to create a suitable workspace. Ergonomics is very important to prevent issues like body pain and repetitive strain injury.
Four features from WELL can contribute to comfort and ergonomics when working from home:
Visual and physical ergonomics, reducing strain while providing comfort (V02, Precondition)
Active furnishings and preventing sedentary behavior (Feature V07, 2 points max.)
Enhanced ergonomics, including professional recommendations (Feature V10, 1 point)
Self-monitoring, including wearables to track physical activity (Feature V12, 1 point)
6) Strengthen immune systems
A strong immune system has a better chance of fighting COVID-19 and other infectious diseases, without leading to severe symptoms. On the other hand, habits like smoking and sedentarism make persons more vulnerable. Organizations can provide information and resources to help their collaborators develop healthy habits.
The WELL standard has 12 features that can help develop healthy habits among collaborators, improving their immune response:
Health services and benefits, including screening and assessment (Feature C05, 3 points max.)
Mental health support, availability and access (Feature M03, 3 points max.)
Health promotion, with effective communication and involvement (C06, 3 points max.)
Smoke-free environment, which prevents many negative health effects (A02, Precondition)
Tobacco prevention and cessation, through support programs (Feature M13, 3 points max.)
Promoting consumption of fruits and vegetables, making them available (N01, Precondition)
Promoting water consumption, providing high-quality drinking water (W06, 1 point)
Physical activity opportunities, led by qualified professionals (V06, 3 points max.)
Access to physical activity spaces and equipment (Feature V08, 2 points max.)
Physical activity promotion, with diverse incentives (Feature V11, 1 point)
Circadian lighting design, which mimics natural light and boosts health (L03, 3 points max.)
Sleep support, avoiding disruptive habits while raising awareness (M11, 2 points max.)
7) Foster mental resilience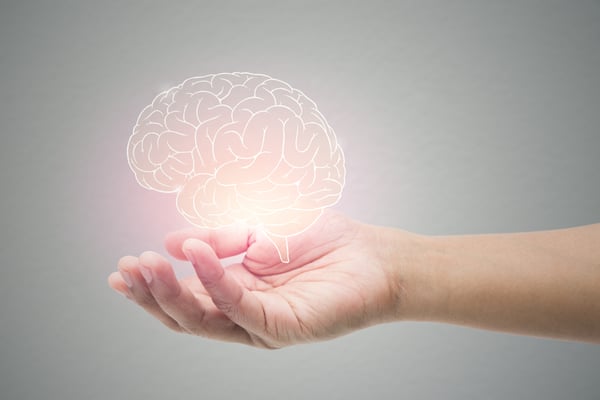 Mental health tends to get less priority than physical health, but it is very important for human wellness. Also, mental health goes beyond diagnosable conditions. According to the IWBI, individuals with good mental health can live to their fullest potential, while coping effectively with daily problems and contributing to their community. Design features like access to nature can contribute positively to mental health.
Nine features from the WELL building standard are recommended to improve mental resilience, as part of the strategy against COVID-19:
Mental health promotion, through initiatives and information (Feature M01, Precondition)
Mental health education, by raising awareness and providing training (M04, 2 points max.)
Stress support, identifying and eliminating sources (Feature M05, 2 points max.)
Restorative opportunities, including breaks from the workplace (Feature M06, 1 point)
Restorative programming, including programs for relaxation and relief (Feature M08, 1 point)
Supporting access to nature - plants, water, natural light, etc. (Feature M02, Precondition)
Enhanced access to nature beyond the requirements of M02 (Feature M09, 1 point)
Adequate light exposure and educating occupants on its importance (L01, Precondition)
Enhanced daylight access, including windows with outdoor views (L05, 3 points max.)
8) Champion community resilience and recovery
Community engagement and effective communication help build trust and social cohesion. Strong communities also have a positive health impact (physical and mental), and they are better prepared to face emergencies. In business settings, community connections can also boost the morale and productivity of collaborators.
Four WELL features that focus on communities are recommended as part of the COVID-19 resilience strategy:
Civic engagement, with opportunities for volunteering and active involvement (C11, 1 point)
Community access and engagement, opportunities to connect and collaborate (C16, 1 point)
Food production, including access to fresh produce and on-site production (N12, 2 points max.)
Local food environment, removing barriers that impede healthy eating (Feature N13, 1 point)
Conclusion
The WELL certification for buildings includes several features that can be used as part of a COVID-19 prevention strategy. They cover areas such as physical health, mental health, water quality, indoor air quality, building management and operating flexibility. These features are not only recommendations to achieve COVID-19 resilience, since they are also part of the WELL Building Standard v2.
There are more than 60 possible points towards a WELL certification among the COVID-19 recommendations. Consider that WELL Silver requires 50 points, while WELL Gold requires at least 60, as long as the building meets all Preconditions - those mentioned here and all others in the standard.