On Saturday April 7, fire destroyed a luxury apartment in the 50th floor of the Trump Tower in Manhattan. Although the fire was contained thanks to the combined effort of more than 200 firefighters, the apartment owner did not survive and six firefighters suffered non-lethal injuries. Fire sprinklers are not mandatory in existing high-rise residential buildings unless a major renovation takes place, but they can help prevent incidents like this one.
Trump Tower Fire: Main Facts About the Incident
The $2.5 million apartment belonged to Todd Brassner, a 67-year old art dealer who was a friend of Andy Warhol. The fire itself did not expand beyond Brassner's apartment, but the unit was completely destroyed and smoke reached the floors above, causing panic within the building and the surrounding area. Brassner survived long enough to be taken to the hospital, but saving him was not possible due to his critical condition. Of the six firefighters who suffered non-deadly injuries, two were affected by burns.
FDNY Commissioner Daniel Nigro commented that the fire was very difficult to control due to its location on a 50th floor and the large size of the apartment, which was completely set aflame. He stated that construction quality helped contain the fire, but that upper residential floors of the Trump Tower are vulnerable because they lack sprinklers.
This is the second reported fire affecting the Trump Tower in 2018, although the first incident was much less severe: An electrical fault affected the HVAC equipment in the rooftop, starting a fire. Two building workers and one firefighter were injured, but there were no casualties.
Does the Trump Tower Meet NYC Sprinkler Requirements?
Although the upper residential floors of the Trump Tower do not have automatic fire sprinklers, the building is not in violation of any NYC law or construction code. Sprinkler system installation became mandatory for high-rise constructions until 1999, and the Trump Tower was commissioned in 1983.
When automatic sprinkler requirements were introduced they were not retroactive, which means the building is compliant.

Automatic fire sprinklers only become mandatory for residential high-rise properties if they undergo a major renovation. Otherwise, there is no NYC law mandating their use.
Local Law 26 of 2004 was introduced in response to the 9/11 incident, requiring automatic fire sprinklers for all commercial occupancies at least 100 feet tall. Unlike the sprinkler system requirements introduced in 1999, LL26/04 applies retroactively for existing properties and the installation deadline is July 1, 2019. However, the 263 apartments in the upper floors of the Trump Tower are not covered by the law due to their occupancy classification.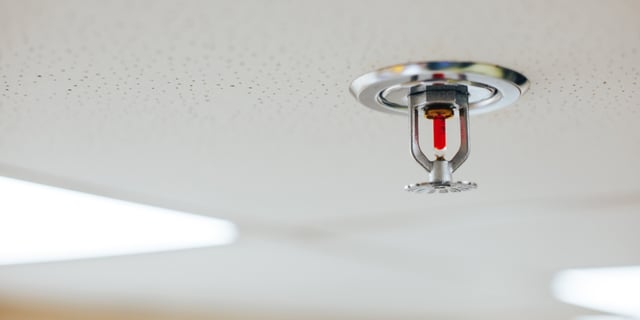 Benefits of Residential Sprinkler Systems
The main benefit of automatic sprinklers is safety: they respond to fire based on heat, dousing the flames when the affected area is still small. In addition, real-life fire sprinklers are not as portrayed in the movies - only sprinkler heads directly above the affected area activate, while the rest of the floor stays dry. Perhaps you have seen movies where all the fire sprinklers become active when one of them is exposed to a flame or to smoke, but this is a common misconception. Only deluge-type sprinkler systems operate like this, and they are only used in high-flammability industrial settings.
Real estate developers have stated that most residential fires occur in small multi-family homes, not high-rise constructions. They are also concerned about cost, since an automatic fire sprinkler can cost more than $3 per sq. ft. NYC regulators have supported developers in this aspect, and this is why fire sprinklers are only mandatory for new high-rise residential constructions or existing properties that undergo major modifications.
Reducing Insurance Premiums with Fire Sprinklers
In addition to safety, fire sprinklers provide a less-known financial benefit: since they minimize fire damage to properties, insurance claims are reduced dramatically. For this reason, insurance companies offer reduced premiums to clients whose properties are protected by code-compliant sprinkler systems. Although the upfront cost of automatic sprinklers can be high, it is paid back eventually thanks to the reduced insurance payments.
According to the National Fire Protection Association (NFPA), the average insurance discount for a building protected with automatic sprinklers is 7 percent, but discounts of over 50 percent have been reported in some cases. According to the Home Fire Sprinkler Coalition, the damage from a fire incident in a household without sprinklers is worth $45,019 on average, being reduced to only $2,166 when sprinklers are present.
Conclusion
High-rise residential constructions from before 1999 like the Trump Tower are not required to have fire sprinklers, unless they undergo a major renovation. However, authorities should perhaps reconsider this after incidents like the April 7 fire. Local Law 26 is already a step in the right direction, making fire sprinkler installation retroactive for high-rise commercial occupancies. Similar legislation for residential property could contribute to improving their safety, but the upfront cost must be considered - a reasonable deadline is required.