Buildings close to the Atlantic Coast are exposed to extreme weather events such as tropical storms and hurricanes. Considering that buildings are designed to last for decades, it is very likely that they will face harsh conditions several times throughout their service life. Although we cannot control the weather, we can minimize its impact by designing more resilient buildings.
Although a well-designed building can withstand a severe storm, there are several factors that can cause disruption:
Extreme weather normally comes with flooding, which makes the lower floors of a building inaccessible. Even if the structure itself is not damaged, most building systems can't operate when flooded.
Natural gas distribution systems are buried underground and very resistant, but electrical grids use towers and power lines that can be easily damaged by strong winds. This may cut the power supply for hundreds of buildings at once.
Even if a building has a backup generator, its fuel can be easily depleted during an extended blackout. Most of these generators run with diesel, which must be delivered to the building - a task that may become impossible under harsh weather.
---
Design your building to be resilient under adverse weather.
---
Keeping Buildings Powered During Extreme Weather Events
Short blackouts normally cause discomfort and inconvenience, but an extended interruption of the electric service has more serious consequences. Most air conditioning and ventilation systems are fully powered with electricity, and space heating systems have electrical components even if they use fuel combustion as a heat source. When a building is left without HVAC for an extended period, indoor conditions quickly become unsuitable for occupancy.
Natural gas generators are promising because they can run with the local natural gas supply, not depending on fuel deliveries to the project site. Since natural gas distribution systems are very resistant, a service interruption is much less likely compared with the electricity grid. Natural gas boilers have a similar advantage over oil-fired boilers, since they don't rely on heating oil deliveries to the building, which may also be interrupted with extreme weather.
Consider that high-rise constructions often rely on water booster pumps that use electricity. An extended blackout also interrupts the potable water supply in these cases, but a reliable backup power system solves the problem. Sewage backflow can also be a serious issue during a flood, and having a backflow preventer is very important.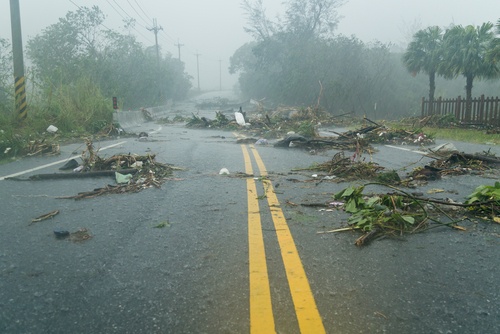 Buildings with a resilient backup power system are also safer, since many fire protection measures depend on electricity to operate correctly. The role of fire protection systems becomes even more critical during extreme weather events: firefighters are busier because there are more emergencies, and access to some buildings is difficult due to flooding.
How an Efficient Building Envelope Improves Resilience
Even if a building has a natural gas generator that operates above the reach of floodwater, it helps to have a building envelope that minimizes unwanted heat gain and heat loss. An efficient building envelope normally lowers heating and cooling costs, but during emergencies it can actually make a building more resilient:
If the building is running with a backup power supply, suitable conditions can be sustained with less energy, which saves valuable fuel.
Even if there is no power supply available, a high-performance building envelope slows the rate at which the building loses or gains heat.
An efficient building envelope is especially helpful if the blackout occurs during the hottest days of summer or the coldest days of winter.
Natural ventilation is another measure that saves energy during normal building operations, while improving resilience during emergencies. If a building is designed to rely only on mechanical ventilation, indoor air quality degrades quickly when the power supply is interrupted. Although building codes normally establish a minimum level of mechanical ventilation, it helps to have reliable natural ventilation as well.
How Smart Equipment Placement Improves Building Resilience
As mentioned above, flooding is a considerable risk during extreme weather. Building systems are not designed to be immersible, and flooded electrical equipment creates a serious risk of electrocution.
If the location of a building is prone to flooding, resilience can be improved by installing key equipment higher than the expected flood level. Local governments often have flood maps that indicate the potential hazard for each area.
Many measures that make buildings more energy efficient also make them more resilient during extreme weather. In other words, these measures provide a financial benefit while making properties safer for occupants. With a building inspection from professional MEP engineers, you can identify the most promising upgrades.