Panic hardware is an integral factor when it comes to building safe structures in Chicago. Loosely defined as life-safety products, panic hardware incorporates various exit devices that enable people to leave buildings quickly and easily in an emergency.
Commonly used on fire doors, panic hardware is also used on other doors including those that lead in and out of electrical rooms. It is also used in certain occupancy types with specified occupancy loads.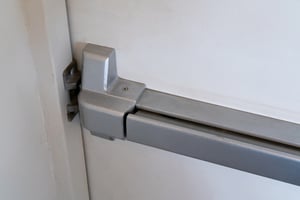 Panic hardware on an electrical room door
Generally, residential apartments, office buildings, and commercial facilities do not require panic hardware on doors unless there are high hazard areas in the building, or there are assembly or educational areas, or rooms that contain electrical equipment. As mentioned above, this also depends on how many people use the rooms or areas involved.
Even if not specifically required by legislation, electrical engineers sometimes opt to use panic hardware in certain situations for safety reasons so that a latched door will open under simple pressure. Additionally, the authority having jurisdiction (AHJ) to enforce codes and standards has the right to demand that more advanced panic hardware is used even if lock types meet "simple pressure" requirements to make them open quickly and easily.
But it is important to note that when panic hardware is required by the Chicago Code or any other relevant code, additional locking devices that might prevent the release of latches must never be used. These include padlocks with hasps, chains, and deadlocks.
Panic Hardware Suitable for Electrical Room Doors
Essentially, panic hardware refers to door-latching assemblies that incorporate an actuating bar or push pad that releases the latch or locking mechanism when it is pushed or forced towards the direction in which people are able to exit the room.
There are three basic types of panic hardware that are suitable for different styles and applications:
Touchpads, which are the most common type used in contemporary buildings. They are flexible and include electrified options.
Crossbars that have a more traditional feel but aren't usually able to incorporate electronic components.
Recessed hardware that is minimalistic and good looking, but relatively limited in application.
The simplest configuration is a rim device that is mounted on the surface of the door so that the latch projects from the panic device and not the edge of the door.
More complicated to fit, some devices have panic hardware mounted on the door but controlled by a mortise lock that is installed in the door.
A good option for double-doors, rods and latches may be concealed within doors or mounted to the surface of the door. Those with vertical rods are suitable for fire exits.
Code Requirements for Panic Hardware in Chicago
Both the National Fire Protection Association's 2017 National Electrical Code (NFPA 70) and the International Code Council's (ICC) International Building Code (IBC) have requirements for panic hardware on electrical room doors. But their requirements are not exactly the same.
So when is panic hardware required on an electrical room door in accordance with the relevant Chicago Code?
The 2018 Chicago Electrical Code, which has been effective since March 1, 2018, and is closely aligned to the 2017 NFPA (NEC), has specific requirements regarding both electrical rooms and panic hardware.
The general requirements for electrical rooms can be found in 14E-1-110 Requirements for electrical installations in the Chicago Municipal Code. All panic hardware requirements are found in the same section of the Code.
While many installations follow the IBC, it is important that engineers operating in Chicago comply with the Chicago Code.
As a matter of interest, for many years there was considerable criticism that Chicago was the only major U.S. city not to utilize the IBC, yet it is one of the first major U.S. cities to align its electrical code with the newly updated NEC.
Enclosures and Rooms for Electrical Installations
All electrical equipment, including panelboards, switchgear, switchboards, and motor control centers need to be in a dedicated equipment space.
The Code allows for various enclosures including vaults, rooms, closets, and areas that are surrounded or enclosed by some sort of a fence, wall, or screen. In all instances, they are constructed to house electrical apparatus or special electrical equipment rooms, and they must be kept locked.
Electrical vaults that are used to house conductors and other specified electrical equipment must have tight-fitting doors with a minimum fire rating of three hours. These doors must be kept locked and they have to be equipped with pressure plates, panic bars, or another device that is kept latched but will open under simple pressure.
The Code also specifies that where a personnel door or doors used by those working in the area enter and exit the work space where electrical equipment is stored, it should open in the direction in which they leave the area – specifically if it is less than 7.6 m or 25 feet from the nearest edge of the work space. Additionally, it must be equipped with "listed" panic hardware.
The same applies to work spaces that contain equipment that is rated 800 amperes or more if switching devices, control devices, or overcurrent devices have been installed.
The Code also states that listed panic hardware must be installed on the doors of transformer vaults, as well as on doors for rooms that are used for the stationary installation of storage batteries and for energy storage systems.
Modular data centers contain not only the information technology equipment that has been installed, but also electrical supply and distribution equipment, support equipment, and other elements that relate to wiring and protection, grounding, and heating, ventilation, and air conditioning (HVAC).
Like all other enclosures that house electrical equipment, doors to the electrical room must open in the direction people exit. They must also be equipped with devices that are usually latched but will open under simple pressure or with pressure plates, or panic bars.
The size of electrical equipment is also a factor, as is the service capacity. In some instances, there will be a need to provide more than one exit.
Work With Engineers Who Know the Difference
We are qualified design professionals who work with Chicago and national codes all the time. We understand what standards are required for electrical rooms and all their elements from key protection services to panic hardware.
There is no doubt that electrical rooms are vital for any building to operate efficiently. Can you afford not to call us for advice?