According to the Energy Efficient Building Act of Illinois, the Capital Development Board must adopt the latest version of the International Energy Conservation Code (IECC) within one year of its publication. Since the 2018 IECC is already available, the new version of the Illinois Energy Conservation Code applies starting from March 2019. Considering that the IECC is subject to a three-year review cycle, the Illinois energy code is updated with the same frequency.
The 2018 Illinois Energy Conservation Code applies for new commercial and residential constructions, and also for major changes in existing buildings - renovations, alterations, additions and reparations.
---
Design your buildings according to the latest energy code version.
---
How Are Buildings Classified Under the 2018 Illinois Energy Code?
Buildings can be easily classified as commercial or residential based on their function, but there is a very important consideration when dealing with the IECC. Any residential building that exceeds three stories above grade is considered commercial for code compliance purposes, and it must meet the commercial requirements of the energy code.
Residential and commercial properties in Illinois are subject to different sets of rules. Municipal governments can demand energy performance above the state code for commercial buildings, but not for the residential sector. Also note that there are exceptions to the Illinois Energy Conservation Code, such as the following:
Historic and landmark buildings.

Buildings that use neither electricity nor fossil fuels to condition indoor spaces.
There are several aspects that stay the same in the 2018 Illinois Energy Conservation Code: separate requirements for residential and commercial buildings, and two alternative compliance paths based on the IECC and ASHRAE 90.1.
Commercial Changes in the 2018 Illinois Energy Code
This section summarizes some of the main changes between the 2015 and 2018 editions of the Illinois Energy Conservation Code. These change many of the design requirements for commercial buildings, and development companies should take note.
Climate Zones: Illinois is currently split into climate zones 4 and 5, and the design requirements of buildings change depending on the zone. The allocation of climate zones for Illinois counties is being reviewed, and the required changes are reflected in the 2018 Illinois Energy Code.
Solar Heat Gain Coefficient (SHGC): Compared with the 2015 edition, the 2018 IECC has more stringent requirements for the SHGC. The main benefit of reduced solar heating is a lower space cooling cost, for the simple reason that there is less heat to remove from the building.
HVAC Control: The 2018 Illinois energy code brings more stringent requirements for automatic controls in heating, ventilation and air conditioning systems. While the changes are mostly for commercial buildings, there are also demanding control requirements for residential Group R-1 buildings with more than 50 guestrooms.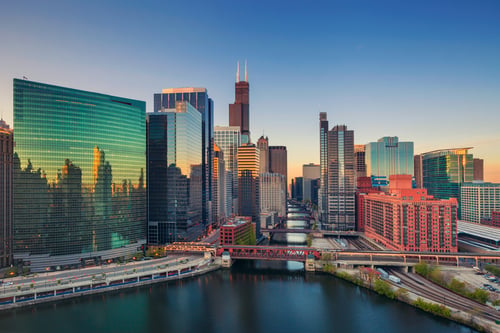 Variable Frequency Drives: In commercial buildings, speed control requirements are now more demanding for hydronic HVAC systems with at least 300,000 BTU/h of capacity. Previously, speed control was mandatory for pumps with at least 10 hp of capacity, but the threshold has been reduced to 2 hp. The requirement applies for pumps that operate continuously or with schedule-based controls.
Lighting Efficiency and Controls: The new energy code modifies the lighting control requirements for open offices. Control systems must respond to occupancy based on both individual zones and the overall office space. The allowable lighting power density has also been reduced for most types of commercial buildings.
Solar Power: The 2018 Illinois Energy Conservation Code does not mandate solar power systems for commercial buildings. However, it introduces some provisions that make commercial buildings more suitable for solar PV systems. These include a minimum rooftop area for photovoltaics and reserved capacity in the electrical service equipment.
Residential Changes in the 2018 Illinois Energy Code
As previously stated, the residential requirements in the Illinois energy code only apply for buildings with a maximum height of three stories above grade - otherwise, they are subject to the commercial requirements.
Building envelope performance: The U-factors for fenestration are lowered, resulting in less heat transfer across windows. Heated slabs now have a minimum insulation of R-5, and air sealing requirements have been specified for register boots, recessed lighting, electrical boxes and phone boxes.
Energy recovery systems: A minimum fan efficiency of 1.2 cfm/watt has been specified for HRV and ERV systems.
Efficient lighting: The minimum amount of high-efficacy lamps in permanent lighting fixtures has been increased from 75% to 90%.
Concluding Remarks
The energy design requirements will soon change for building projects in Chicago and other Illinois cities. This article summarizes some of the main points that are changing, but a much longer description is necessary to cover the changes in detail.
To keep up with the latest energy codes, the best recommendation is working with a qualified MEP engineering firm. Working with experts speeds up the project design and approval process, while ensuring that building codes are met at an optimal cost.