If you own a building in NYC, by now you have most likely heard about Local Law 97 of 2019, also known as the Building Emissions Law. Starting from 2024, LL97 establishes annual emissions limits for buildings over 25,000 sq.ft., and also for groups of buildings with a combined area of over 50,000 sq.ft. under the same tax lot. The emissions limit is determined based on the type of occupancy and total floor area, and there is a penalty of $268 per each metric ton of CO2-equivalent over the limit.
---
Get a professional energy audit and save on utility bills. Reduce your building emissions and meet Local Law 97.
---
2023 is the last year where building emissions will be exempt from penalties in NYC. Annual emissions will be counted starting from 2024, and penalties will be charged starting from 2025 (based on 2024 data). One year may seem like a long time, but keep in mind that building upgrades intended to reduce emissions must be submitted for approval like any other project. Ideally, you should also identify the most effective measures with a professional energy audit before making an investment decision.
How Does the NYC Department of Buildings Calculate Annual CO2 Emissions?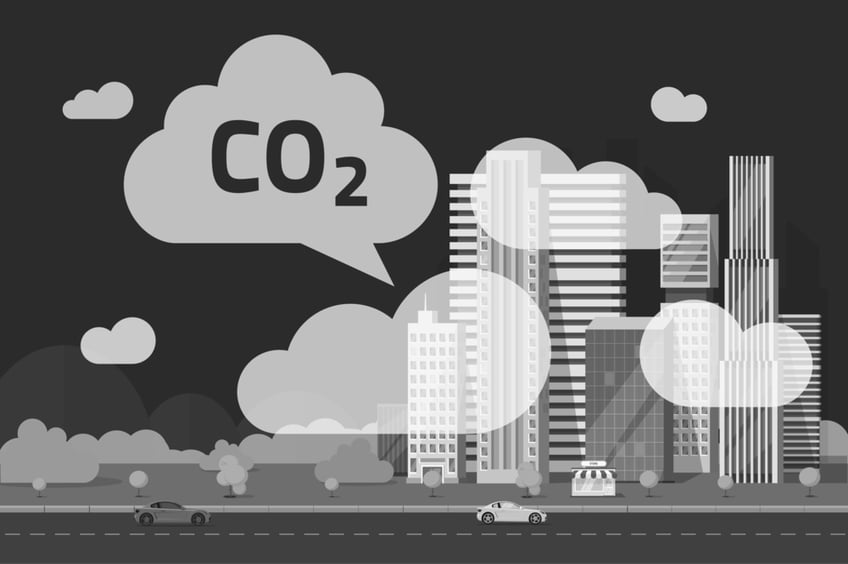 NYC has been working to reduce the environmental footprint of the local building sector for a long time. The city enacted the Greener Greater Buildings Plan (GGBP) in 2009, which included energy benchmarking requirements for buildings (Local Law 84 of 2009).
All buildings covered by LL84 must report their annual energy and water usage.

Benchmarking reports must be delivered each year by May 1st, covering the previous year.

LL84 originally covered buildings over 50,000 sq.ft., but the minimum area was reduced to 25,000 sq.ft in 2018.
As you can see, the Benchmarking Law (LL84 of 2009) covers the same properties as the Building Emissions Law (LL97 of 2019). This means the NYC Department of Buildings already knows the energy consumption of properties, and emissions can be determined based on the carbon footprint of the different energy sources. Local Law 97 applies the following emissions factors:
| | |
| --- | --- |
| Energy Source | Emissions Factor |
| Electricity | 0.000288962 tCO2e / kWh |
| Natural gas | 0.00005311 tCO2e / kBtu |
| Steam | 0.00004493 tCO2e / kBtu |
| #2 fuel oil | 0.00007421 tCO2e / kBtu |
| #4 fuel oil | 0.00007529 tCO2e / kBtu |
Building owners can follow two main strategies to reduce their annual emissions: reducing their energy consumption, or switching to sources with a lower carbon footprint. For example, the electricity emissions factor only applies when using the grid, not when generating power with a commercial solar system. This means 100,000 kWh from the local grid will add nearly 29 metric tons to your annual emissions, but 100,000 kWh generated by onsite solar panels will not.
How to Reduce Building Emissions in Less Than One Year?
If your building still exceeds the LL97 emissions limit in 2023, acting quickly is critical. You can start with the "low hanging fruit", focusing on cost-effective energy efficiency measures that can be implemented quickly.
The limits being introduced in 2024 are expected to affect 20% of NYC buildings - the ones with the highest emissions.

If you have already implemented several energy efficiency measures in your building, its emissions are likely below the first limit.
LL97 will introduce a much more stringent limit in 2030, expected to affect 75% of the buildings covered by the law. Reducing emissions below this limit will require larger investments and more planning, but building owners still have seven years to comply.
Each property is unique, and only a professional energy audit can reveal the optimal combination of building upgrades. However, some measures are effective in almost any property:
Solar photovoltaic systems qualify for a 30% Investment Tax Credit and accelerated five-year depreciation under the MACRS (Modified Accelerated Cost Recovery System). Building owners in New York also have access to the NYSERDA NY-Sun Megawatt Block Program, which offers rebates of up to $1,200 per kilowatt in the Con Edison service territory.
LED lighting can be installed without a major disruption of normal building activities, and it can achieve a payback period of less than three years in many cases. Con Edison has a rebate program that covers many types of LED lighting products, shortening your payback period.
Building recommissioning can achieve considerable energy savings without major investments. MEP systems often waste energy due to configuration errors or malfunctions that remain undetected. A recommissioning process consists of inspecting building systems, making sure all equipment is operating as intended by the original design, and making minor repairs.