Even though all major cities in the United States had their own building regulations and building codes at some time, today Chicago is the only US city that uses its own building code. As a result, building in Chicago is governed by the Chicago Building Code that specifies minimum standards for construction as well as the maintenance, repair, alteration, and demolition of buildings and other structures. Administered by the Chicago Department of Buildings, the Code is amended by the local city council from time to time.
Like all building codes, the Chicago Building Code covers every area that relates to the building process including plumbing and sanitation, electrical installations, heating, fire prevention, energy conservation, as well as health and safety standards that relate to buildings and other structures, and zoning issues. There are though some provisions that are enforced by city departments other than the Chicago Department of Buildings.
Chicago's Building Code also specifies minimum requirements for existing buildings in the city, as opposed to those that are being designed and constructed.
Chicago engineers and those involved with the many vital elements of MEP engineering (mechanical, electrical, and plumbing) can access the Chicago Building Code online, via the city's website to see exactly what the requirements of the Chicago building process is, from the design phase to construction.
Design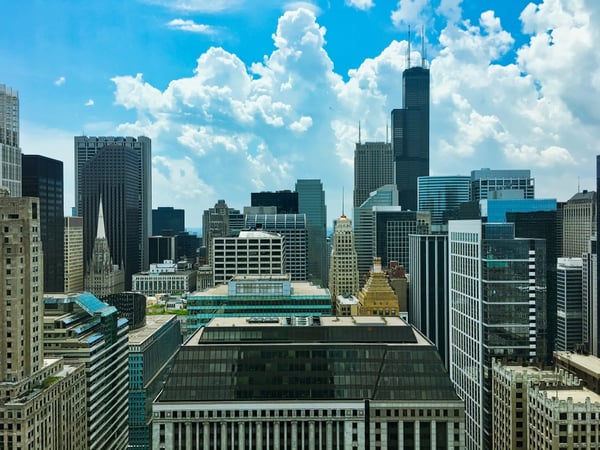 Whether designed by Chicago engineers or architects, plans for buildings (regardless of size or function) must comply with the Chicago Building Code. Of course, talented professionals may embrace aesthetics in any way they wish, provided these meet the design guidelines and fulfill the building requirements as stated in the regulations.
A building permit is essential to any building project in Chicago, and nothing can be done on site before this has been approved by the city – not even clearing of the site! And before anyone can apply for a permit, plans must be submitted. These must include copies of a topographic lot survey as well as a grading plan prepared by Chicago engineers, or more accurately, a professional engineer (PE) who is registered in Illinois. The design plans themselves have to be prepared – and sealed – by an architect who is licensed in Illinois.
All the drawings and plans required by the city have to be drawn in a specific scale on either paper or cloth using ink or another process that won't fade. Lot lines must be shown on the plans as well as all drainpipes and the entire sewerage system. The location of plumbing fixtures must also be indicated. While these plans may be drawn by an architect, when it comes to large commercial buildings, engineers with MEP engineering qualifications invariably become invaluable members of the design team.
Once the plans have been approved, nobody can alter or deviate from them unless an official change is approved by the city.
Approvals at Chicago Department of Buildings
The plan approval process required by the Chicago Department of Buildings is very specific. For instance, plans must be signed and sealed by Chicago engineers or architects as defined in either the Illinois Architectural Act, the Illinois Structural Engineering Act, or the Illinois Professional Engineering Act.
Once the preliminary plans have been approved, a building commissioner representing the city may issue a permit. At this point working drawings and plans, as well as detailed statements that relate to the building, must be submitted for approval. Working drawings contain detailed information that relate to design including the size of wood elements and concrete that is required, as well as structural steel and concrete reinforcement.
Additionally, if applicable, the working drawings for Chicago buildings and other structures have to be accompanied by a signed affidavit (by a qualified architect) that essentially certify that the drawings and plans meet or exceed minimum standards for recyclable or commercial refuse containers.
Only then can construction begin, but the approved plans and drawings, as well as the permit for building, must be kept on file at the construction site during the building process. It might seem an unimportant issue, but the Chicago Department of Buildings takes it very seriously and could shut a build down if it is non-compliant.
It is important to know that all approved plans remain on file with the Chicago Department of Buildings for six months after the new building has been occupied, but not necessarily any longer. So it's important for Chicago engineers, architects, and MEP engineering teams to retain their own approved plans.
Construction Bidding
Many Chicago engineers and companies that specialize in MEP engineering apply for tenders or submit proposals to municipal or other businesses to build or manage construction projects of various types. Typically, construction bidding involves public tenders that are motivated by various government departments that follow a different process to private tenders.
Nevertheless, the construction bidding process will generally start with cost estimates and then lead to blueprints, plans, and materials lists. There are various models that might be followed, but commonly they will either offer a firm price or suggest a contract that involves a profit, either in terms of cost reimbursement or cost plus.
Whether construction bidding is done by architects, Chicago engineers, or MEP engineering teams, a bill of quantities is an essential element. This will provide every detail necessary to show exactly what will be spent on the project from excavation to finishes, and should always specify costs for things like labor, plant, and materials. But perhaps the most important factor is that opposed to an estimate that a contractor would provide for materials and labor costs, a bid is exactly what the customer will be charged.
Building
Ultimately, whether the process requires bidding or just the development and approval of plans, building is where it happens! This is what it is all about. But the reality is that the building code will stick with the architect, engineers, service providers, and everybody else right the way through the process. Even though professionals including Chicago engineers and MEP engineering teams are involved in the build, everything needs to comply, and there will be someone from the Chicago Department of Buildings there to check that it has been done correctly.
This is the only way we can be sure that the buildings we are part of will be both beautiful and safe!