Chicago's Climate Action Plan is highly ambitious and one of the most sophisticated in the world. After substantial research and input by dozens of experts and leading scientists, five strategies were adopted exactly a decade ago, one of which aims to have the most energy efficient buildings possible in Chicago by the year 2020.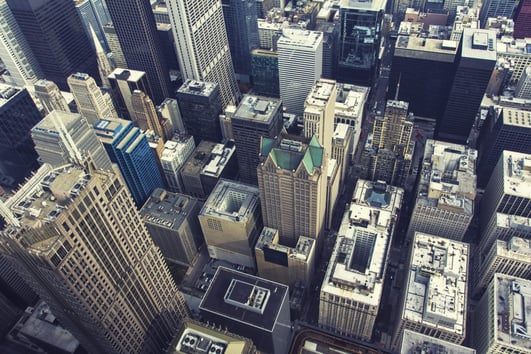 Above: The iconic Sears Tower, one of the first really energy-efficient high-rise buildings in Chicago stands up above the skyline.
The motivation is driven by a realization that without both local and global action, the impact of climate change on Chicago's weather could be dramatic.
Not only must new Chicago buildings meet stringent energy-efficient standards, but existing residential, commercial, and industrial buildings are being retrofitted and upgraded. The energy-efficient buildings strategy incorporates:
new guidelines for renovations
an update to the City's energy code, including legislation that affects ventilation systems
water conservation
the establishment of green roofs and planting of trees
trade in of outdated non-energy efficient appliances
"Reducing energy consumption and emissions by an average of 30 percent in 9,200 buildings by 2020 could produce reductions of 1.3 MMTCO2e," the City says. By 2020, at least half of the buildings in Chicago should have been retrofitted. Additionally, the City's energy code will align with the latest international standards that demand a reduction of 1.13 MMTCO2e (million metric tons carbon dioxide equivalent, which is the term for the quantity of any greenhouse gases by weighing it by its relative global warming potential) and building renovations will have to meet green standards that demand a reduction of .31 MMTCO2e.
Whilst energy-efficient ventilation systems in buildings is only part of the plan for Chicago, the switch to this type of ventilation is vitally important.
Passive ventilation relies on natural airflow and temperature differences between the inside and outside of buildings to draw in and circulate fresh air. Mechanical ventilation utilizes fans and ducts and is a much more reliable and economical source of good ventilation.
Mechanical Ventilation in Chicago Buildings
Today, the best practice to achieve modern, high-performance homes is to have a whole-house ventilation strategy that involves building "tight" and then ventilating with a mechanical ventilation system. What you spend on energy to achieve this you will save on heating and cooling. By incorporating mechanical ventilation with a system that utilizes heating, cooling, and air recirculation, engineers are able to combat the severe summer heat and winter cold that are so typical in Chicago and surrounding areas.
In a comprehensive layman's guide to Whole-Building Delivered Ventilation and on their website, the US Department of Energy describes the different ventilation systems:
Exhaust-only ventilation that involves stale air being pulled out of the building. The outdoor air that enters the building is neither filtered or conditioned. It is relatively inexpensive and works well in cold climates. On the downside, exhaust systems can draw contaminated air into living spaces and it doesn't work in hot, humid climates.
Supply-only ventilation that is the opposite of supply-only ventilation and utilizes an HVAC system supply fan to draw air in from outside. It is usually filtered and conditioned and then circulated through the HVAC system. It is also relatively inexpensive, but enables better control than exhaust systems. It can though create moisture problems in colder climates.
Central fan integrated supply ventilation that draws in outdoor air when the heating/cooling system is energized.
Balanced ventilation that is a combination of supply and exhaust so that there is always fresh air and minimal energy loss. This type of ventilation system utilizes heat recovery ventilators (HRVs) or energy recovery ventilators (ERVs) that control ventilation and is the best type of mechanical ventilation available, even though it is the most expensive.
Intermittently balanced ventilation that is similar to balanced ventilation but doesn't use HRV or ERV.
The reason Chicago's energy efficient buildings initiative embraces retrofits for older buildings is largely because mechanical ventilation wasn't common in older Chicago buildings. While modern homes are designed with a building envelope that makes the structure more energy efficient, older homes had leaky envelopes that often resulted in mold and mildew forming.
To design whole-house ventilation systems, engineers do precise calculations based on square footage of floor areas and the number of bedrooms, combined with climatic needs. This means that a ventilation system designed for Dallas, Texas will be completely different to one designed for Chicago, Illinois.
In Chicago, Whole House Mechanical Ventilation Systems are defined in the City's Municipal Code. Essentially they are supply or exhaust systems (or a combination of the two) that are designed in accordance with R403.6, a mandatory energy conservation requirement that applies to mechanical ventilation in all residential projects. The system must be designed "to mechanically exchange indoor air for outdoor air when operating continuously or through a programmed intermittent schedule to satisfy the whole house ventilation rate." The person designing the system must also take steps to ensure that there is no infiltration of air when the mechanical ventilation system isn't operating. R403.6 also covers recirculation of air in residential buildings, specifically in relation to toilets and bathrooms, as well as airflow rates for certain floor areas and numbers of bedrooms.
Heating and cooling equipment has to comply with the requirements of R403.7. Since it is usually part of a more comprehensive HVAC system, there is an element of ventilation here too.
Energy Conservation Compliance in Chicago
In terms of the Chicago Building Code's updated requirements for energy conservation, since June 2018 a new compliance statement is required from Illinois-licensed engineers and architects. Department of Buildings inspectors now spot-check to ensure that construction of homes and other buildings is being carried out in accordance with approved plans and permits.
Additionally, ventilation bureau inspectors inspect both new and existing Chicago building to ensure that ventilation complies with the building code.
This is why it is essential to use a registered Chicago engineering company or MEP engineering team for your ventilation needs.
We specialize in passive housing projects that incorporate energy-efficient ventilation systems. Whether you need to retrofit or design and build from scratch, our team will work with you to ensure you get the best results from today's passive house technology.