The US Green Building Council (USGBC) recognizes that COVID-19 prevention in buildings is very important, during the pandemic and its aftermath. The outbreak has also revealed vulnerabilities in the construction sector, but there is a great opportunity to improve resilience against future infectious diseases.
The LEED rating system for green buildings has been updated, and there are now four possible credits for coronavirus prevention measures, awarding one point each. Since the minimum score for LEED certification is 40, the COVID-19 related credits can cover 10% of the requirement. These credits are also available for existing buildings, helping achieve a higher certification level like Silver, Gold or Platinum.
---
Improve your building resilience against COVID-19.
---
The new LEED credits for coronavirus prevention belong to a new category called Safety First. They are still pilot credits that will be updated based on new information about COVID-19, as well as feedback from the building sector.
Safety First: Cleaning and Disinfecting Your Space (1 point)
Safety First: Re-Enter Your Workplace (1 point)
Safety First: Building Water System Recommissioning (1 point)
Safety First: Managing Indoor Air Quality During COVID-19 (1 point)
This article provides an overview of the new LEED credits and their requirements. Note that the USGBC provides extensive guidance, and this article summarizes that guidance - it should not be viewed as a replacement for the official LEED documentation.
LEED Credit: Cleaning and Disinfecting Your Space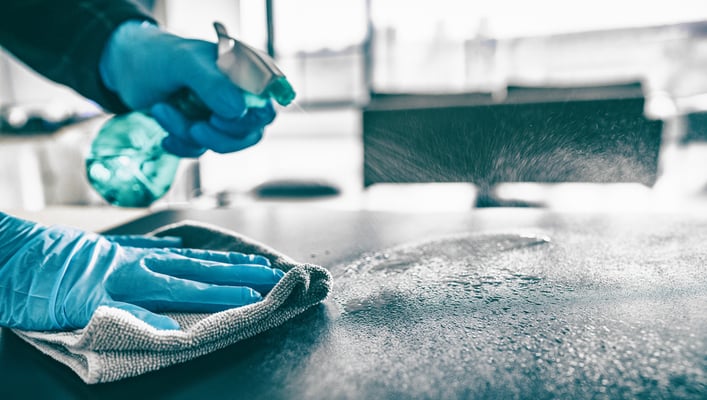 The purpose of this credit is achieving effective cleaning and disinfection against SARS-CoV-2 and other biological threats that may emerge in empty buildings. The credit seeks to minimize health risks for occupants and visitors, while mitigating the environmental impact of cleaning and disinfection procedures.
To earn this credit, building owners must meet the US EPA and CDC guidelines for COVID-19, while implementing best practices in several areas:
Product selection: This includes disinfectants and cleaning products that meet EPA requirements, hand sanitizers with at least 60% alcohol, and ergonomic cleaning equipment.
Cleaning and disinfection procedures: Following CDC and EPA requirements, avoiding overuse and stockpiling, testing surfaces, and promoting hand hygiene.
Cleaning personnel protection: This includes personal protective equipment (PPE), and ergonomic tools and equipment.
Cleaning personnel training and occupant education: Correct use of disinfection products and PPE, chemical hazard prevention, ergonomic procedures, and disposal of PPE and chemical products.
LEED Credit: Re-Enter Your Workspace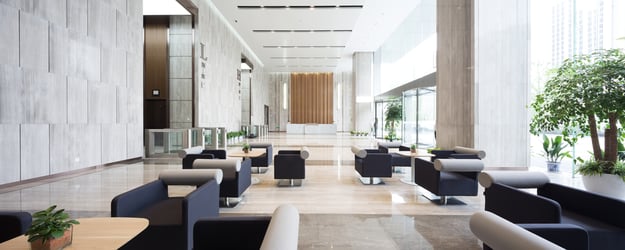 Reopening a building is dangerous in the absence of prevention measures. The building could become a COVID-19 hotspot, or occupants could be exposed to other biological hazards like mold spores and Legionella bacteria. This credit was created to address these risks when buildings are re-occupied.
To earn this LEED credit, building owners must meet three main requirements:
Using the AIA Re-occupancy Assessment Tool (American Institute of Architects) to determine the requirements and strategies for re-occupancy.
Creating a management and operations plan with at least the following categories: building or place preparation, workforce preparation, access control, social distancing, green cleaning, touch point reduction, and communication.
Keeping a building journal with daily feedback from the management staff and occupants. The USGBC provides a short questionnaire format for each of the two groups.
The AIA Re-occupancy Assessment Tool has a key role, since it determines the baseline parameter for reopening the building. The tool covers architectural and engineering strategies for COVID-19 prevention, combined with administrative policies and PPE guidelines. The AIA tool is based on the hierarchy of controls for workplace hazards from the CDC:
| | |
| --- | --- |
| Hazard Control Priority | Examples |
| Priority 1 - Elimination | Social isolation, working from home. |
| Priority 2 - Substitution | Does not apply with COVID-19, since there is no substitute for human labor. |
| Priority 3 - Architecture and Engineering | Increased ventilation, enhanced filtering, physical barriers, touchless entry and fixtures. |
| Priority 4 - Administrative | Workplace policies, staggered shifts, rescheduling, hand hygiene guidelines |
| Priority 5 - Personal Protective Equipment | Masks, respirators, googles, face shields, gloves, coveralls. |
LEED Credit: Building Water Systems Recommissioning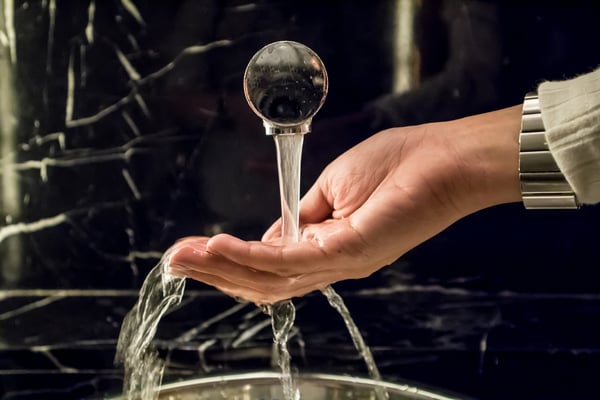 Health authorities have found no evidence that COVID-19 is transmitted through water systems. However, extended building closures reduce water usage, and the resulting stagnation can create biological hazards.This credit has the goal of protecting occupants from degraded water quality, following guidance from industry authorities like the CDC and EPA. The requirements for this LEED credit include:
Developing and implementing a water management plan according to the ASHRAE Standard 188-2018: Legionellosis Risk Management for Building Water Systems.
Coordination and collaboration with local water authorities and public health institutions.
Keeping occupants informed about water system activities and related risks.
Water quality assessment - local supply and internally.
Before reopening a building, the USGBC recommends testing the local water supply, since water may have also degraded in public installations. After verifying the water supply quality, building owners should test internal installations, since pathogens and contaminants could have accumulated. Consider that HVAC systems with hydronic piping are also vulnerable to water quality degradation.
If any water quality risks are detected, the corresponding installations may require a complete flush. Water-related risks include biofouling and Legionella bacteria, and there are also non-biological hazards like nitrification and disinfectant byproducts.
LEED Credit: Managing Indoor Air Quality During COVID-19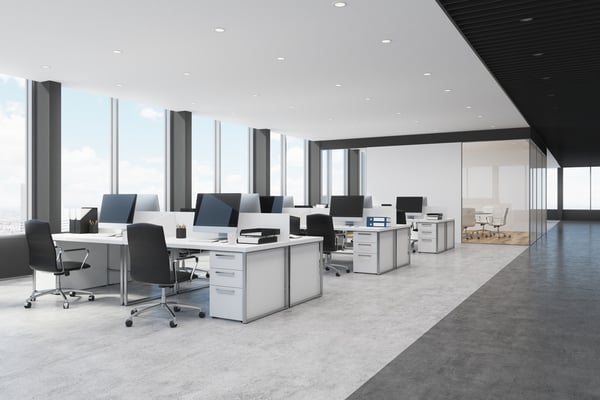 Airborne transmission is not considered the main infection route for coronavirus, but it is likely enough to justify action. ASHRAE has already provided extensive guidance on how to minimize COVID-19 risks in HVAC systems, and now the USGBC has also provided guidance based on LEED principles.
The purpose of this credit is promoting best practices to manage indoor air quality, minimizing coronavirus infection through the air. These recommendations are based on existing indoor air quality requirements and credits in LEED, applied to COVID-19.
Increasing outdoor air ventilation, to 100% if possible
Disabling demand controlled ventilation to sustain the high airflow
Maximizing natural ventilation
Improve central filtration to MERV 13 or 14
Keeping the ventilation running when the building is empty, if possible
Using positive and negative pressurization to control airflow between rooms
Portable HEPA filters with Ultraviolet Germicidal Irradiation (UVGI)
The LEED guidance also encourages indoor air quality monitoring and evaluation. Also, these IAQ measures must not cause issues themselves. For example, UVGI systems should not produce ozone, which irritates the respiratory system.
Operation and maintenance documents must be updated with the procedures that will be used during the coronavirus pandemic. Building owners should also have a plan to reestablish features that were disabled temporarily, such as demand controlled ventilation. Switching configurations is simpler with a Building Automation System, since the parameters of each operating mode are simply stored.