Traditionally, building designs have been represented with two-dimensional drawings that include specifications and notes. The main advantage of these files is that they can be printed and carried around in projects, but there are technical limitations when you want to represent three-dimensional systems with two-dimensional models.
Mechanical, electrical and plumbing (MEP) systems are very complex, and representing them effectively in 2D drawings can be quite a challenge, since these installations often share small spaces. In office buildings, for example, MEP installations normally use the small space between dropped ceilings and concrete slabs.
If MEP engineers attempt to draw electrical conduit, air ducts, plumbing lines, communication trays and sprinkler systems on the same floor plan, it becomes cluttered and difficult to understand. For this reason, the normal practice is to draft a separate drawing for each building system. However, the latest design software allows three-dimensional modeling, which simplifies the MEP design process greatly:
Design teams in charge of building systems can work on the same model, which makes coordination easier.
When components of different systems are specified with overlapping locations, the program detects the error automatically and notifies the designers. If you have teams working on separate 2D plans, location conflicts are much more difficult to detect.
Building systems are stored in different "layers" of the model. When working with a specific system, the other layers can be deactivated to make them invisible.
MEP modeling provides an obvious advantage during design and construction, enhancing coordination and preventing location conflicts during equipment installation. However a smart MEP model continues to be useful throughout the entire life cycle of a building.
---
Get a high-performance MEP design for your construction project.
---
How a 3D MEP Model Helps with Building Maintenance Activities
Once a building is completed and operational, many components of MEP systems are hidden from sight. For example, some components are in vertical shafts with reduced space, above dropped ceilings, or even embedded in walls and floors. This represents a key challenge for maintenance personnel, since large portions of MEP system are not readily accessible.
When addressing maintenance issues, the best starting point is not always clear. However, if a 3D MEP model is available, it can be used to plan maintenance activities without affecting equipment and components other than those being serviced.
With modern modeling software, you are not limited to a physical representation of building systems - you can also add properties to equipment and parts. For example, the model can indicate that an electrical conduit segment is made of aluminum, or that air ducts are made of fiberglass. In addition, maintenance personnel can take notes describing the actual condition of equipment, pointing out issues such as mechanical wear or damaged insulation.
In other words, if the building model is kept updated, the maintenance staff can know the last recorded condition of any MEP element without a direct inspection. This saves time and allows maintenance activities to be scheduled more effectively, while providing very accurate instructions for technicians.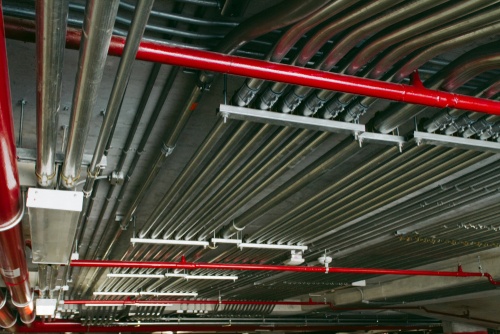 Using a Building Model to Manage Equipment Upgrades
The maintenance benefits of a smart MEP model also apply when planning and designing major upgrades for building systems. For example, if you want to upgrade to a more efficient cooling tower or chiller, the MEP model can be used to identify any required changes in piping connections and electrical wiring. When you rely on conventional 2D plans, designing and specifying an upgrade is more difficult, and you are more likely to face unexpected changes.
Since MEP models reflect the interaction between building systems, they can also help you determine if an upgrade affects other components. For example, if the new equipment has a different shape, the MEP model can help you visualize how the surrounding space is affected.
General Recommendations
A smart MEP model is only useful if kept up-to-date; the maintenance staff has little use for a computer model that describes conditions from one year ago. Therefore, its is very important to update the model after any change to building systems. If you hire engineering consultants frequently, they normally offer MEP modeling services as well.
Using 3D models to manage building systems would not have been feasible just a pair of decades ago, since there was no way to access complex digital files when away from a computer. However, maintenance personnel can now use mobile devices to access key building information from anywhere - MEP modeling solutions normally come with simplified applications to open building files from a smartphone or tablet.
The building maintenance staff may need additional training if you plan to use high-tech tools such as 3D MEP modeling software. However, the benefits are much greater than the upfront cost and time requirements of training. When maintenance activities are assisted by technology, work becomes more efficient and issues can be solved proactively - in building maintenance, prevention is far cheaper than reparation.