In many building projects, design is treated as a necessary step to get a construction permit. However, the design stage also provides a chance to improve building performance in the long run. Mechanical, electrical and plumbing installations (MEP) are responsible for keeping a suitable indoor environment for humans. Also, most of the energy and water consumption in a building can be attributed to these systems. A high-quality MEP design optimizes water and energy consumption, while ensuring wellness for building occupants.
Office buildings are fundamental for modern businesses. Regardless of the industry sector, companies need spaces where their staff can collaborate and process information. However, an office must have an adequate work environment in the first place:
Workspaces must provide suitable conditions for human health. This includes keeping an adequate temperature and humidity, while preventing the accumulation of air pollutants.

The office environment must also help occupants concentrate, instead of being a source of distraction.

Recently, the impact on occupant mood has gained importance when designing offices. Some studies have found that plants, abundant windows and natural lighting have a positive psychological impact.
Many aspects of an indoor environment depend on MEP engineering. For example, temperature and air quality are controlled by the HVAC system. Similarly, a good lighting design requires collaboration between architects, interior designers and electrical engineers.
---
Improve the indoor environment of your office building with a professional MEP design.
---
HVAC Design: Controlling Temperature and Air Quality
For both temperature and air quality, HVAC engineers must balance performance and energy consumption. Overcooling, overheating and overventilation all represent a waste of energy.
Finding the right temperature for an office building can be challenging, since personal preferences come into play. However, some studies have found that human productivity tends to peak at around 70°F (21°C). Also, the WELL building standard has introduced some innovative concepts:
Designing offices with areas at different temperatures, and letting occupants sit where they feel the most comfortable.

Providing HVAC controls for personal spaces, so occupants can adjust the temperature for their surrounding area.
Indoor air quality requires a different design approach: personal preferences differ with respect to temperature, but reducing air pollution levels is beneficial for everyone. However, excessive ventilation represents a waste of energy, and reducing the pollutant concentrations to zero is unfeasible. A smarter approach is designing a ventilation system that keeps air pollutants below a reference level, such as the threshold values from the World Health Organization (WHO).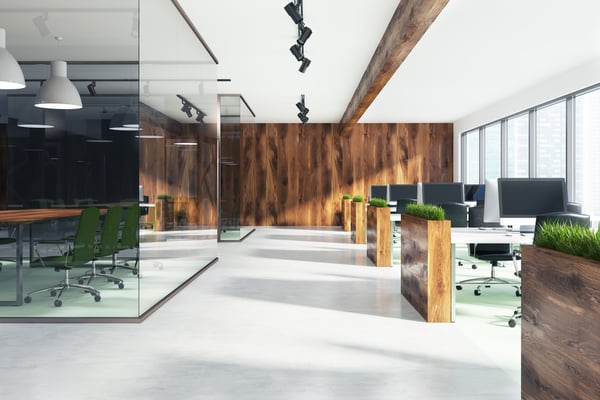 How an Office Design Affects Concentration and Mood
Concentration and mood are influenced by both measurable aspects and subjective factors. Open offices have become very popular in recent years, for two reasons:
Compared with private offices, an open office layout can accommodate more people in a given space. As a result, open offices save on real estate costs.

Managers also use open offices to promote collaboration, by bringing collaborators to a shared space.
However, studies have found that open offices are only helpful for collaborative work. When an employee needs to concentrate, the noise and reduced privacy of an open office are detrimental. An office building that combines private spaces with open desks can improve productivity, compared with an office that only uses open layouts.
The office layout is important for MEP engineers, since the distribution of building systems must be designed accordingly. Ideally, noise coming from the HVAC system should be minimized, and the lighting design should achieve enough brightness while preventing glare.
In

HVAC systems

, noise is often caused by undersized ducts or by placing equipment too close to workspaces. Over time, unbalanced motors can also become an issue if maintenance is deficient.

In lighting designs, glare is a common consequence of using the wrong lamp or fixture for the application. The beam shape should provide a uniform lighting distribution, without sending excessive light towards the eyes. Concentrated light sources can also cause glare when reflected on computer screens.
Daylighting harvesting is a promising concept, since it maximizes natural lighting while saving energy. The lighting system is equipped with photosensors, and lamps are dimmed or turned off automatically when daylight is available.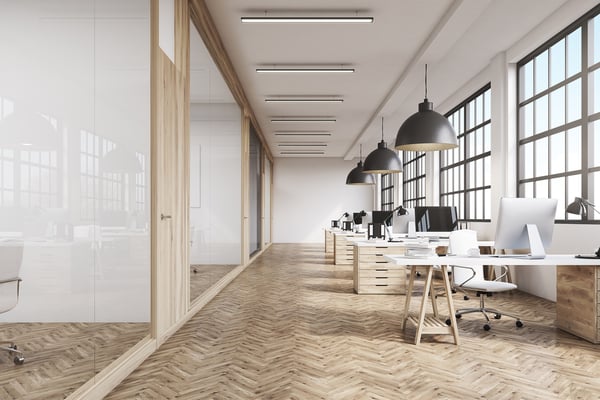 The lighting color or hue also affects the indoor environment: in general, a neutral white tone is preferred for offices spaces. Warm white tones are considered relaxing, which makes them better suited for bedrooms, hotels and restaurants. On the other hand, cool white tones are energizing, but they can become stressful with extended exposure. Neutral tones of white light are considered ideal when occupants must concentrate for extended periods.
The color rendering index (CRI) is also important when designing a lighting system. Natural lighting has a perfect CRI of 100, and artificial lamps should have a decent CRI to provide lighting quality. A CRI above 80 is generally considered decent, while a CRI above 90 is ideal. Fluorescent bulbs and low-quality LED bulbs tend to have a low CRI, which is detrimental for lighting quality.
Conclusion
Architects and engineers can collaborate to design office buildings that are productive and healthy. This reduces ownership costs for the client, while improving productivity and profit margins. On the other hand, a poor office design can lead to complaints such as stuffy air, insufficient lighting, glare, unpleasant odors, and thermal discomfort.
The LEED and WELL building standards can be used as references to design offices that are energy efficient, environmentally friendly, and healthy for their occupants. If a company can certify an office building under both standards, its corporate image can get a significant boost.