Healthcare buildings have stringent design requirements, since they must provide conditions that contribute to patient recovery. HVAC design is very important, since hospitals must keep an optimal temperature and humidity for human health, preventing the spread of harmful organisms like bacteria and mold. These germs are already a health hazard in homes and businesses, and they are even more dangerous in hospitals where vulnerable persons are present.
The COVID-19 pandemic has brought additional challenges to the healthcare sector. Persons with the disease must be treated effectively, while protecting other patients and health personnel from infection. This can be accomplished with design features such as airborne infection isolation rooms or AIIRs.
Another challenge associated with COVID-19 is increasing the healthcare system capacity, but there are effective ways to respond. Existing buildings with suitable conditions can be converted into temporary hospitals, and modular hospitals with prefabricated components are also viable.
---
Get professional MEP designs for your construction projects in the healthcare sector.

---
Prefabrication and Modular Construction in the Healthcare Sector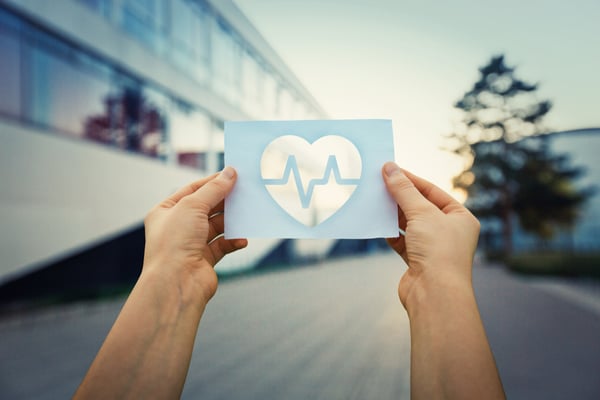 Modular construction is a promising concept in general, which can be applied in residential, commercial and industrial projects. For the healthcare sector in particular, modular construction brings two key advantages:
Creating adaptable buildings to treat various health conditions.
Increasing the healthcare system capacity for an emergency, such as COVID-19.
During the coronavirus outbreak, the need for intensive care units and mechanical ventilators increased suddenly, overwhelming the capacity of many countries. Building traditional hospitals is not viable in a situation like this, since they cannot be completed fast enough to keep up with a global pandemic. However, modular hospitals can be deployed much faster, and they can be reconfigured for other purposes after the pandemic.
Structural and MEP design are very important when deploying a modular building. The prefabricated components must be suitable for quick assembly into a stable structure, and they must also simplify the installation of building systems. In the case of healthcare buildings, modular components must include all the services required to support medical equipment: electricity, water, steam, connectivity, ventilation, etc.
How Healthcare Requirements Influence Building Design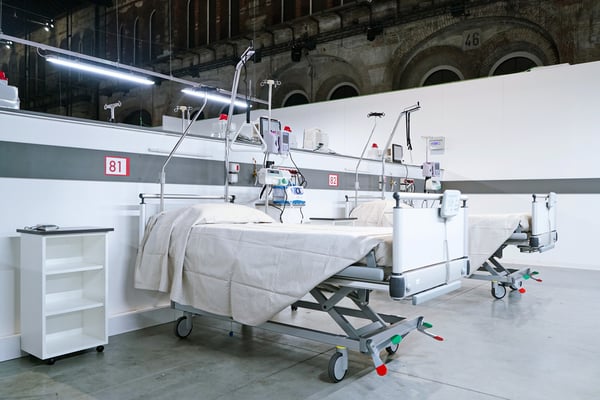 The design requirements of a healthcare building depend on its intended purpose. For example, treating an infectious disease with seasonal behavior is very different from treating chronic conditions. The following are some ASHRAE recommendations for the ongoing COVID-19 pandemic:
Healthcare buildings must allow the separation of confirmed and suspected patients. Otherwise, patients without the disease may be infected locally.
Triage stations can be set up for mild and asymptomatic cases, preventing the congestion of emergency departments. Patients who are capable of self-care can be instructed to return home.
Considering the scale of the COVID-19 pandemic, health institutions can consider using entire units to treat the condition, since this allows better containment.
Ideally, the facility design should allow the treatment of one patient per room, with closed doors.
These requirements determine the optimal layout of a healthcare building, which must be considered by MEP and structural engineers. An advantage of modular buildings is that they can be repurposed when the current emergency ends.
In the case of infectious diseases, another critical design requirement is being able to contain the pathogen effectively. Airborne infection isolation rooms (AIIR) are very effective for this purpose: they use negative pressurization to prevent the escape of airborne germs, and they use dedicated ventilation to eliminate them at the source. The contaminated air can be expelled directly into an outdoor area without occupants, or it can be circulated through a HEPA filter, which captures 99.97% of particles with a diameter of 0.3 microns.
Then designing a healthcare building, structural engineers must also consider all the required spaces to support patient rooms. Some examples are nurse stations, storage rooms for personal protective equipment (PPE) and medical devices, and the basic MEP services required in all buildings.
Conclusion
Prefabrication and modular construction can speed up the completion of a building, while providing flexibility for multiple purposes. In the healthcare sector, this is very useful when capacity must be expanded and reconfigured for an emergency like COVID-19. The building should have structural, mechanical, electrical and plumbing features that support its intended purpose and required equipment.