During the hurricane season, which runs from June 1 to November 30, it is necessary to implement contingency plans for construction sites. Having a storm contingency plan not only improves safety for the project and its personnel, but also for the surrounding community.
This article provides an overview of some practices and guidelines to prepare construction sites better for tropical storms.
---
Manage your construction project with
efficiency and safety.
---
Develop a Hurricane Preparedness and Safety Plan
Project contractors must instruct their teams on hurricane preparedness and safety plans before the hurricane season begins. This plan explains the timeline and steps the contractor must take to safeguard the project site in a storm. The entire project team and owner must be aware of the plan and review it thoroughly, discussing all possible hazards and dangers to ensure proper implementation and project safety.
Every project member must be aware of the importance of hurricane safety, and trained to follow safety procedures and avoid accidents. When a storm arrives, adhering to the safety plan is imperative, and any activity that puts the project personnel at risk must be avoided.
Document Construction Site Risks
Determine all potential hazards and impacts of a storm at the construction site, and document the findings. This list should be completed with collaboration between the contractor and other parties involved, to ensure all possible risks are identified. Share this list with the project owner, stakeholders and team members to increase awareness.
Make sure the risk register includes the cost impact of potential material loss during a storm. By developing this documentation, it is easier to prepare for additional project costs, schedule changes, and possible insurance claims.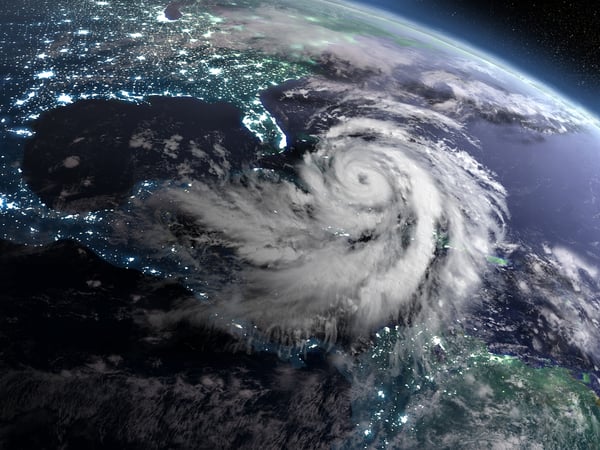 Set Up a Ride-Out Team
When working on a renovation or any project that mixes new construction and existing facilities, the contractor should create a ride-out team that stays at the project site during the storm. They can provide additional support to the facility maintenance team, once all activities outlined in the hurricane preparedness plan are completed.
Determine Tower Crane Risks
Having tower cranes at the project site during a storm or hurricane creates several risks. Potential dangers must be discussed with the project leader and participants, for them to understand the necessary precautions to keep the crane standing.
First of all, keep in mind that tower cranes cannot be disassembled easily. They require proper planning, scheduling, and experienced workers to be disassembled in case of a hurricane. Any attempt to disassemble a tower crane without planning and qualified personnel will only endanger the workers. The best option is learning about the wind ratings of cranes, and creating an action plan to protect and ensure its structural integrity.
Keep an Eye on Local Reports and Announcements
Make sure to monitor the NOAA National Hurricane Center reports, as well as communications from local authorities and other weather institutions. These sites provide the latest information about storm development and tracking, along with local safety recommendations.
Document Work Progress and Create Inventories
Besides the risk register mentioned before, it is recommended to document all work in progress and create an inventory of materials and equipment. Once the hurricane passes by, these documents will help when evaluating the site for damage. This documentation can be submitted as part of an insurance claim if necessary.
Evaluate the Damage
After a hurricane passes, asses the construction damage and its impact on the project cost and schedule. Remember that contractors and their teams are also personally affected by the storm, and you should provide enough time for them to get back on track. There are two main schedule impacts related with hurricanes:
Some workers may require more time to support their family or restore property damage, while others may have problems reaching the project site. All these factors depend on the severity of the hurricane.
Material suppliers, distribution facilities and distribution routes may be affected or damaged by the hurricane, causing material delays in production or delivery.
The risk register and other project documentation will come in handy at this point. Issues caused by the storm will be identified and updated on the lists. These documentation is submitted to the project owner and investor to provide insight on the repercussions of the hurricane to the project.
Conclusion
Preparing for hurricanes is crucial at this time of the year. Safety plans and awareness will keep the project site and work teams safe.
Keeping calm is crucial at all times: work closely with the project team, establish proper communication, take precaution methods on site and keep safety as the number one priority. Controlling natural disasters is impossible, but you can plan and stay safe when they occur.