Many cities in the US northeast are over two centuries old, combining both historic and modern constructions. The region is also characterized by a wide range of temperatures throughout the year, requiring the use of both heating and cooling equipment, ideally complemented with a high-performance building envelope. Also keep in mind that building codes change by state and by city, and projects must be compliant to be approved by local authorities.
Engineering is a very broad professional field, but some specializations have higher relevance in the context of construction projects. Mechanical, electrical and plumbing (MEP) systems are fundamental for building operation, creating adequate indoor conditions for occupancy. Fire protection engineering is also an important field, combining many physical principles from MEP systems to make buildings safe.
---
Make sure your building systems are reliable and code-compliant.
---
Mechanical Engineering
Heating, ventilation and air conditioning (HVAC) systems have a very important role in modern buildings. These mechanical systems ensure that indoor conditions remain suitable for occupancy, even when the building is exposed to extreme weather.
Window air conditioners are a common option due to their ease of installation and low upfront cost, often found in older constructions. However, these air conditioners also have a lower efficiency than more modern options, increasing power bills during summer.
Ductless mini-split air conditioners have a higher upfront cost than their window-type counterparts, but they compensate it with a much higher efficiency. The latest ductless systems can easily achieve energy savings above 70% when replacing window AC units.
Variable refrigerant flow systems are a modern and highly efficient option, capable of delivering both heating and cooling. They can also adjust their output according to the thermal load, instead of using an intermittent compressor.
Chilled beams are a common option in large buildings, using heat exchangers with cold water piping above the ceiling instead of air ducts. Their main advantage is that hydronic piping requires much less space than air ducts, and they can also be configured to use hot water for space heating during winter.
In residential and commercial buildings, HVAC systems normally consume more energy than all other devices combined. Energy efficiency measures for HVAC installations can achieve significant savings throughout the service life of a building.
Electrical Engineering
Electricity provides the fastest and most efficient energy transmission method known to mankind. However, the power of electricity also makes it dangerous if not handled properly, and an electrical fault can quickly damage equipment or start a fire. A well-designed electrical system is not only safe, but also efficient, and the electrical design process offers many opportunities to reduce power bills in the long run with smart decisions.
Adequate sizing is very important in electrical design: undersized systems are vulnerable to overheating and insulation damage, but an oversized system represents an unnecessary expense. Consider that the main service includes switchgear and other expensive components, and they are sized based on total load - significant cost optimization is possible with an accurate load calculation.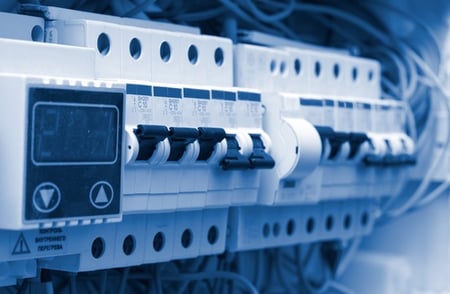 The design process also includes technical documentation such as panelboard schedules. These documents are of great help once the building is in operation, especially for troubleshooting and maintenance.
The National Electrical Code (NFPA 70) is the main reference for electrical design in the US. Local building codes normally incorporate the NEC, adding state-specific or city-specific requirements that are considered necessary.
Plumbing Engineering
A reliable water supply at suitable temperature is fundamental in modern built environments, and plumbing systems must also prevent the accumulation of wastewater and stormwater. The following are some of the main challenges that can be solved by qualified MEP engineers:
Domestic hot water efficiency: DHW systems can have a significant energy consumption, but there are two ways to reduce their operating cost. The required heat output can be reduced by saving water, and you can also upgrade to a water heater with a higher efficiency rating.
Stormwater management: Stormwater must be discharged from your building efficiently, which requires features such as roof drains. However, city authorities regulate the rate at which you can discharge stormwater into public sewage. A well-designed stormwater management system balances both aspects.
Plumbing systems are more difficult to modify than mechanical and electrical installations, since they carry water and many of their components are embedded in walls and ceilings. Smart decisions during the design phase can save you expensive modifications in the future.
Fire Protection Engineering
Temporary malfunctions in mechanical, electrical and plumbing systems cause inconvenience and disruption. However, fire protection systems must always be ready to act, or the consequences can be severe.
Fire alarms are very important because they warn occupants when fire or smoke are detected. Temporal-3 fire alarm systems (T-3) have been the industry standard for decades, and their requirements are established in NFPA and UL standards. They must be complemented with a code-compliant fire alarm control panel.
Automatic sprinklers provide a fast and effective response to fire, and they can control most fire incidents without assistance from the local fire department. Adding a fire sprinkler system is one of the best ways to protect your property.
The National Fire Protection Association (NFPA) is the national authority on fire protection, and their standards provide the basis for local fire protection codes. Many components are also subject to testing requirement from Underwriters Laboratories (UL).
Compliance with Local Building Codes
Property developers are subject to specific construction requirements for each state or city, and meeting them can be challenging even for professional engineers who are not familiarized. Also keep in mind that the approval procedure changes depending on building features.
Professional MEP engineers can deliver building designs that offer both code compliance and high performance. Consulting services are also available for existing properties, where they can help identify the main areas of opportunity to improve safety and performance.