There are almost 250,000 vacant apartments in New York City, which represents over 11% of all existing units. A key reason for this is the sharp increase in NYC rental rates over recent years: on average, the yearly increase is twice as high as inflation. On the other hand, demand for affordable housing has also increased, but there is little incentive for developers to meet this demand when they can build luxury condominiums.
Lack of affordable housing is one of the main challenges for the NYC government, since it brings two additional problems: displacement and traffic congestion. Due to the high rental rates, many people who work in NYC must live in surrounding towns and cities. However, affordable housing projects can be an attractive business for developers if the right incentives are in place.
---
Get high-performance MEP designs for your building projects.
---
What is Affordable Housing?
The concept of affordable housing can be subjective. Therefore, the Department of Housing Preservation & Development defines affordable housing as having the following characteristics:
The rental rate

does not exceed 30%

of the area median income (AMI) defined by the federal government.

The rental rate

is regulated,

which means that yearly increases are controlled by legislation. The tenant does not have to worry about relocating due to price hikes.
In addition to preventing sudden increases in housing rental rates, rent regulation provides the following benefits for the tenant:
The tenant is guaranteed a contract renewal every one or two years, unless they choose to leave the apartment.

Under certain conditions the tenant can sublet the apartment for extra income, as long as the unit is still their primary residence.

Tenants keep the benefits of rent regulation even as their income increases. Contrary to common belief, these benefits are not exclusive for tenants classified as low-income.
As you might expect, New Yorkers who can get an apartment with these conditions are unlikely to move out. In fact, there have been cases where tenants have received millionaire payments for moving out of rent-regulated units in high demand areas. A drastic example is the case of Herb Sukenik, who was the last rent-regulated tenant in a building with planned redevelopment into luxury condominiums - he got $17 million for moving out.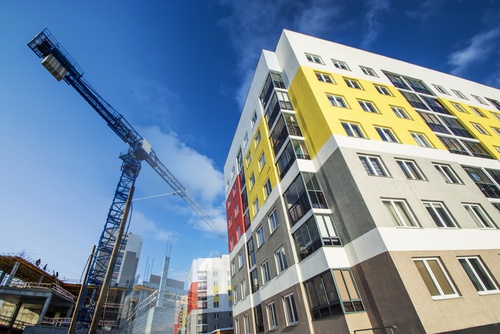 Demand for affordable housing in NYC is so high, that the Dept. of Housing Preservation & Development has created an online application platform for vacant apartments that meet the conditions. There are often cases where a single property gets thousands of applications; for example, a single building with 104 affordable units in Essex Crossing had 93,000 applicants.
How to Incentive Affordable Housing Development in NYC
There are four main ways in which the NYC government can incentive affordable housing developments:
INCENTIVE
DESCRIPTION
Using city-owned land

It can be sold or rented to developers at favorable prices, with the condition that they use the land exclusively for affordable housing projects.

Simpler construction requirements
The

zoning laws

and design requirements can be made simpler for a development company, and in exchange they include a minimum percentage of affordable housing units in the project.
Tax incentives

Real estate development companies can be offered tax exemptions if they develop a minimum percentage of affordable housing, similar to the previous case.

Direct funding

Some affordable housing developments in recent years have been built through private-public partnerships.
Affordable housing can help NYC meet two its main challenges: displacement of residents as neighborhoods become more expensive to live in, and traffic congestion due to the increase in commuters between NYC and surrounding cities.
Conclusion
Development companies with projects in the affordable housing segment can benefit from various government incentives. For example, if a building get simpler zoning requirements, the space available for development often increases. There have been cases where developers can increase the number of apartments planned for a property, thanks to simpler zoning laws.
Like in any construction project, the use of energy efficiency measures reduces the long-term ownership cost of a building. This can grant a competitive edge in the affordable housing segment, since energy savings can be advertised along with the apartments.