The Urban Green Council was founded in 2002, and they constantly work with the NYC Department of Buildings and other city authorities to help decarbonize the building sector. Their work includes annual energy and water consumption reports that are based on building benchmarking data, and they recently published a series of recommendations for Local Law 97 of 2019.
---
Concerned about Local Law 97 penalties? Get a professional energy audit and cut your emissions.
---
LL97 of 2019 is one of the ambitious pieces of climate legislation in the US. Starting from 2024, NYC buildings covered by the law will be subject to annual emissions limits, and they face a penalty of $268 per metric ton of CO2-equivalent over their cap. The limit is determined based on two main factors: occupancy classification and square footage.
The Urban Green Council published a 28-page document with a detailed explanation of all recommended changes for Local Law 97. They also summarized the main points of their proposal in a blog article, which includes a link to the full document.
1) Adding 60 Property Types from the US EPA Portfolio Manager
The original LL 97 text assigns emission limits per square foot. Covered properties are split into 10 categories based on the occupancy groups used by the NYC Department of Buildings, and each of the 10 categories gets an emissions limit.
| | |
| --- | --- |
| LL 97 Classification Groups | Emissions Limit per SF |
| Group A (Assembly) | 0.01074 tCO2e/sf |
| Group B (Business) | 0.00846 tCO2e/sf |
| Groups B (Healthcare), H (High Hazard), I-2 & I-3 (Institutional) | 0.02381 tCO2e/sf |
| Groups E (Education), I-4 (Institutional) | 0.00758 tCO2e/sf |
| Group F (Factory/Industrial) | 0.00574 tCO2e/sf |
| Group I-1 (Institutional) | 0.01138 tCO2e/sf |
| Group M (Mercantile) | 0.01181 tCO2e/sf |
| Group R-1 (Residential) | 0.00987 tCO2e/sf |
| Group R-2 (Residential) | 0.00675 tCO2e/sf |
| Groups S (Storage), U (Utility) | 0.00426 tCO2e/sf |
The Urban Green Council proposes a more detailed classification, using 60 property types from the US EPA Portfolio Manager, with emission limits per SF for each type. Their proposal includes different limits for three periods:
2024-2029
2030-2034
2035-2039.
Urban Green also proposes a zero emissions requirement for all property types from 2050 onwards, while the original LL97 text establishes a limit of 0.0014 tCO2e/sf.
Since the tables are very long, they have not been included in this article. However, you can find them in Urban Green's published document between pages 9 and 15. Their proposed emissions limits per square foot fall within the same range as those in the original LL97 text, but they are broken down into a wider range of property types (instead of 10 broad categories).
2) Lower Emission Factors for Grid Electricity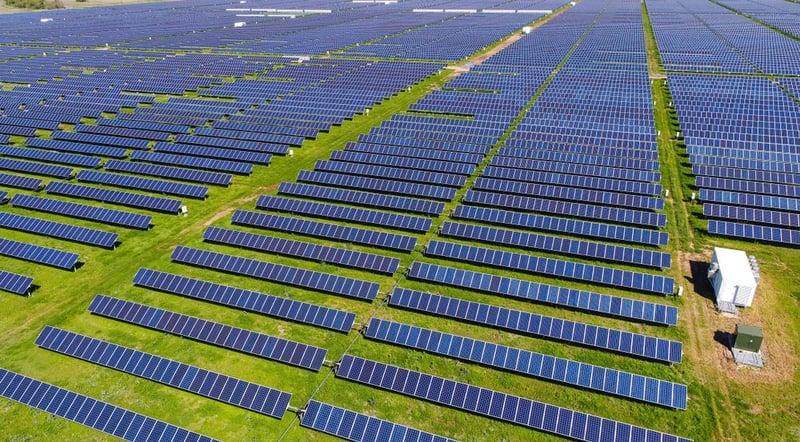 LL97 currently uses an emissions factor of 0.000288962 tCO2e/kWh for grid electricity, and the Urban Green Council agrees that this factor is reasonable for 2024-2029. However, they consider that the emissions factor should be around 50% lower for 2030-2034, to reflect the ongoing decarbonization of power generation in NY state.
By assigning a low emissions factor for grid electricity in 2030, LL97 can contribute to electrification of the NYC building sector. In particular, this change could encourage more building owners to use heat pump technology, which runs 100% with electricity. Heat pumps can also achieve synergy with commercial solar energy systems, which can offset their electricity consumption with onsite generation.
New York State has ambitious climate targets, which can greatly reduce the carbon footprint of the local grid:
70% renewable energy by 2030
100% zero-emission electricity by 2040
85% reduction in GHG emissions by 2050
NY state plans to install 9 GW of offshore wind power by 2035, 3 GW of energy storage by 2030, and 6 GW of solar PV capacity by 2025. Urban Green believes that LL97 should reflect this transition, by decreasing the emissions penalty applied to grid electricity from 2030 onwards.
3) Using Renewable Energy Credits to Offset Electricity Emissions Only
In the original version of LL97, building owners can offset their emissions with renewable energy certificates (REC). By purchasing RECs, building owners can offset emissions from any energy source used onsite, including fossil fuels. Generally, one REC is generated for every 1,000 kWh of clean electricity production and awarded to the owner of the generation system. These RECs can then be sold to other organizations subject to climate mandates.
Urban Green believes that REC offsets should only be allowed for emissions that are associated with electricity consumption, and not those produced by onsite fossil fuel combustion. In this case, the only option for building owners is reducing fuel-related emissions directly.