Construction and remodeling projects involve a substantial amount of hard-earned money. And just like all your other investments, they need to be planned and thought out as carefully as possible.
Of the many challenges you will encounter during the project planning stage, finding the right contractor will prove to be one of the most difficult. But as that may be so, don't throw in the towel too soon and settle for the first reasonable offer that comes your way. There are plenty of things to consider: experience, license and contractor insurance, reputation – the list can go on.
If you're looking for a reliable contractor but don't know where to start, begin by asking your candidates these few questions.
Have you had a project like this before? How long have you been operating in this industry?
This is not to say that newer contractors in the market can't do a reliable job, but whether you admit it or not, you know you'll feel more at ease working with general contractors with years of experience and proven track records under their belts.
While everybody deserves a chance, you don't want your home renovation project to be a training ground for someone who's just learning the ways of the business. These questions are fundamental, so don't feel shy about them. Contractors are already expecting you to ask anyway.
Are you licensed?
Not all states require contractors a license to operate but working with a licensed contractor helps protect your interests in case of disputes. While you're at it, ask them if they belong to a homebuilders' association or any professional organization too. Being a part of these groups can help vouch for their reliability and business ethics.
What types of insurance do you carry?
Remember that being licensed doesn't mean they're insured. Before signing with a contractor, make sure they have all the essential insurance coverages and maybe some more. Uninsured contractors have no business working in your property. They're major headaches waiting to happen.
At the least, a contractor should have general liability insurance and workers' compensation insurance. The former protects your home from damage or negligence caused by the general contractor or his workforce, while the latter looks after the employees and frees you from any liabilities in case something happens to them while on your property.
For your peace of mind, don't just take their word for it - ask for proof. Have them show you a copy of the insurance certificates and check the expiration dates. If necessary, call the insurance company and verify if the policy is, indeed, in force.
Will you be hiring subcontractors?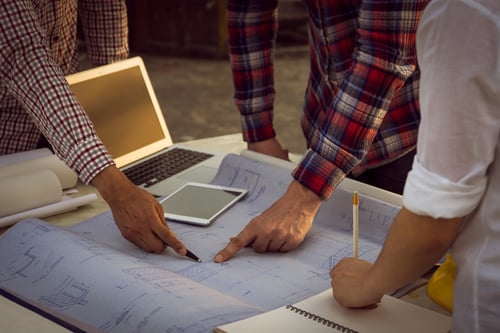 Most contractors enlist the help of subcontractors to some degree. It's vital that you know who else will be working on the project, what aspects of the project they will carry out, and when they will be in your property.
Can you provide a list of references I can speak to?
If a contractor can't provide you with a list of people who can vouch for their work, then walk away.
Valid references are, perhaps, the best and only way to make sure that the person you're going to hire can get the job done properly. Previous performances and projects are a great way to gauge how yours will likely turn out.
Can you provide us with a realistic timeline and schedule?
Knowing that the contractor can do the job is only half the issue, the other half is whether they can finish it on time.
Ask your contractor to be specific about the timeline. The schedule should be more than just a start and end date; it should outline a target completion date for specific tasks and milestones.
Though delays are inevitable, an experienced contractor should be able to provide you with a reasonable timeline for the project.
Will you offer a warranty for your work? How?
You wouldn't buy a household appliance without a warranty, would you? Well, the same goes for your construction or renovation project.
Contractor warranties typically cover defective materials and workmanship problems. The warranty must be in writing and must indicate what it includes and for how long.
If a contractor cannot offer you a written warranty, look for someone else. This is a definite red flag – a tell-tale sign that they cannot vouch for the quality of their work.
In Conclusion
By now you should've realized that it takes a good amount of research and effort to find a contractor you can trust. Asking the right questions will also make the process a lot easier.
Keep in mind that the people you hire make a big impact on how the job turns out and in your experience throughout the build. Choose carefully and take your time.
About the Author
Rachel Porter is the content specialist for Custom Contractors Insurance, LLC, an Arizona roofing and contractor's insurance company. When not writing, she enjoys reading and mountain biking with her friends.