Around the world, governments and corporations are looking for ways to reduce their environmental impact. States like New York and California have taken the lead in the US, with some of the most ambitious clean energy laws ever approved. The role of the building sector is emphasized, since it accounts for around 40% of emissions and energy consumption.
New projects can achieve a high level of energy efficiency, since the building envelope and MEP systems can be designed for minimal consumption. However, the technical challenge is higher in existing buildings: upgrades tend to be disruptive and costly, but reconstruction from zero is prohibitively expensive.
---
Identify the best energy efficiency measures to include in your building retrofit.
---
Since each building is unique, retrofits are highly customized. However, prefabricated retrofit solutions can reduce the cost and time to upgrade a building:
LED manufacturers have followed this approach successfully, developing retrofit kits that adapt to existing luminaires. This has a much lower cost than replacing the fixtures completely.
However, lighting represents less than 20% of energy consumption in many buildings. LED products contribute to energy efficiency, but they cannot decarbonize the building sector on their own.
Upgrades for heating and cooling systems can save more energy, since these systems represent over 50% of energy use in many buildings. However, HVAC installations are characterized by their variety, turning each building retrofit into a unique project. A lighting upgrade follows a simpler procedure, since the retrofit options are clearly defined.
Using Prefabrication in HVAC Retrofits
Since HVAC systems have many interacting components, they can greatly benefit from packaged retrofit solutions. The traditional approach is upgrading space heating, air conditioning and domestic hot water systems separately. However, the project becomes much simpler if packaged solution accomplishes these functions with less energy consumption.
For example, heat pumps can deliver space heating, water heating and air conditioning with a single unit. Traditionally, these functions have been carried out with different types of equipment. It would be possible to develop a packaged heat pump that performs the three roles, which would connect to both plumbing installations and air ducts.
Upgrading HVAC equipment is one of the most expensive parts of a retrofit, but the procedure itself is not very complex. The most labor-intensive task is integrating the new equipment, achieving a coordinated operation just like the units replaced. However, a prefabricated retrofit solution would greatly simplify the process, since HVAC functions are already integrated.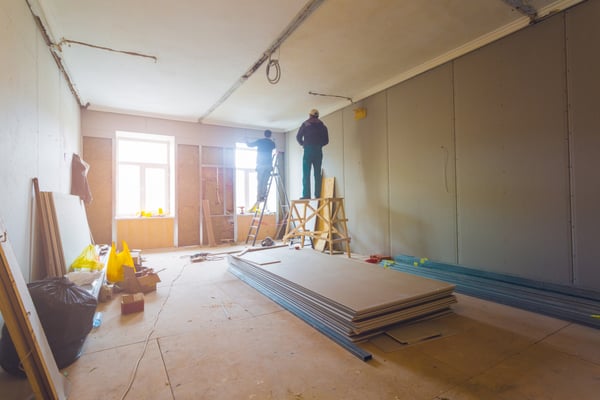 Preventing disruption for occupants is another key challenge when upgrading existing buildings. However, packaged retrofit solutions can take plenty of the work off-site with prefabrication, causing less disruption.
Prepackaged HVAC upgrades can also include energy monitoring functions, allowing energy savings to be tracked more effectively. This is especially useful when the building has a performance target to meet, or when it receives a performance-based incentive.
How Reskinning Can Improve Building Envelopes
The building envelope has a significant impact on energy efficiency, but envelope upgrades are even more difficult than HVAC upgrades. Rebuilding the envelope with superior insulation is unfeasible due to the high cost involved, not to mention the disruption caused by demolition and reconstruction. As a result, the upgrade options for existing buildings are limited to spray foam and layered insulation.
3D printing is emerging as a viable option to produce custom-made insulation for each building:
Laser scanning can be used to sweep building facades, and the geometric data is used to manufacture insulation panels.
Like in the case of packaged mechanical systems, prefabrication takes most of the process off-site.
Only the scanning procedure and the final installation are carried out locally.
Conclusion
Building retrofits will play a key role in decarbonization efforts such as the NYC Green New Deal. However, cost-effective retrofit solutions are necessary to avoid an excessive burden for building owners.
Reskinning and packaged mechanical retrofits would bring the simplicity of LED upgrades to the building envelope and HVAC. The two measures can achieve synergy, since a better building envelope allows the use of smaller heating and cooling systems.