Local Law 26 was created to make high-rise commercial buildings more resilient to fire. The law was published in 2004, in response to the 9/11 incident, and it made fire sprinklers mandatory for all business occupancies at least 100 feet tall. Considering that fire sprinkler systems are expensive, the LL26 deadline was set for July 1, 2019.
When LL26 was published, the deadline was slightly over 15 years - more than enough time to plan and budget the installation of a fire sprinkler system. However, now the deadline is less than one year away, and time is of the essence for buildings that are still not compliant. If a building is covered by LL26, there are only three exceptions:
An extension may be granted if the building owner provides evidence of financial hardships that have made the project unaffordable.
Building areas are exempt if sprinkler installation is unfeasible for structural reasons.
Building areas are also exempt if they are designated as interior landmarks by the NYC Landmarks Preservation Commission.
Otherwise, not installing automatic sprinklers by the 2019 deadline is against the law, and the building owner faces penalties. Also, keep in mind there are two cases where LL26 requirements apply immediately, not until the deadline:
New constructions must be equipped with sprinklers when first built.
If an existing building not classified as a business occupancy is converted into an office building, it is now subject to LL26. Therefore, sprinklers must be installed during the renovation.
In the USA, the main reference for fire sprinkler design and installation is the NFPA 13 standard. New York City incorporates the full content of NFPA 13 in is building codes, along with additional requirements.
Installing Automatic Sprinklers with Limited Time
When installing automatic sprinklers in a large building, the design and approval process alone can take several months. Therefore, it is very important to meet code requirements and get the design approved on the first attempt. This way, your fire protection contractor can start installing sprinklers sooner, and you have a better chance of completing the project before the deadline.
Even if your sprinkler system is designed and approved as quickly as possible, your contractor may still have to work at a faster pace if the building is large. Considering the tight deadline, you must be prepared to assume a higher cost - skilled labor wages in NYC are high, especially when there is overtime. A well-designed sprinkler system can help you offset additional costs, by providing full coverage with the lowest possible number of sprinkler heads.
---
Meet Local Law 26 with a cost-effective sprinkler system design.
---
Note that sprinkler installation is a disruptive process in office spaces, since it involves the temporary removal of ceiling elements. Ask your contractor to provide a project plan, so you can relocate your personnel as needed while the sprinkler installation proceeds.
Of course, the first step should be to determine if your building is actually covered by LL26. Although automatic sprinklers are recommended for all properties, due to how effectively they extinguish fires, there is no need to rush the project if the July 2019 deadline does not apply.
Not Subject To Local Law 26? Consider Fire Sprinklers Anyway
Automatic sprinklers prevent tragedies in all buildings, regardless of LL26 coverage. The Trump Tower fire earlier this year could have been prevented with sprinklers - being a residential property, it was not subject to LL26 and was not equipped with sprinklers. Fire sprinkler systems can be expensive but they save lives, and even when a fire occurs with no casualties, the damage cost is far greater than the sprinkler system cost.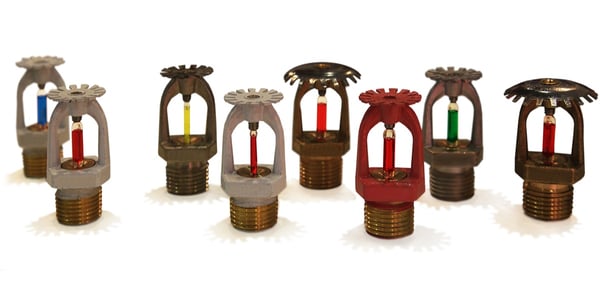 Sprinkler systems also provide benefits even if a building does not suffer a fire incident in its entire service life. You can negotiate better deals with insurance companies, and tenants are more likely to rent your spaces if they feel protected by sprinklers.
TV series and movies have given sprinkler systems a bad reputation: you surely have noticed scenes where a small amount of smoke triggers all the sprinklers in a building. Due to this misconception, property owners often have doubts about installing sprinklers and having their staff and office equipment drenched by accident. In real life applications, sprinklers respond to heat instead of smoke, and only the sprinkler heads directly above the fire open.
Deluge sprinkler systems are sub-type where all sprinkler heads release water when fire or smoke are detected, just like in movies. However, these systems are only used in special applications where fire-sensitive materials are stored and handled, not in residential and commercial settings.