Landmark buildings and historic districts represent around 10% of the total building area in New York City, and in the specific case of Manhattan they represent around 20% of the built environment. These historic buildings are highly valued in NYC, but their ownership also comes with additional regulations. The Landmarks Preservation Commission (LPC) is the authority on historic building preservation in NYC, and they set the rules for the types of projects and renovations allowed in these buildings. In general, projects that drastically alter these buildings and make them lose their historic character are not allowed.
LPC requirements can be challenging to meet, and they represent additional engineering work and paperwork whenever a property upgrade is mandatory. For example, Local Law 26 of 2004 requires automatic fire sprinklers for all buildings under its coverage by 2019, while Local Law 88 of 2009 requires electric submetering and energy code-compliant lighting systems by 2025. To address these issues, the NYC Landmarks Preservation Commission has been working on simpler requirements for historic buildings.
The proposed changes to simplify the Landmarks law are aligned with New York City's effort to become a greener and more sustainable city - an 80% emissions reduction by 2050. Many opportunities to reduce energy consumption and emissions in historic buildings are lost due to the complex additional requirements for NYC landmarks. Simplified requirements will also be beneficial for upgrades that improve building resilience, enhancing their capacity to withstand extreme weather events such as Hurricane Sandy in 2012 and Winter Storm Grayson in 2017.
---
Planning a Construction Project in a Historic NYC District?
---
General Approach to Make LPC Requirements Simpler
The LPC reviews and approves a wide range of projects, ranging from simple modifications to more complex building renovations. Many of the simpler projects are routinely approved by the LPC without major hurdles, but the paperwork can be significant considering the large number of landmarks in New York City. With the proposed changes to the Landmarks law, many of these simpler projects will no longer require direct intervention from LPC members, and the Commission support staff will have the authority to them on their behalf.
In general, LPC permitting processes are expected to become simpler, more transparent and more efficient after the proposed changes become official. The Commission is asking for public feedback, and comments can be sent through physical mail or online, at any time before the public hearing (March 27, 2018).
Window and Envelope Upgrades in Landmark Buildings
Many of the proposed changes for the NYC Landmarks Law target windows, since plenty of small projects reviewed and approved by the LPC deal with window modifications.
Simple window upgrades that improve performance without significant effects on building appearance will no longer require LPC approval. Some examples of these upgrades are caulking, weatherstripping and film installation.

The requirements for full window upgrades will now be less stringent. If a building is located in a historic district but not classified as a landmark itself, the owner will now have the right to replace windows without an approval procedure.

Many types of windows used in

passive house construction

will be approved by the LPC support staff after the changes to the Landmarks law, currently requiring direct approval from Commission members.
With respect to building materials, the LPC support staff will now perform the approval procedure for replacement materials like fiberglass, as long as they simulate the appearance of original materials and are considered suitable for the application. Like many window upgrades, these replacement materials require direct approval from LPC members under the current law (the support staff is not authorized).
Simplified Upgrade Requirements for Building Systems
Changes to the Landmarks law will also simplify requirements for many upgrades to building systems, especially simple upgrades that boost performance. For example, energy audits have revealed that air leaks around window-type air conditioners are a major cause of energy waste in NYC buildings. The use of insulated panels for these AC units in landmark buildings currently requires an approval procedure, but the requirement will be eliminated after the Landmarks law is upgraded.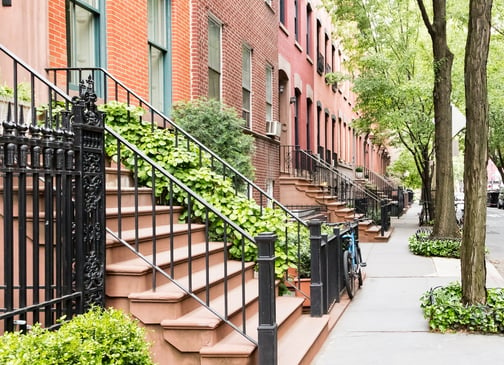 The LPC will also simplify requirements for rooftop solar power systems in Landmark buildings, allowing them in many properties where they were previously forbidden. Although NYC is not particularly sunny, it is currently one of the best states to use solar power in the USA: self-generated electricity is very valuable due to the high cost of electricity in NYC, and there are great tax incentives and rebates for residential and commercial solar power systems.
In general, many types of indoor work that currently require a complex approval procedure will become eligible for an expedited review. This will be highly beneficial for property owners subject to mandatory upgrades such as fire sprinkler installation (LL26) or lighting retrofits (LL88).
Ensuring Compliance with the NYC Landmarks Law
Although the requirements of the NYC Landmarks Law will be simplified, it will remain a demanding piece of legislation for historic buildings. In other words, paperwork will be simplified but the engineering complexity remains. By working with qualified design and consulting engineers, you can simplify code compliance for all your building upgrade projects and new constructions.