Starting from 2020, New York City buildings must conduct gas piping inspections every four years, under Local Law 152 of 2016: Periodic Inspection of Gas Piping Systems. This requirement is combined by Local Law 150 of 2016, which only allows gas work to be performed by a Licensed Master Plumber (LMP), or someone under the direct supervision of an LMP.
LL152 of 2016 does not cover occupancy group R-3, which includes one- and two-family homes. In the case of buildings without gas piping, a Registered Architect (RA) or Professional Engineering (PE) must submit a GPS2: Gas Piping System Period Inspection Certification, indicating that the building does not use gas piping. There is no need to get the document signed and sealed by an LMP in this case.
---
Make sure your building meets Local Law 152 and all other NYC regulations.
---
The goal of LL152 is finding and correcting gas connections that are against building codes. This includes dangerous conditions such as gas leaks, but also illegal connections. The New York State Department of Public Service has published a list of approved leak detection instruments.
How to Meet Local Law 152?
LL152 classifies NYC buildings into four groups, based on their community district. The first gas inspection reports for each group of buildings have the following deadlines:
| | |
| --- | --- |
| Community Districts | Date Range for Inspection Report Delivery |
| 1, 3, 10 | January 1 to December 31, 2020 |
| 2, 5, 7, 13, 18 | January 1 to December 31, 2021 |
| 4, 6, 8, 9, 16 | January 1 to December 31, 2022 |
| 11, 12, 14, 15, 17 | January 1 to December 31, 2023 |
This schedule repeats itself every four years, which means that buildings in community districts 1, 3 and 10 must submit another report by December 31, 2024. Building owners must also be aware that the penalty for missing their respective deadline is $10,000. This penalty also applies for buildings without gas piping if no certification is delivered.
LL152 applies for exposed gas piping, which refers to piping that is directly visible. In other words, the law does not cover gas pipes that are concealed by dropped ceilings, access doors, or other similar elements. Also, gas piping inside tenant spaces is not covered by the law. However, all exposed pipes starting from the point of entry must be inspected.
As previously mentioned, only a Licensed Master Plumber can conduct the inspection. The LMP can delegate the inspection, but only to someone who holds a gas work qualification as detailed in LL150/2016.
How to Report the LL152 Gas Piping Inspection Results?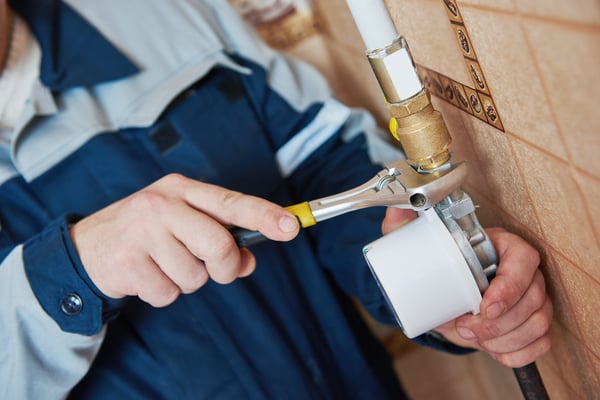 Building owners can choose when to conduct the inspection, considering the dates provided by the table in the previous section. However, once the inspection is conducted, there is a timeline for submitting the report and fixing any issues found:
Gas Piping System Periodic Inspection Report form (GPS1) within 30 days.
Gas Piping System Periodic Inspection Certification form (GPS2) within 60 days.
The NYC Department of Buildings has developed an online portal to submit certifications. Forms GPS1 and GPS2 can both be downloaded from the DOB website.
If the Inspection Certification indicates that the gas piping needs corrections, they must be finished and another certification must be submitted within 120 days of the inspection. If additional time is needed to fix the conditions found, this time can be extended to up to 180 days. Like with any other building modifications, any corrections after the gas piping inspection must meet NYC building codes, and they require work permits.
When a hazardous condition is detected during the inspection, the LMP is under legal obligation to notify the owner, the utility company, and the NYC Dept. of Buildings. This notification is required immediately, even if the inspection report is not ready. Also, the building owner must start the repairs right away, which includes getting a work permit.
As of November 2020, there will only be two months left for buildings in community districts 1, 3 and 10. Unless a property belongs to occupancy group R-3, an inspection report is due by December 31, 2020. You need an inspection by a Licensed Master Plumber if your building uses gas piping, or a certification by a Registered Design Professional if there are no gas installations.