As the COVID-19 outbreak is controlled, buildings will eventually return to normal occupancy. Before reopening a building, however, the owner must ensure there are no hazards inside. These can range from biological hazards like a mold infestation, to safety issues like a malfunctioning fire protection system. If you manage a building properly during the coronavirus lockdown, resuming normal operation is easier.
Biological hazards tend to affect HVAC and plumbing installations, since they contain moisture. However, any building area can be affected if moisture is not controlled properly during the lockdown. Coronavirus is not an issue while a building is paused, for the simple reason that there are no hosts for the virus. However, mold can quickly degrade air quality, while damaging many materials. Legionella bacteria are also a serious threat, since they can cause a deadlier pneumonia than SARS-CoV-2.
---
Get a building inspection, improve indoor air quality, and eliminate health hazards.
---
A building that has been empty for long can also have performance and safety issues. Mechanical, electrical and plumbing systems can all be affected - professional advice from a MEP engineering firm is strongly recommended.
Building owners should wait until COVID-19 has been largely contained, and governments retract their remote working orders.
Businesses that are required to operate during the emergency must follow stringent measures, according to the guidance provided by health authorities.
ASHRAE provides two types of guidance: Instructions on how to reoccupy a building after the COVID-19 outbreak, and more stringent guidelines for buildings that must operate while the emergency lasts.
There are many ways to improve building resilience against coronavirus. These include enhanced ventilation, efficient filtering and UV disinfection.
Returning HVAC Systems to Normal Operation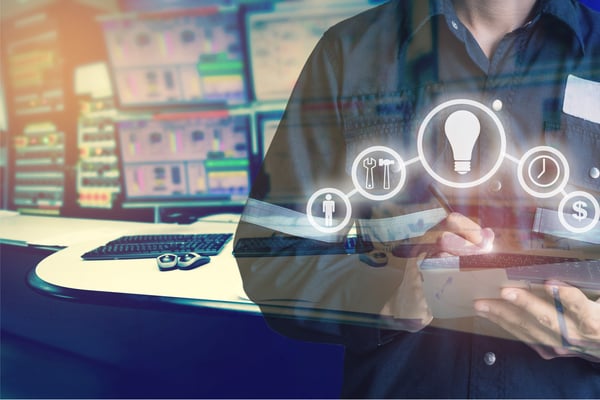 ASHRAE recommends setting back thermostats to save energy while a building is empty. However, the HVAC system should not be deactivated completely, since uncontrolled temperature and humidity can cause property damage.
In an unoccupied building, ASHRAE recommends a setpoint of 80°F and 60% RH for cooling, 65°F and 40% RH for heating. However, these temperatures may be uncomfortable for many people. Thermal comfort is subjective, but Lawrence Berkeley National Laboratory (LBNL) found that human productivity peaks at 21-22°C (69.8-71.6 °F). HVAC settings should return to normal before reoccupying a building, and this is easier when a Building Automation System is available:
The normal configuration is saved and stored. A new configuration is established for the unoccupied building, following ASHRAE recommendations.
When the building is reoccupied, the saved configuration is loaded and used.
The unoccupied configuration can also be saved, in case it is needed again.
Check that all sensors and controls work properly, since the BAS depends on them.
Before occupancy, ASHRAE recommends a complete flush of all the air in a building, even if HVAC systems have operated according to their guidelines. Temperature settings should be returned to normal, outdoor air ventilation should be increased as much as possible. This displaces indoor air that may contain viral particles, reducing the risk of infections.
Checklist for Reopening a Building
Restoring the normal HVAC configuration is important, but you must also verify that all components are working properly. The following are some specific recommendations from ASHRAE:
Check your air dampers, since they may need rebalancing.
Check your air filters and replace them if necessary. Upgrade to a higher efficiency filter, such as MERV 13 or better.
Check the refrigerant pressure and charge for all cooling systems.
Test water quality in cooling towers and all hydronic systems, add chemicals as needed.
Inspect cooling coils to ensure adequate air dehumidification.
Check the fuel supply and flues for all combustion equipment.
Any boiler that stopped operating must follow the same starting procedure as a new unit.
Check water quality at all plumbing fixtures.
Keep hot water systems in circulation at 140°F to prevent Legionella.
Check the power source for all fire protection systems.
Get your emergency generator tested before the building is reoccupied.
These are some of the main recommendations provided by ASHRAE when reopening a building. Their website covers COVID-19 guidelines in greater detail.
Effective Management when Reopening a Building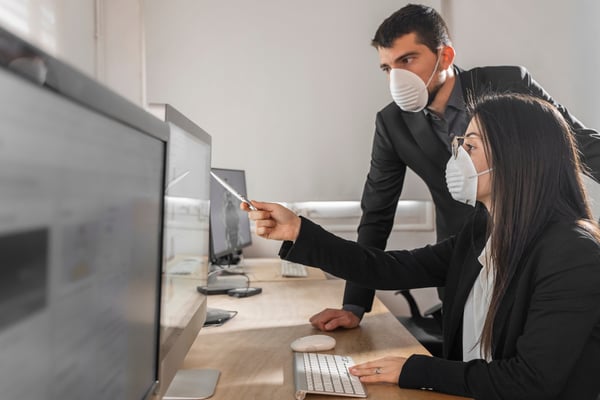 When reopening a building, you must make sure that all the necessary supplies are available. This includes office materials like paper and printer ink, as well as cleaning products. The maintenance department should be provided with personal protective equipment (PPE) when they handle air ducts, filters, condensate pans, or any components that may contain germs.
Building managers are responsible for making occupants feel safe. This requires clear communication, and meeting all the applicable guidelines (CDC, OSHA, ASHRAE, EPA).
The controls of all manually operated equipment should be disinfected regularly. Disinfection is also critical in any spot where humidity cannot be avoided, such as the cooling coils of air handlers and refrigeration equipment.
Building upgrades that help prevent exposure to coronavirus are strongly recommended. This includes contact-free devices such as automatic doors and autoflush plumbing fixtures.
If you were planning a renovation when the coronavirus outbreak occurred, consider a redesign to improve indoor air quality (IAQ). You can include measures like smart ventilation controls, high efficiency filtering with MERV 13 or better, and ultraviolet germicidal irradiation (UVGI). Many building departments now have online platforms to get your project approved remotely.