When planning a building renovation or retrofit, consider that many MEP components are embedded in walls and floors. An adequate rough-in improves the installation quality, preventing maintenance issues in the long run. If energy efficient appliances and water saving fixtures will be installed, a good rough-in can also help increase their service life.
Rough-in work can be challenging to manage: it involves installations from separate building systems that share reduced spaces. Planning the layout of MEP installations is already challenging for exposed components. When they are embedded in walls and floors, there is an additional degree of difficulty. Coordination between subcontractors is very important for rough-in work:
The rough-in procedure can only start once the walls and floors are partially built.
In turn, walls and floors cannot be finished until the rough-in is complete.
Since rough-in involves work from several subcontractors, delays are likely to affect everyone. To keep the project on schedule, rough-in work must be completed on time and correctly.
---
Optimize your building renovation design and save time and capital.
---
Planning Rough-In Work with BIM Software
Building Information Modeling (BIM) is a powerful tool for building design, construction management, and even O&M. BIM is especially useful when planning rough-in work: changes are difficult and expensive once the walls and floors are finished, and BIM helps avoid them.
When rough-in work is specified clearly with a 3D model, the technical personnel is less likely to make mistakes. On the other hand, the paths of electrical conduit and plumbing lines are not always clear in conventional 2D drawings. This feature is also useful when planning renovations in buildings that were originally designed with BIM. Since the locations of all embedded components are known, renovations can be carried out without surprises.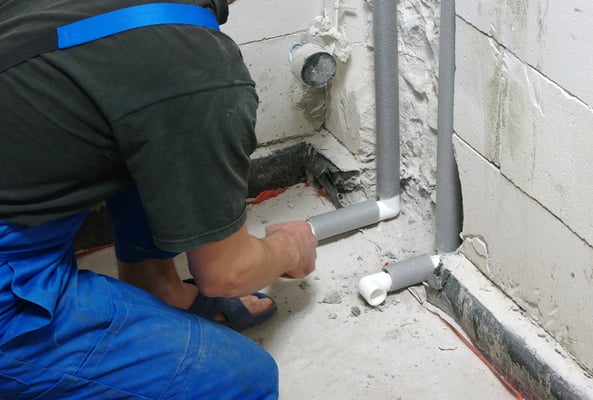 Components such as lighting and plumbing fixtures are often replaced during renovations, and a frequent mistake is assuming they have the same rough-in requirements. While lighting fixtures are easier to adjust, plumbing installations are more demanding in dimensions and clearances. Plumbing connections should never be forced, since this will likely produce water leakage and moisture problems over time. Fixtures of all types are installed more easily when the rough-in work is of high quality.
If an installation is complex and information is lacking, even expert technicians are likely to make mistakes. To make sure a rough-in is completed correctly, the first step is specifying the MEP layout clearly. In existing buildings, the construction documents should clearly indicate where the walls and floors must be opened for modifications. Subcontractors can then use this data to mark walls and floors, avoiding confusion.
Do You Need to Replace the Existing Rough-In?
During a renovation or retrofit, there may be cases where new appliances and fixtures have different requirements than the older ones. For example, the existing wiring may be inadequate for a new electrical device, or a plumbing fixtures may require piping of a different diameter. Identifying these changes is very important for code compliance, and they must be specified clearly for the contractor.
In the case of electrical installations, you can minimize changes by specifying energy efficient appliances, ideally those with the ENERGY STAR label. Since these have a lower power consumption, they also draw less current. The existing wiring will now carry less current, and changing it is not necessary. In fact, it may be possible to connect more devices with the existing conductors.
Assume a 20-ampere circuit currently serves 20 fluorescent fixtures, each drawing 96W.
With a supply voltage of 120V, the total current drawn is 16A.
After upgrading to LED fixtures that consume 40W each, the current is reduced to 6.7A.
The circuit is now oversized, and more fixtures can be connected to it.
There is no need to replace a circuit that ends up oversized with a retrofit. Consider that its cost is already covered, and it can handle a smaller load. Besides, the spare capacity may be useful in the future. A smaller circuit would involve material and labor costs, and there is no reason to downsize.
By contacting a MEP engineering firm to design your retrofit or renovation, you can optimize costs without compromising quality. You will also get professional recommendations on how to upgrade existing installations, improving performance while saving energy and water.