Despite the discrepancy of the magnitude and size of a single-family home in comparison with a towering office skyscraper, all buildings have a baseline starting point. Have a look at the Chicago Building Process and see how buildings are constructed from the ground up in the City of Chicago.
Design
All buildings you see around start with design. Design, per se, is a collaborative, multi-faceted approach which comprises of different fields and phases interlocking together to produce a coherent whole. From feasibility studies, to contextualism, planning, MEP engineering, urban design, history, theory, laws, codes, zoning, professional practice and sustainability – each field contributes to the design success of a building or a structure.
Take note, design is not a rigid and linear process. Therefore, each building – together with the collaborative inputs of the architect, design team, consultants and engineers – goes back and forth through a meticulous, dynamic and multi-dimensional design approach, all suited peculiarly to meet each variable paradigm affecting the whole project:
Typically known as the pre-design phase, Schematic Design undertakes a preliminary data gathering on site analysis, zoning code, feasibility studies, land use regulations, field surveys and space programming. During this phase, the architect conducts an initial meeting with the client to determine the baseline project goals, space requirements and estimated budget.
Multiple design concepts are presented through sketches, bubble diagrams, visualizations, massing, model views, prototypes and 3D models. Once the client approves the final design concept which effectively meets the benchmark aesthetic and functional demands, space programming is further refined in preparation for the next phase.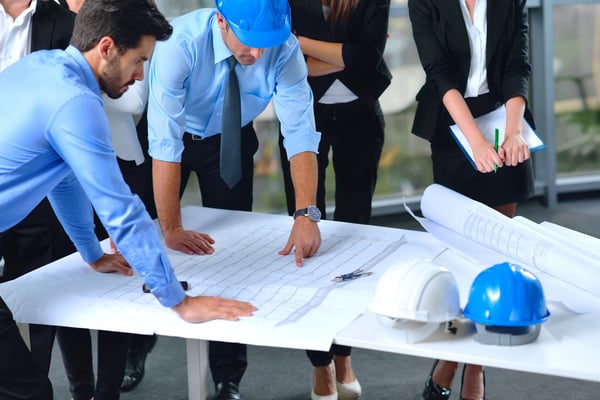 As the design continually evolves vis a vis the architect and client's feedback, the architectural plan is then integrated with structural, mechanical, electrical, plumbing and fire protection details. Further coordination with engineering consultants is enhanced through Building Information Modeling (BIM) – efficiently improving productivity and clash detection of systems, and then reducing the construction cost overruns and human errors.
As experts in MEP Engineering, Chicago Engineers calculate and specify structural loads, duct sizes, pipe diameter and sprinkler systems in relation to the interfacing matrix with the follow-on trades. From conception to development, architecture now gears traction with engineering to produce a tangible concrete structure of highest integrity, quality and function.
---
Get the professional expertise of MEP Engineers to ensure your building is built to success.
---
Approvals at Chicago Department of Buildings
Through the concerted efforts of the lead architect and its consultants, the approved Design Development drawings, general notes and technical specifications are now geared up for review and approval to the local governing authority. In this case, Chicago Department of Buildings lists an in-depth, comprehensive overview on the building permit process in the City of Chicago.
Although residential and commercial projects differ in scope, type, size and requirements, Chicago Department of Buildings streamlines the building permit application by enlisting these different review processes:
Easy Permit (EP) Program for small non-structural home improvement, replace and repair projects without architectural plans

Self-Certification (SC) Permit Program

for Illinois-licensed architect of record and Chicago structural engineers taking full accountability on the Chicago Building Code compliance of residential, business and mercantile projects

Developer Services (DS) Permit Program

for larger, specialized and complex commercial projects typically ranging over 150,000 square feet

Direct Developer Services (DDS) Permit Program

is similar to Developer Services process but with the implementation of Peer Review Program

Green Permit (GP) Process

for the construction and renovation of sustainable projects including, but not limited to rainwater harvesting system, green roofs, geothermal systems, green roofs and photovoltaics

Standard Plan Review (SPR) Permit Program

for small-scale to mid-scale construction projects using E-plan system and for projects that do not fall under the aforementioned categories above
To expedite the processing of building permits, Chicago Department of Buildings offers all these available methods which are designed specifically to meet the needs of your project efficiently. Refer to Guide to Permits for an exhaustive list of projects that require permit and those that do not.
Construction Bidding
Once Construction Documents are approved and the necessary building permits are issued within an average timeframe of 56 days by the Chicago Department of Buildings, the client and the construction management team (if hired possibly as owner's representative), will purchase goods and services from contractors, manufacturers and suppliers. Enter construction bidding, and the tender process starts.
The owner, or construction manager acting as client's representative, will seek bids from technical and financial entities by providing a complete package of bid documents either electronically or on paper.
Commonly called as Request for Proposal (RFP) or Request to Tender (RTT), drawings, specifications, preliminaries and other formal scope of work documents are included in the package to solicit comprehensive bids from contractors, vendors and suppliers on a strict deadline. Whether it will be open, closed, formal or non-formal competitive bidding, client will specify if scope of work will include items such as supply, delivery and installation of goods and services.
After thorough assessment of the bid documents and mid-tender interviews between the client and potential contractors, bidders will now formally issue a Tender Return. Post-tender clarifications are also conducted between the parties involved to clarify the submitted tenders.
Based from the client's preference and predetermined set of criteria, bids will be stacked up against each other based on procurement methods, contract type and project delivery methods. Commercial and technical compliance of the bidders will be evaluated on these sets of criteria:
Procurement:

Value Engineering

, Low Bid, Negotiated, Qualifications-Based (QBS) or Direct Selection

Project Delivery: Construction Management at Risk, Design-Bid-Build or Design-Build

Contract Type: Cost Plus Fee, Guaranteed Maximum Price (GMP), Lump Sum or Unit Price
Client will now formally award the Tender and issue a Letter of Intent (LOI) to the bidder who garners the highest point on commercial and technical compliance. In preparation for the start on-site, the contractor or supplier will submit equipment and material submissions, commercial and construction deliverables, quality control plans and method statements for approval to the consultants.
Building
As stipulated and agreed in the contract, whether the project delivery method states that the contractors are engaged in multi-prime contracting or design-bid-build, the Construction Administration and Construction Management phases now formally begin. Once all document submittals are approved by the consultants, the contractor and its subcontractors can now officially start building on-site.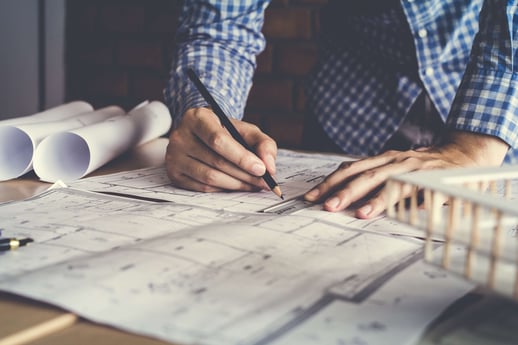 From conception to turnover of the building, Construction Managers will manage the coordination between the owner, consultants, contractors, subcontractors and suppliers. Request for Information (RFI), inspection and test plans, quality assurance, quality control workshops, handover, punch listing and interfacing with construction trades such as architectural, structural, and MEP engineering will be continuously conducted until the building will be ready for occupancy.
Conclusion
Depending on the type and scale of the project, one thing is guaranteed – all buildings go through an extensive process from design to engineering and construction. For optimal function of your building's systems and components, bring in the expertise of consulting MEP engineers to produce an integrative design from the get-go.