The New York Power Authority (NYPA) is the largest public power company in the USA, headquartered in White Plains, New York. Owning 16 generation plants and more than 1,400 miles of transmission infrastructure, NYPA provides electricity for roughly one-third of the state.
Since NYPA obtains over 70% of its electricity from hydropower, it has some of the lowest kilowatt-hour costs in the state. Their largest facility is the Niagara Power Project, with a rated capacity of 2,441 MW, and they also own the 1,160-MW Blenheim-Gilboa Pumped Storage Power Project.
The NYPA 2020 strategic plan places a strong emphasis on three innovative grid technologies: electric vehicle charging, energy storage and power grid digitalization. All three technologies are characterized by achieving synergy with distributed renewable generation. NYPA has two advantages that allow a proactive approach towards new technologies: the company finances its operation by issuing bonds, making it independent from tax funding, and they are not subject to the Public Service Commission regulatory process.
---
Considering energy generation and storage for your building?
---
NYPA's Plans for EV Charging Infrastructure
Late in May 2018, NYPA announced a fund of $250 million for EV charging infrastructure, to be invested over a period of 7 years. The program is called EVolve NY, focusing on the main routes in the state, as well as airports. NYPA will also develop "model communities" with EV charging infrastructure, which could motivate other organizations to replicate the concept.
As the first step of the project, NYPA is installing 400 Level 2 charging stations and 30 fast chargers. The fast chargers will be located along the New York State Thruway, going from NYC to Buffalo. The NY state government has established the goal of installing 10,000 EV chargers by the end of 2021, and the EVolve NY program can provide a significant contribution.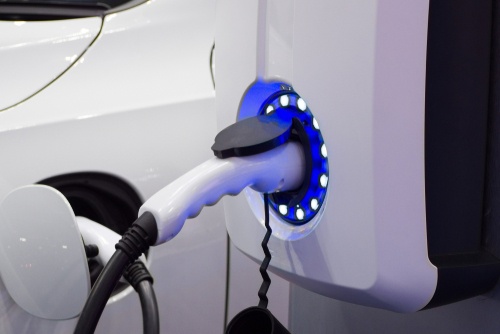 New York State has established the goal of reducing greenhouse gas emissions by 40% by 2030, with respect to 1990. Although renewable sources are growing fast in the electric power sector, fossil fuels still dominate transportation, accounting for 40% of emissions in New York. With EV charging infrastructure, switching from a "gas guzzler" to an EV becomes viable for more people. NYPA is negotiating with the Public Service Commission to create a special electricity tariff for EV chargers, excluding them from capacity charges and only billing for kilowatt-hours consumed.
Energy Storage and Digitalization: Making the Grid Smarter and More Flexible
One of the main challenges for modern power companies is meeting peaks in electricity demand, which often occur after sunset when most of the population is returning home. Hydroelectricity is the only renewable technology that can be counted on in these cases, since both wind turbines and solar arrays have a variable outputs, and solar systems in particular have zero output at night.
Adjusting consumption to follow demand has been the traditional approach, but it has become extremely expensive: power companies have to keep peaking power plants ready to respond, and the power grid must be constantly upgraded to meet a peak transmission load that is only present for a few hours. Away from peak demand hours, the power system has plenty of spare generation and transmission capacity, which only drives up operating costs and kilowatt-hour prices.
The innovative approach is to adjusting demand to avoid using expensive generation. This would not have been possible just a few decades ago, but two emerging technologies are enabling the concept: energy storage systems and the Internet of Things (IoT).
New York only uses around 54% of its generation capacity: Many power plants have to sit idle for long periods, only to respond when there are peaks in demand.
If new technologies can shape demand, NY can take advantage of spare generation capacity and avoid expensive upgrades.
NYPA is planning energy storage projects for all areas of the power system: transmission, distribution, and "behind-the-meter" at client premises. There is a statewide goal of deploying 1,500 MW of energy storage by 2025, and only 60 MW have been deployed as of June 2018. New York is also planning 2,400 MW of offshore wind power by the year 2030, and these new wind power projects can achieve synergy with energy storage.
Smart monitoring systems are being deployed for NYPA power plants and substations, to manage them more effectively and improve their reliability. There is also an ambitious project that involves all other utility companies in the state, where the goal is to create a digital model of the entire New York state power grid. The basic concept is very simple: with a real-time digital model of the power grid, it is possible to detect and solve issues proactively, and generation can be balanced with demand more effectively.