The building sector produces 40% of global CO2 emissions, according to the International Energy Agency. This is even higher in New York City, where two-thirds of emissions are produced by buildings, according to the Urban Green Council. However, the data gathered during the past decade is promising, showing a major drop in building emissions.
Between 2010 and 2019, NYC buildings reduced their site energy consumption by 8.3% and their CO2 emissions by 22.57%. In great part, this has been possible thanks to three main strategies:
Building owners are reducing their consumption with energy retrofits.
Space heating systems are being upgraded to use cleaner fuels.
The power grid is becoming greener, which also reduces building emissions indirectly.
According to the 2020 Energy and Water Use Report from the Urban Green Council, 35% of the emissions drop was achieved energy efficiency, 25% was achieved by switching to cleaner fuels, and 40% was achieved by improving the NYC electricity grid and district steam system.
---
Get an energy efficient design for your next building project and reduce your CO2 emissions.
---
New York City has been a leader in green energy laws and policy, and it was ranked as the most efficient city in the US in the 2020 ACEEE Scorecard. Some examples of how NYC has driven energy efficiency are the benchmarking law (Local Law 84 of 2009), building energy grades (Local Law 33 of 2018), and the Climate Mobilization Act (Local Law 97 of 2019).
Making Buildings Greener with Energy Retrofits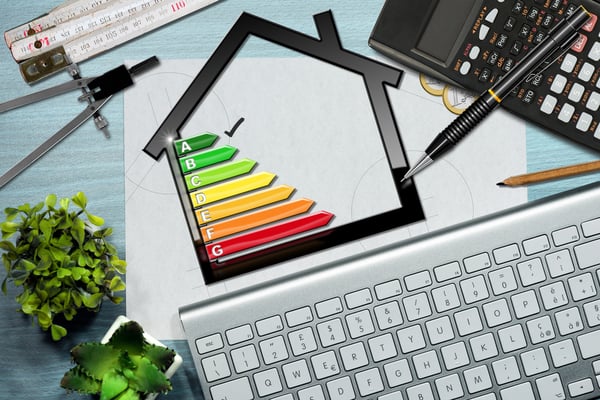 Improving energy efficiency is an effective way to cut emissions, since each BTU of heat and each kWh of electricity has a carbon footprint. Even renewable energy sources have an environmental impact, since they use equipment that must be manufactured and transported to the project site for installation.
Local Law 33 of 2018 introduced building energy grades, which provide an effective way for property owners to compare their energy consumption. There is no minimum grade required by the law, but building owners must display their grades publicly. Having a high energy grade is a competitive advantage for properties with tenant spaces, since the high grade will be associated with lower electricity and gas bills.
The NYC energy grade is assigned based on the ENERGY STAR score of the building, and a minimum score of 85 is required to get an "A". When the 2020 Energy and Water Use Report was published, there were already 2,162 buildings with A grades:
1,886 multifamily buildings.
262 office buildings
14 hotels
While there is no minimum energy grade, the Climate Mobilization Act (LL97 of 2019) introduced mandatory emission limits that apply starting from 2024. Energy efficiency improvements will be necessary to keep buildings below the limits. There are financial penalties for exceeding the limits, and even greater penalties for not reporting emissions.
Switching from Heating Oil to Natural Gas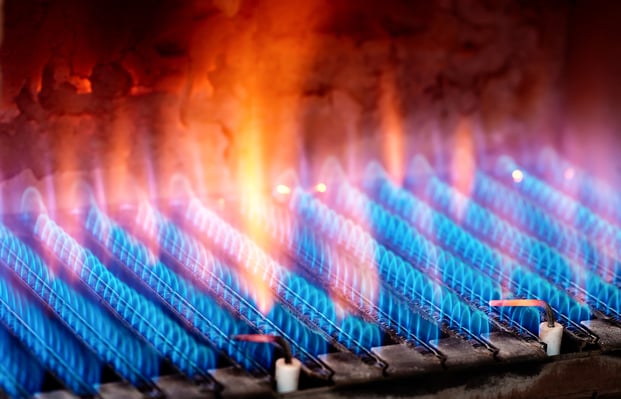 Around 25% of NYC buildings used oil-fired heating systems back in 2010, and most used fuel oil #5 and #6, the most polluting types. Less than 10% of buildings are using oil heating as of 2019, and they use mostly #2 and #4, which are less polluting. NYC now has less than 100 properties using the heaviest types of heating oil.
Fuel oil combustion not only releases carbon dioxide, but also large amounts of sulfur dioxide and soot. By switching to natural gas, the environmental impact of building heating systems is reduced by 30% on average. In addition, natural gas is available as a utility service, while heating oil must be delivered by truck. Heating oil is not only more polluting when burned, but also while being transported.
Unfortunately, upgrading to gas heating has been a challenge in the low-income housing sector. Property managers have limited capital for building improvements, and this includes space heating systems.
Conclusion
NYC buildings are becoming greener: building owners are reducing their GHG emissions with energy efficiency retrofits and oil-to-gas conversions, while Con Edison has been improving its electricity and district steam infrastructure. Green buildings are beneficial for society as a whole: building owners reduce their operating costs, the environmental impact of cities is reduced, and the improved air quality is beneficial for health.