The New Climate Economy is a project developed by the Global Commission on the Economy and Climate, formed in 2013 by the governments of Colombia, Ethiopia, Indonesia, Norway, South Korea, Sweden and the United Kingdom. The purpose of the 2018 New Climate Economy report is providing guidelines for governments, businesses and society to achieve economic prosperity and development while mitigating climate change.
Key Findings in the New Climate Economy Report
The following 2 to 3 years are critical, since the decisions made in these years will shape what will happen during the next decade. The most important considerations are the following:
Fixing carbon prices and sharing information about climate-related financial risks
Investing in sustainable infrastructure.
Promoting innovation and transparency through private initiative.
People-centered approaches
Carbon Price Fixing and Climate-Related Financial Risks
Carbon prices are currently too low to incentive actions that would cut emissions, and it is necessary to increase prices and the number of countries where they are applied.
There is a task force on Climate-Related Financial Disclosure (TCFD), which will increase the transparency of current investments related with fossil fuels. As investors become more aware of the risks involved, increased capital availability for low-carbon alternatives can be expected.
Sustainable Infrastructure
Sustainable infrastructure is the main strategy proposed by the report for new development projects. Financing plans should consider climate effects and project sustainability, along with investment in forests, wetlands and other natural environments.
Organizations such as multilateral development banks and development finance institutions should verify that their investments are not only financially viable, but also environmentally sustainable.
Promoting Innovation and Transparency Through Private Initiative
Many companies are already incorporating innovation as part of their plans to address climate change. It is necessary to create regulations and incentives that promote a low-carbon economy, such as tax breaks for companies that deploy sustainability measures. Since there are now many firms with global operations, international partnerships are key for effective innovation.
People-Centered Approaches
A greener economy not only protects people from the adverse effects of climate change; it can also create new business sectors and economic opportunities for society. Governments should establish zero-emission energy transition plans, which can deliver the following benefits:
Promoting economic diversification.
Significant job creation.
Improvement of low-carbon technologies.
Technology cost reductions to make them more affordable.
This transition will require leadership, collaboration and capital. Financing organizations play a key role in leading investments and setting adequate conditions so that private capital can replicate successful projects.
Key Economic Systems Involved in the New Climate Economy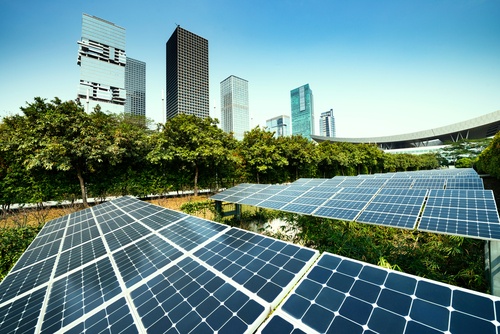 The Global Commission on the Economy and Climate focuses on five key areas: energy, cities, food and land use, water, and industry. These areas provide the greatest potential for growth and climate change mitigation. By transforming these five systems, it is possible to create a better growth model that is people-centered.
Energy
Clean energy systems can be promoted by encouraging private investment in low or zero-carbon technologies. This can be accomplished with incentive programs and effective policies such as carbon pricing.
Cities
Smarter urban development provides opportunities to address climate change, reduce poverty and provide improved living conditions. For example, transportation accounts for a significant share of urban emissions, surpassed only by buildings. However, the impact could be reduced by expanding public and non-motorized transportation systems.
Food and Land Use
Sustainable land use in areas such as agriculture and forestry could deliver over US$2 trillion per year of economic benefits, while achieving around one-third of the emissions reduction necessary to mitigate the most harmful consequences of climate change.
In addition, sustainable land use can create jobs and improve food security. At the same time, this approach can restore natural resources such as forests and coastal zones, while making urban areas more resilient against the effects of adverse
Water
Water is fundamental for life, yet it is poorly managed. Water supplies are especially vulnerable to climate change, but there are ways to mitigate this impact:
Creating awareness about sustainable water use.
Improving water management technologies.
Investing proactively in public infrastructure.
Industry
Current economic models have created industrial sectors where growth is directly related with resource consumption, which is not sustainable in the long run. In regions and countries that are still strongly dependent on fossil fuels, growth also correlates with emissions.
The New Climate Economy report proposes a transition to a circular industry, along with efficiency improvements and electrification to reduce dependence on fossil fuels. This would allow growth that is independent from increased resource consumption and carbon emissions. Policies to motivate efficient use of materials could enhance global economic activity, while reducing waste and pollution.