Franchise business in the U.S. is rebounding post-pandemic. According to a report from the International Franchise Association, the economic output of franchise businesses in the country will increase to $860.1 billion in 2023 from $825.4 billion in 2022. The franchise industry will increase business ownership opportunities in the coming years. And Texas franchises and California franchises will become growth drivers.
Here are the top 3 growing franchise industries in Texas and California:
Retail industry
Pet care industry
Fitness Industry
1. Retail Franchise Industry
The retail industry is one of the largest industries in the United States. According to the National Retail Federation, retail sales in 2023 are expected to reach $5.23 trillion. The sector has immense growth opportunities, and retail franchises are highly profitable.
7-Eleven, Crocs, and Go Carwash are some examples of successful retail franchises. TruBlue, Mr. Electric, and Nhance are some upcoming retail businesses offering profitable franchise opportunities in Texas and California.
Both Texas and California are hugely populous and prosperous states. Retail franchises in these states can benefit from diverse demographics that provide opportunities to sell numerous varieties of merchandise.
The Texas franchises and California franchises from the retail industry are good business opportunities for entrepreneurs.
2. Petcare Franchise Industry
Petcare industry is one of the fastest-growing industries in the United States. Around 66% of U.S. households own a pet, and Americans spent about $136.8 billion on pets in 2022. The spending is projected to be $143.6 billion in 2023. The data suggest that investing in the pet care business is a profitable venture. And there are numerous franchise opportunities to try.
Petcare franchises offer services like pet daycare, grooming, spa, health checkups, and pet supplies. Dogtopia, Pet Valu, and PetCareRx are some of the fastest-growing franchises in the industry. Coming to petcare franchise opportunities in Texas and California, both states are bright spots.
In Texas and California, over 55% of households own a pet. The high share of pet ownership means franchise businesses can grow comfortably here. Big cities like San Francisco, Los Angeles, Houston, Austin, and San Antonio are growth drivers. These cities with large populations and high-paying capacities are best suitable for setting up pet care franchises.
One of the emerging petcare businesses with Texas and California franchises opportunity is Scenthound. It offers complete hygiene care for dogs. And with high dog ownership in both states, a Scenthound franchise can become a profitable venture.
3. Fitness Franchise Industry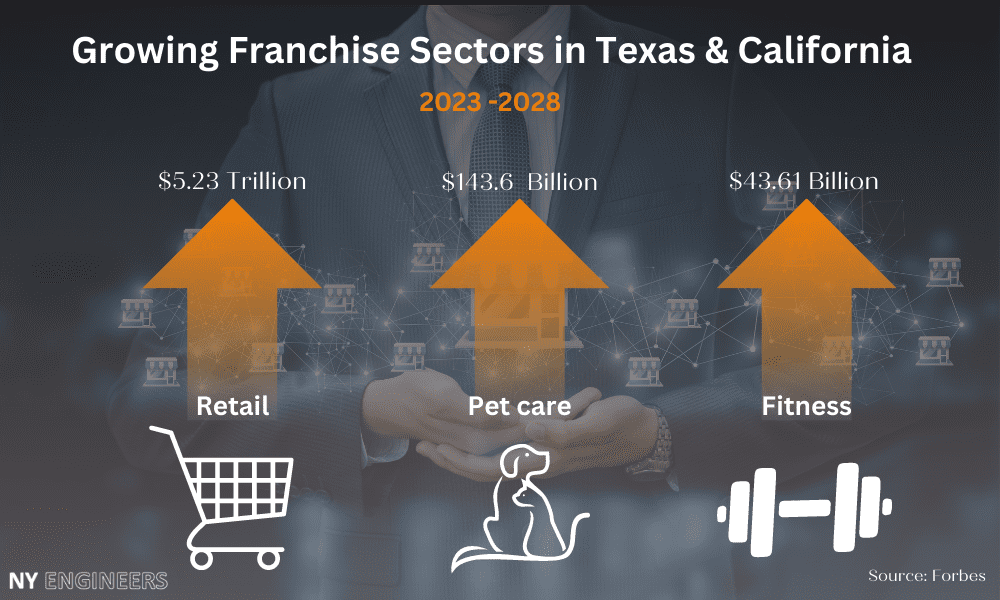 As of 2021, the fitness industry revenue in the US was $33.25 billion. The industry is expected to see a growth of 33.1% by 2028. It provides an immense opportunity for franchise businesses.
From general fitness training to sports coaching, fitness franchises offer diverse services. Anytime Fitness, Planet Fitness, and Max Fitness are a few well-known fitness franchises in the country. And Overtime Athletics is an emerging and fast-growing fitness franchise. With its unique service offerings to kids, it can become the best franchise in Texas and California states.
California and Texas are the best places for starting a fitness franchise. These States rank first and second in terms of gyms and fitness clubs. It shows the fitness culture in the states and potential business opportunities.
Franchise Market Analysis
The future trajectory of the franchise industry very much depends on consumer preferences and their changing habits.
According to a report by Entrepreneur, the changing consumer preference is leading to the growth of the following five categories of franchises.
Self-care includes wellness, beauty, and fitness services
Electronics and gaming that includes electronics repair and gaming services
Pet services involving pet grooming and training services
Senior care includes home care services
Home improvement services
Some trends already have a bearing on the franchise industry, helping businesses reap rich dividends.
● Omnichannel shopping experience - With more and more consumers turning to the internet for shopping and doing product research, the franchise industry was quick to provide an omnichannel shopping experience. By using websites, mobile apps, and in-store digital kiosks, franchises are providing avenues for consumers to experience seamless shopping.
● Technology integration - The quick integration of technologies like order and inventory management systems, digital payment solutions, automation, etc., has improved operational efficiencies and reduced costs in the franchise industry. And with the integration of Artificial Intelligence (AI), the industry is poised to benefit more. AI will help identify pain points and business opportunities, reduce inefficiencies, understand customer needs, manage marketing, and improve the bottom line.
● Unique experiences - Consumers are seeking more than just products and services. They are expecting unique and memorable experiences. Receptive to customer expectations, franchises have optimized their operations to provide unique experiences. For example, many QSR franchises are redesigning spaces prioritizing customer convenience.
Future Growth Opportunities
California and Texas both offer immense potential for a franchise business. The growth opportunity for each state is discussed below.
California State Franchises
One of the large states in the country, California is a perfect destination to start a franchise business. The growth opportunities are:
● Urban centers with a paying population - California is one of the most populous states. It has many urban centers with over 200,000 population. It means finding paying clients is easy.
● Tracking the franchise performance - California franchises include every major brand. One can find at least a franchise from a brand and check its performance.
● Government support - California government has business-friendly policies. It has set up a dedicated department - the Department of Financial Protection and Innovation - to promote businesses. Further, the California Franchise Relations Act and California Franchise Investment Law protect the rights of both franchisor and franchisee.
Texas State Franchises
Texas has a conducive environment for small businesses. The state has low taxes, a Central location, and a paying population.
● Populous cities - Austin, Houston, San Antonio, and Dallas have populations over 1 million and provide enormous opportunities for a franchise business.
● Business-friendly policies - Texas has a vibrant business climate with the Governor's Office of Small Business Assistance and Business Office Assist assisting small businesses. They provide entrepreneurial training, facilitate finance, and offer various business resources for franchise owners.
Conclusion
The tagline franchise California or franchise Texas is a proud moment for any budding entrepreneur. If there is any consideration for opening a new franchise business, NY Engineers is here to help.
We are a one-stop shop for a franchise's MEP design. With over 1000+ project executions and collaboration with 100+ franchise brands, our expertise in franchise design is exceptional. Please reach out at (786) 788-0295 to know more.