EV charging stations can be expected to become very popular in the US in the near future. The number of electric vehicles registered in the country increased from around one million to over 1.45 million in 2021 alone, according to the US Department of Energy. This growing EV fleet will require a robust charging station network, while bringing a new business opportunity for commercial building owners.
The US government is aware of the growing need for electric vehicle service equipment (EVSE). They have responded with the EV Charging Action Plan, with the goal of setting up 500,000 charging stations throughout the country. The Biden Administration has announced a $7.5 billion fund to help start this effort: $5 billion are available for states who submit EV charging infrastructure plans, and $2.5 billion will be dedicated to key corridors and communities.
---
Considering EV charging stations? Get a professional design and qualify for grants.
---
Here are some of the most relevant EV charging infrastructure news from around the US in September 2022.
1)Universal EV Chargers Secures $10 Million in Grant Funding
On Wednesday September 21, Universal EV Chargers announced they had secured around $10 million in government grants, which will be used to develop EV charging infrastructure. The company has announced that these funds will be used to work with multiple business sectors, but they will focus on the hospitality industry.
Universal EV Chargers is part of the Universal Green Group, and they have over 10 years of experience installing solar panel systems in hotels.
EV charging stations are an excellent addition for hotels, since guests who own electric vehicles can recharge during their stay.
Universal EV Chargers is now an approved vendor with hotel chains like Hilton, IHG, Marriott and Wyndham.
EV charging stations can also be used for marketing purposes. Generally, an EV needs around 15-30 minutes to reach 60-80% charge with a DC fast charger. Owners often purchase coffee or food while they wait, and in the case of hotels they can also get to know the installations. EV owners who only need a quick recharge during their first visit may consider staying at the hotel next time.
Universal EV Chargers not only install DC fast chargers, but also the more affordable Level 2 charging stations. According to the US EPA, a DC fast charger provides 100-200 miles of range per 30 minutes of charging, while a Level 2 charging station only provides around 25 miles of range per hour. This means an EV owner must wait for around 8 hours to reach 200 miles of range with a Level 2 charger, but this is not an issue when staying at a hotel.
2) Biden Administration Announces $900 Million to Build EV Charging Stations in 35 States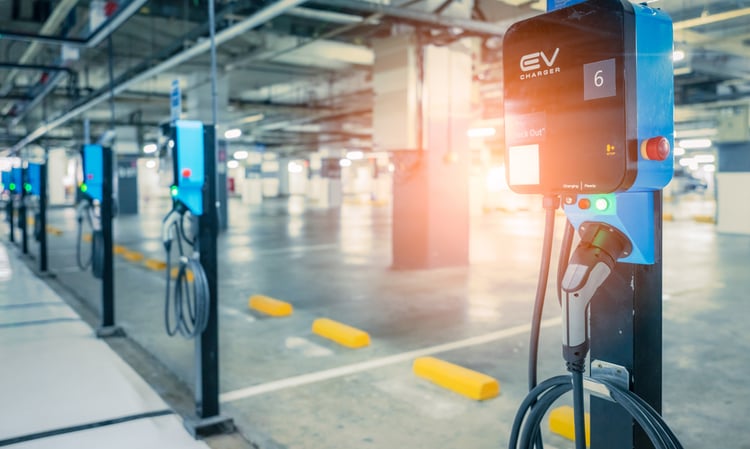 On Wednesday September 14, the Biden Administration announced that EV charging infrastructure plans had been approved for 35 states, including Washington DC and Puerto Rico, and representing a total of $900 million in federal grants.
The state plans approved cover 53,000 miles of highway, which will now be equipped with EV charging stations.
The Federal Highway Administration website has a list of

approved EV charging infrastructure plans by state

, which can also be viewed in map format.
The FHA also provides a table with approved and estimated EV charging infrastructure funding per state, covering fiscal years 2022-2026. The top 10 states getting the highest budgets for fiscal year 2022 are summarized below:
| | |
| --- | --- |
| State | FY 2022 EV Charging Infrastructure Budget |
| Texas | $60,356,706 |
| California | $56,789,406 |
| Florida | $29,315,442 |
| New York | $25,971,644 |
| Pennsylvania | $25,386,631 |
| Illinois | $21,998,178 |
| Ohio | $20,739,853 |
| Georgia | $19,978,342 |
| Michigan | $16,290,764 |
| North Carolina | $16,137,196 |
President Biden announced the $900-million EV charging infrastructure budget at the North American International Auto Show in Detroit, mentioning that charging stations will be "as easy to find as gas stations are now."
The US government wants to grow the EV market, helping fully electric and plug-in hybrid electric vehicles reach 50% of new car sales by 2030. The renewed federal tax credit for EVs will contribute to this goal, with incentives of up to $7,500 for new vehicles and $4,000 for used vehicles with one previous owner.
3) Federal Highway Administration Approves the Georgia EV Charging Station Plan
On Tuesday September 20, the Georgia Department of Transportation announced that the Federal Highway Administration had approved their National Electric Vehicle Infrastructure Plan (NEVI). This makes Georgia eligible for around $130 million in federal funding, which will be used to build their proposed EV charger network.
Georgia's NEVI plan has identified key corridors for alternative fuels within the state, where they plan to deploy EV charging stations.
Interstates 75, 85, 95, 20, 185 and 16
US 82 and US 441
Interstate 985 / US 23
Interstate 575 / GA 515
The Georgia DOT has recognized the limited access to DC fast charging within the state, and most EV owners currently rely on slower Level 1 and Level 2 chargers at home. The NEVI plan will deploy fast charging stations with at least four ports, capable of charging simultaneously at 150 kW. These EV chargers will be deployed along the corridors listed above, meeting the following conditions:
At least one EV charging station per every 50 miles
Charging stations will be located within one mile of the exit
24/7 operation and public access
The $130-million fund awarded for Georgia's NEVI plan is part of the $7.5-billion EV Charging Action Plan. As mentioned above, the federal government announced that $5 billion were available for states who submit EV charging station plans, and this is one example.
4) The New Tesla CCS Adapter Allows Charging at Public Stations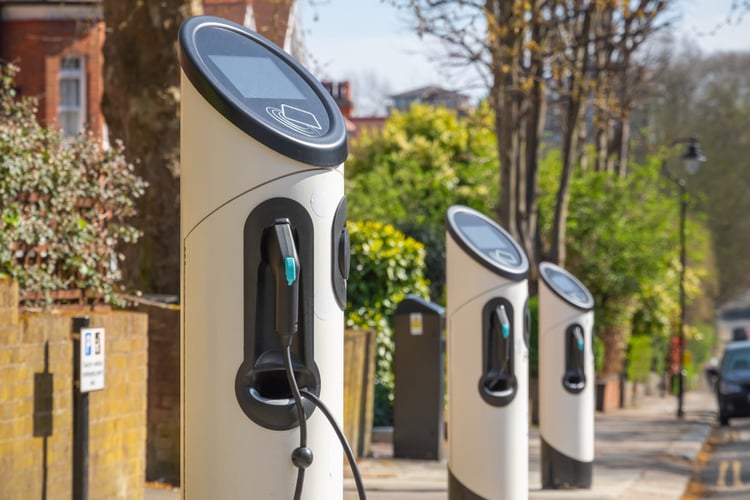 Tesla is probably the first brand that comes to your mind when electric vehicles are mentioned, and they are currently dominating sales in the US. The Tesla Model 3 and Tesla Model Y were the top selling EV models in the US during 2021, surpassing 120,000 and 170,000 units respectively.
One of the main limitations for Tesla owners has been the lack of compatibility with third-party charging stations, but this is no longer the case. Tesla launched a new CCS adapter in September 2022, which makes their vehicles compatible with public charging stations.
The Tesla CCS Combo 1 Adapter supports a charging speed of up to 250 kW when using third-party chargers, which matches the speed offered by Tesla Superchargers.
The CCS Adapter is compatible with most new Teslas, but older models may require a retrofit to use the device.
To ensure compatibility, Tesla also recommends installing the latest available software for your vehicle.
Tesla has also clarified that charging speed with the CCS Adapter is limited by the capabilities of third-party charging stations - not all of them offer 250 kW.
The Tesla Supercharger network is also being opened for other EV brands, improving compatibility across manufacturers. With the CCS adapter, Tesla owners can also benefit from the charging infrastructure that is being developed with the $7.5-billion budget in the EV Charging Action Plan. The US government wants to deploy 500,000 DC fast charging stations throughout the country, and one of their key requirements for funding is offering compatibility with any brand.
5) California Asks EV Owners to Limit Charging During Major Heat Wave
Like with any other technology, the adoption of electric vehicles also brings technical challenges. A large network of DC fast charging stations adds considerable load to the grid, and it can combine with peak air conditioning load on hot summer days. For example, you only need four Tesla Superchargers operating at full capacity (250 kW) to reach one megawatt.
This is exactly what happened in California on September 1 and 2, when a heat wave brought temperatures of over 100°F throughout the state. The California Independent System Operator asked homes and businesses to reduce their consumption as much as possible between 4pm and 9pm, with the following measures:
Precooling buildings before 4pm and setting the thermostat at 78°F or above during the most critical hours.
Avoiding EV charging, especially DC fast charging.
The ideal time for EV charging is away from peak demand hours. This helps reduce the burden on the grid at times of high consumption, and EV owners can often benefit from lower kWh prices, especially if they have time-of-use rates. Large electricity consumers subject to demand charges can also reduce these fees if they schedule EV charging away from their high-consumption hours.