The usage and waste of construction materials is reflected on the environmental and financial cost of the project. If you buy materials that are not used, this means you will spend money on the purchase and later on disposal. Therefore, contractors and building developers should always find ways to use resources more efficiently, reducing the environmental impact of the construction industry.
By using resources efficiently and reducing waste, it is easier for projects to meet legal requirements for waste. Nowadays, clients and building developers are also gaining interest in projects that give priority to environmental issues. In other words, the efficient use of resources can open business opportunities.
---
Reduce project costs and control waste with effective construction management.
---
There are many activities that take place on a construction site. The efficient use of construction materials in each task will generate less waste, saving you money.
Tips to Save Money and Reduce Environmental Impact
In any construction project, contractors can follow several guidelines to use materials in the most efficient way and minimize waste. Construction activities such as bricklaying, plastering, and carpentry will normally produce material waste. However, by developing strategies and approaching the job in the most cost-effective way, this waste can be drastically reduced.
There are some general tips that can be applied to all construction activities:
Learning to identify, classify and handle waste will make it easier and safer for everyone on site. This is especially important when dealing with hazardous waste.
Packing waste skips properly will help dispose of materials more effectively. A poorly packed skip can contain up to 70% of air because of gaps between waste materials.
This will be the first of two articles, focusing on waste management for bricklaying, carpentry and plastering. The second part will focus on plumbing and electrical installations.
Bricklaying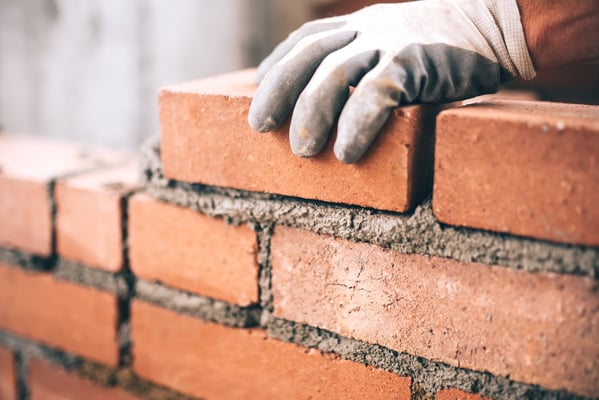 When in comes to bricklaying, there are several waste management considerations. For example, any water that has come in contact with cement or concrete must be dealt with as hazardous waste, due to its high alkalinity. Concrete also contains chromium, which can pollute watercourses and groundwater. Make sure that washout water from trucks or mixers never enters storm water drains to avoid contamination.
Tips:
Reduce the amount of waste material: Avoid throwing away mortar or cut bricks whenever possible.
Storing and reusing washout waters: Silt can be collected and disposed by letting water settle for a while.
Certain brick types require less energy for production, such as fletton bricks.
Use materials with high percentage of recycled aggregate.
Make sure to fill the ends of the bricks (perps), to make walls more thermally efficient.
Control the amount of water used, and raise awareness.
Carpentry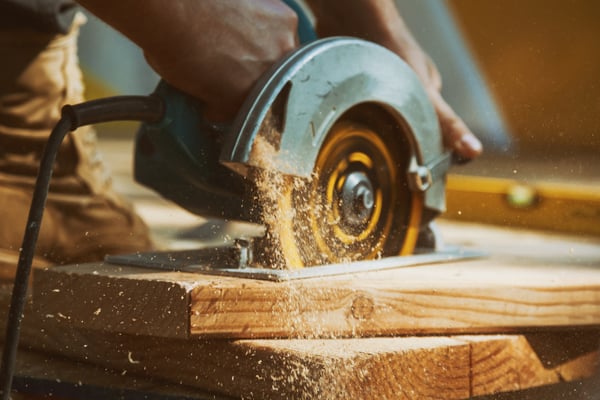 There are several environmental issues that must be taken care of during carpentry activities. One factor is the wide variety of construction timber available, all with different environmental impacts. Natural timber can be sustainably produced and disposed of, but it is not very durable or stable. Therefore, it requires preservatives and adhesives that make recycling more difficult, increasing the environmental impact.
Tips:
Knowing where timber comes from, to assess the possible environmental impact. Search for certified wood, that come from sustainable forests.
Use materials efficiently, and save off-cuts for reuse.
Use mechanical fixings where possible.
Try to avoid packaging whenever possible: about 35% of construction waste is from packaging.
Pallets can be reused by manufacturers, so make sure you return them.
Avoid issues with pests and rotting, by making sure timber is properly cured.
Learn about timber recycling schemes, such as the National Community Wood Recycling Project.
Plastering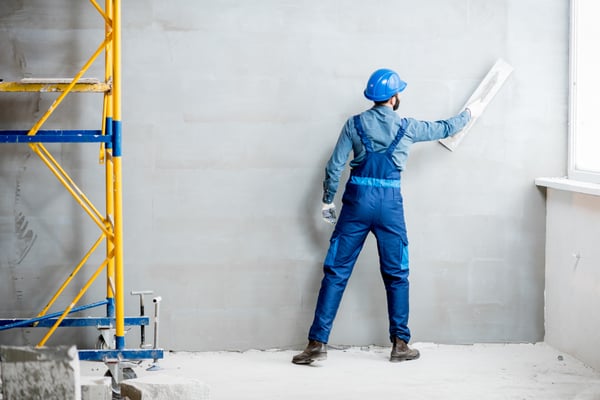 Up to 1.3 million tonnes of plasterboard waste are generated by construction and refurbishment each year. In fact, a part of new plasterboard is wasted even before it is used. Handling plaster waste is especially difficult: it can produce hydrogen sulphide when mixed with biodegradable waste, contributing to acid rain. For this reason, any waste containing gypsum must be separated and sent to specialized containers. Since plasterboard comes with high disposal costs, it makes economic sense to minimize or eliminate waste.
Tips:
Reduce waste by promoting good practices, such as reusing offcuts.
Plan jobs in which all material is used, including mixed plasters.
Proper material storage will reduce the risk of damage by impact or moisture.
Establish perimeters to avoid any harm when work is done.
Separate waste, and make sure plastering whasings do not contaminate groundwater or rainwater drainage systems.
Conclusion
Waste management reduces both material costs and environmental impacts in construction projects. Eliminating waste completely is unfeasible in most cases, but it can be minimized.
Effective waste management can also help buildings earn a LEED certification, since one of the performance categories is Materials and Resources. Up to 13 points can be claimed from good practices in materials use, which count towards the 40 points necessary for certification.