Photo by Milivoj Kuhar on Unsplash
Everyone dealing with a renovation, be it residential or commercial, knows how difficult it can be to handle construction waste. Dirt and dust always find a way in, regardless of the measures you took to cover important surfaces. Drywall and brick dust also pose a significant health risk, and they can seriously damage some appliances and building equipment if neglected.
At New York Engineers we have ample experience with construction administration and building commissioning. Our engineering and design services cover HVAC, electrical works and plumbing, among a portfolio of trades. We published this blog about post-construction cleaning to share our tips, checklists, and know-how from rough clean to shine.
What is the Definition of Post-Construction Cleaning?
Post-construction cleanup is meant to take care of debris and waste from a fresh commercial construction, remodeling, renovation or residential project, to set the stage for coming handymen and further interior touches. This applies for commercial applications like hotels, education, retail, restaurants and healthcare, as well as government buildings and manufacturing facilities.
Maybe a more precise description?
Post-construction cleaning is when a team of specialists performs a careful process of clearing out anything ranging from larger pieces of debris to small types of waste. This includes nails, screws, insulation, caulking, sealant remains, tile scraps, cement and wood pieces, among other things left behind by builders and technical personnel. The process also includes wiping all surfaces and floors to remove drops of paint and other liquids.
While the cleaning requirements can vary depending on the type of property or renovation project, the main goals are always the same: shine walls, floors, doors, windows, and fixtures to a sanitary condition either for residents, or other tradesman finishing touches.
Why do You Need Post Construction Cleaning?
"You need post-construction cleaning because of complexity, lack of proper gear, practice, time, and nerves required to do it yourself, not to mention quality guaranteed by professional cleaning companies," commented experts from the Australia-based FantasticCleaners.com.au professional cleaning company. "The importance of post-construction cleaning as a guarantee for coping with post-construction cleaning chemicals and heavy particles is a fact," they added. "If one is unaware of the risk and hazards from a poorly-handled construction site cleanup, a wide range of health hazards might emerge."
What Is Included in Post Construction Cleaning?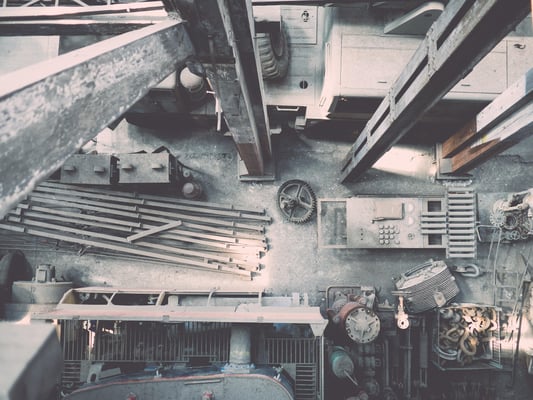 Photo by Leo Fosdal on Unsplash
There are three phases for the typical building site clean up. These three steps will ensure that checklists are covered, and that premises are free of waste and debris.
Rough interior cleaning

. This is the first step in the process. It starts right after the heavy works are done. That's when building systems like mechanical, electrical, plumbing (MEP) and framing are installed. A post-construction rough cleaning checklist includes the removal of larger pieces of debris and trash along with construction material leftovers, disposable containers and tools. Basically, this step removes anything that can't be handled with general sweeping and vacuum cleaning.

Room-by-room cleaning

. This stage includes the deep cleaning of all rooms, which makes it the most time-consuming. New commercial or residential kitchens and bathrooms must be thoroughly cleaned. Freshly-installed cabinets, sinks, glass doors, windows, and fixtures must be dusted first, and then properly disinfected with detergents. Floors come last - pay special attention to corners, ornamental details and fabrics. Debris and dirt are abundant after a renovation.

Touch-up cleaning

. The stage is known as final cleaning, and it includes a thorough inspection of the property and a final to-do list. The activities carried out include deep cleaning of any carpets and rugs, pressure cleaning for concrete or outdoor surfaces, and window care. These elements usually don't receive much attention during a new construction cleanup. After that, the renovation site is inspected one last time.
Does Post-Construction Cleaning Include Exteriors?
Depending on the scale and scope of a project, construction debris may extend beyond the building interior. When this happens, the post-construction cleaning process must include exteriors as well.
When remodeling a high-floor apartment or any other space with shared areas, make sure you clean dirt and debris from accesses: pathway, porches, walkways and staircases. Industrial vacuum cleaners and pressure washers can be very useful for this task.
Post-Construction Cleaning Tips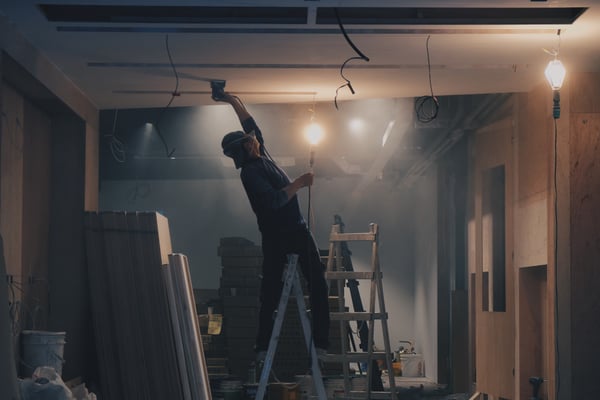 Photo by Henry & Co. on Unsplash
Before You Begin
Gather as much dust as possible before you move on to cleaning in detail.
Seal off rooms not affected by renovation works, and to prevent dangerous heavy particles from spreading. Precautions save time, helping avoid additional cleaning.
Use adequate plastic sheets and tape to seal off these areas. Attach plastic gently to the walls, and use a tape that will not damage paint when removed. Yet, proceed with care.
Block all vents and ventilation openings, since dust can easily settle inside. If air ducts accumulate dust, it will spread to other areas when the HVAC system is used.
Work From the Inside Out
When cleaning room by room, the staff should always start from the farthest corner and work their way out to the door. This will avoid tracking dirt to areas that are already clean.
The entire area should be swept with a soft-bristled broom. Start from the ceiling and proceed down the walls. The floor can be swept once the loose debris falls down.
Considering the importance of personal protective equipment for the cleaning staff, especially an adequate mask. If there's a lot of dust, light spraying with water will make sweeping easier.
Vacuum Twice
A high-quality vacuum cleaner is your best friend during post-construction cleaning because you will use it a lot. Vacuum each room no less than twice – once after the sweeping, and once after you're done with all finishing touches.
To vacuum carpets, run the vacuum on slow gear instead of full speed, to pick up as much dirt as possible. Otherwise, minor dust clouds will burst as you step.
When round one is done, leave the scene so dust can settle down. When the time is right, run the vacuum again. Most of the dust thrown in the air should settle in about half an hour.
Cleaning Tiled Surfaces
Tiles tend to accumulate many types of residue after a renovation. The first step is wiping away as much as possible:
Use a damp sponge.
Wipe the area with a dry towel.
Clean any remaining smudges with a sponge until they disappear completely.
A plastic putty knife can be used to scrape off any residue that won't come off with the sponge.
Avoid tile damage. Covering the residue with a damp warm towel and waiting for a while can help because it will soften the building material.
Once everything is scraped, wipe and buff using a clean dry towel.
Cleaning Wooden Surfaces
Wooden surfaces are prone to water damage, so you need to proceed with care and keep moisture away. Consider that moisture can lead to mold growth if left unattended.
If you notice any construction residue on the wooden floor, gently remove it with a dry towel.
Use a window cleaner or small amounts of white vinegar for stubborn stains.
If the building material residue is completely dry, you can use some wood oil to soften it. Then, gently scrape it with a plastic putty knife.
Cleaning Carpets
Never try to wipe away pasty substances from carpets, because this can cause more damage. Instead, first leave the material to dry, and then clean it by breaking off bits and vacuuming on the way. To finish, spray the stain with a carpet cleaner and blot the area with microfiber cloth, paper towels or any other absorbent fabric.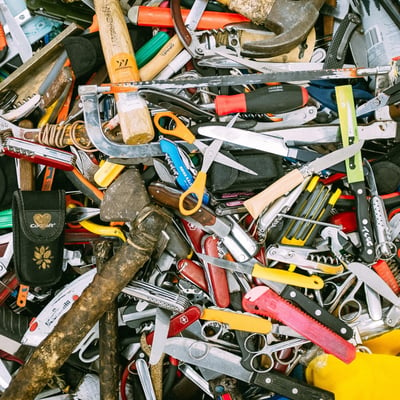 Photo by Ashim D'Silva on Unsplash
List of Post-Construction Cleaning Supplies and Equipment
Large-volume trash bags
Construction carts & wheel trolley
Classic & push brooms
Big and small dustpans
High-grade vacuum cleaners
Hot water extraction units for upholstery and soft fabrics
Mops & wringers
Pole & handheld scrub brushes
Power & pressure washers
Personal Protective Equipment (glasses, gloves, dust masks, clothing, signs, helmets)
Tall & small ladders and ladder bumpers
Cleaning chemicals (regular detergents, and products for steel, windows, wood, stone, floors, etc.)
Putty knives & scrapers
Window cleaning gear (long pole extensions, squeegees, water tanks)
Floor cleaning gear & supplies (automatic scrubbers, burnishers, floor strippers, etc.)
Checklists for Post-Construction Cleaning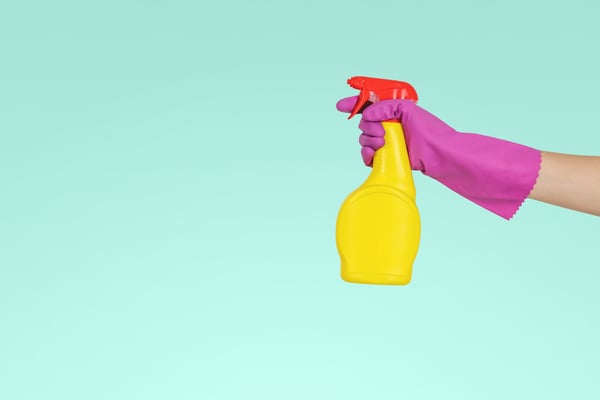 Photo by JESHOOTS.COM on Unsplash
Here is a handy post-construction cleaning checklist for residential projects:
Bathroom Cleaning

Deep clean the shower, tub, sink, tiles
Polish the faucets
Clean the toilet, both inside and out
Polish mirrors, windows, and any glass surfaces
Dust all the light fixtures and cabinets
Dust the walls
Vacuum and mop the floor

Kitchen Cleaning

Dust the walls
Clean any ceiling fans and extractors
Dust the tops of all cabinets, counters, and shelves
Deep clean all the cabinets and drawers
Clean the sink and the faucet
Clean all the light switches and fixtures
Mop the floors and vacuum the carpets

Living Room Cleaning

Dust all the walls and ceiling fans
Dust the light fixtures and electrical sockets
Clean windows, sills, and frames
Clean all glass doors, surfaces, and mirrors
Wipe and polish all surfaces
Clean all the shelves inside and out
Vacuum the carpets or mop the floors

Bedroom Cleaning

Remove dust from walls
Dust the ceiling fans
Wipe the light fixtures and switches
Dust all the baseboards and shelves
Clean all closets, drawers, shelves
Vacuum the carpets and mop the floors
Of course, these tasks can vary depending on the type of construction work done, as well as the layout of the property. Regardless of the size of the project, the final cleanup is always a challenge and requires a keen eye to detail.
Cleaning professionals are normally preferred after the following project types:
Right after heavy building works
Residential post-construction cleaning
Post-construction office cleaning on a short deadline
Post-construction basement cleaning
Post-construction fine cleaning of concrete dust
Post Construction Cleaning Chemicals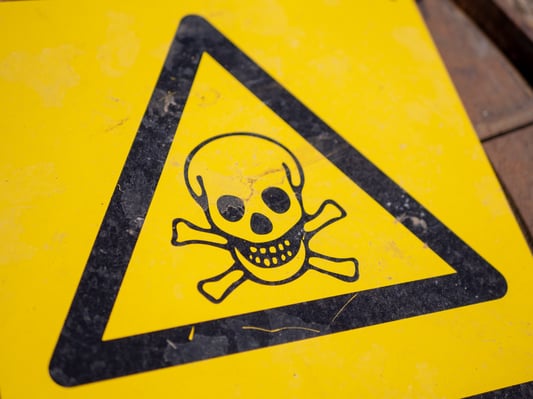 Photo by Mikael Seegen on Unsplash
A poorly cleaned property will pose various hazards to whoever will inhabit. Volatile organic compounds (VOCs) like formaldehyde, and compounds like asbestos and silica are all chemicals from construction materials that affect air quality and endanger health. According to Fresh Air Guide, the use of air-purifying technology equipped with HEPA filters can significantly improve air quality after post-remodeling a site. HEPA stands for high-efficiency particulate air, and these filters can capture 99.97% of particles with a diameter of 0.3 microns or more.
Depending on the type of cleaning, be it small-scale residential or large commercial projects, at New York Engineers we know that high air quality standards can improve building efficiency.
Learn more:
What Is the Difference Between New Construction and Post-Construction Cleaning?
The difference between new construction and post-construction cleaning is the stage where mechanical, electrical, plumbing and other installations happen when builders clear the site. New construction cleaning happens after wiring, pipework, ceiling works and other utility works are done, and post-construction cleaning happens before.
Conclusion
Handling a property right afters builders leave is a task that requires time, specific equipment, know-how and solid attention to detail. If you fail to sanitize a post-renovation building site, you may set the grounds for many complications in the future. A well planned cleaning procedure and professional services are strongly recommended.